Johannes Vetter surprises with second best javelin throw in histroy of 97.76m

Posted by:
Watch Athletics
Sunday, 06 September 2020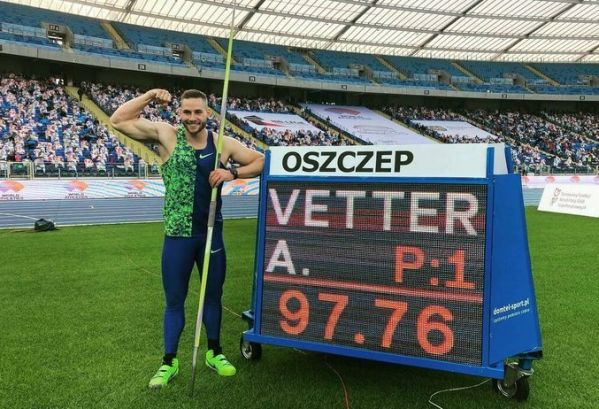 Germany's Johannes Vetter produced a massive 97.76m javelin throw, the 2nd best mark in history, at the Kamila Skolimowska Memorial, a World Athletics gold level series meeting, on Sunday (6) in Silesia, Poland.
In the first two rounds, Vetter threw very solid 83.77m and 86.41m before unleashing the monster throw of 97.76m, just 72 centimeters short of Jan Zelezny's 98.48m world record. The 2017 World champion, in the fourth round, threw another monstrous 94.84m which is the sixth-longest distance ever recorded.
"I just don't know what to say, it was really close to a perfect moment," said Vetter,
"You can feel it in your body when you have a good throw,
"Mostly you feel the whole energy behind it, from your whole body - from the right toe to the chest to the hands. In the javelin, you need your whole body. But it's really hard to explain - you feel it for less than one second. But then you realize that it was a huge throw." he added.
In the men's shot put, Ryan Crouser of the United States produced a brilliant series five throws beyond the 22m mark. His best effort of 22.70m came in round three.
The 2-time World 200m champion, Dafne Schippers ( 11.29), defeated local sprint star Ewa Swoboda ( 11.34.) in her first 100m race this year.
Great Britain's Laura Muir set a new meeting record in the women's 1500m clocking 3:58.24.
Ferguson Rotich of Kenya managed to pass Puerto Rico's Wesley Vasquez in the final meters to win the men's 800m in 1:45.30 to 1:45.47.
After winning discus throw a day earlier at the annual Finnkampen in Turku, the reigning World champion Daniel Stahl threw 67.28m to win his 13th straight discus throw competition. Slovenian Kristjan Ceh took second with 66.16m, while Andrius Gudzius, the 2017 world champion of Lithuania threw 64.45m for third
In the women's 100m hurdles Elvira Herman edged Nadine Visser for the win clocking 12.87.
-->