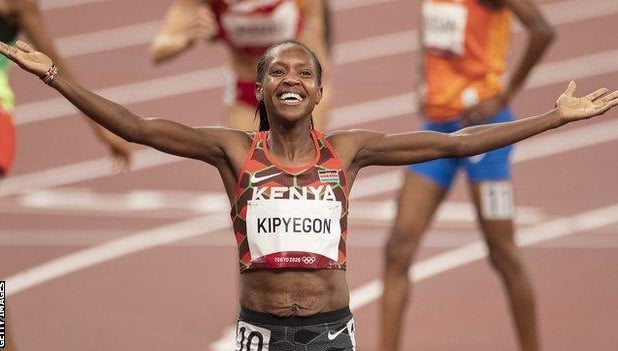 Faith Kipyegon smashed the world record in the women's 1500 metres with a sensational time of 3:49.11 at the 43rd edition of the Golden Gala in Florence in front of 7000 enthusiastic spectators who packed the Luigi Ridolfi Stadium in Florence. The Italian leg of the Wanda Diamond League was also highlighted by three world leading performances set by Femke Bol in the women's 400 metres hurdles (52.43), Sembo Almayehu in the women's 3000 metres steeplechase (9:00.71) and Mohamed Katir in the women's 5000 metres (12:52.09). The Golden Gala celebrated three Italian wins by Andy Diaz in the men's triple jump, Larissa Iapichino in the long jump and Leonardo Fabbri in the men's shot put in the same edition for the first time in the history of the top Italian meeting.
Women's 1500 metres:
Double world and Olympic champion Faith Kipyegon from Kenya broke eight-year-old Genzebe Dibaba's world record with a sensational time of 3:49.11 confirming once again that she is the greatest middle-distance runner over the 1500m. Kipyegon had already run the second fastest time in the world with 3:50.37 in the Monaco Diamond League meeting last August. Kipyegon has become the first woman to break the 3:50 barrier. She took almost one second off the previous record. Dibaba set the previous world record with 3:50.07 in Monaco in 2015.
Kipyegon was congratulated after the race by World Athletics President Sebastian Coe, who broke the world record in the 800 metres with 1:41.73 in Florence in 1981. The Kenyan athlete was celebrated by her rivals after the race.
Kipyegon will run the 5000 metres in Paris next week before return to Kenya for Kenya. Her next 1500 metres race will take place in Monaco on 21 July.
Kipyegon was the eighth of nine children growing up on a farm in the Rift Valley. She was a soccer player at the age of 14 when she took part in a 1 km race.
Faith Kipyegon: "The record is in my heart and on my mind and I hope it will be a perfect year for me. On the eve of the meeting I said that everything could happen. I thank God for helping me set this record. Today I hoped to set the world seasonal lead, but I broke the world record. When I crossed the finish-line, I knew I broke the world record because I had a good finish and felt very strong at the end. I knew everything was possible. After the 1000m, when the pacemaker went out, I just pushed myself towards the finis-line. That was my manager told me, anything is possible, after the pacemaker, just run your race. This was really important because this was something I was still missing in my career. Getting it, it will really motivate me and I left the record for the next generation. They can say she broke the world record, she was the Olympic champion and broke the world record. It was amazing tonight. This was special, so let's celebrate it now and we will see what happens in Monaco".
Kipyegon followed pacemakers Brooke Feldmeier and Sage Hurta through 400m in 1:02.37. Hurta Klecker was on schedule through the 800m in 2:04.00. Kipyegon went through 1200m in 3:05.28. She pushed on running the last lap in 58.81 and crossed the finish-line in 3:49.11. She ran sub-2 minute split in the final 800 metres.
Laura Muir from Great Britain finished second in 3:57.09 in her first 1500m race this season. Jessica Hull from Australia improved the Oceanian record to finish third with 3:57.29 ahead of Axumawit Embaye from Ethiopia (4.00.98) and Abbey Caldwell from Australia (4:01.34). Sintayehu Vissa set the third fastest Italian time in history with 4:01.98. Ludovica Cavalli also improved her lifetime best with 4:03.04.
Women's 1500m Results Florence Diamond League
POS
NAME
NAT.
RESULT
1
KIPYEGON Faith
KEN
3:49.11 WR
2
MUIR Laura
GBR
3:57.09 SB
3
HULL Jessica
AUS
3:57.29 ARPB
4
MAGEEAN Ciara
IRL
4:00.95 SB
5
EMBAYE Axumawit
ETH
4:00.98 SB
6
CALDWELL Abbey
AUS
4:01.34
7
ANDREWS Josette
USA
4:01.39
8
McGEE Cory Ann
USA
4:01.45 SB
9
VISSA Sintayehu
ITA
4:01.98 PB
10
HALL Linden
AUS
4:02.43 SB
11
CAVALLI Ludovica
ITA
4:03.04 PB
12
DEBUES-STAFFORD Gabriela
CAN
4:03.64 SB
13
del BUONO Federica
ITA
4:05.09 SB
14
GARCÍA Marta
ESP
4:07.22PB
DNF
FELDMEIER Brooke
USA
DNF

HURTA-KLECKER Sage

400m - 62.3 sec, 800m - 2:04 min, 1K - 2:34.5 min

USA
Women's 400 metres hurdles:
European champion Femke Bol set the meeting record to 52.43 to take her fourth consecutive win at the Golden Gala. Lashinda Demus held the previous meeting record of 52.82 since 2010. Bol used her pattern of 14 strides until the seventh hurdle.
Shamier Little finished second with 53.38. Anna Hall took third place with 54.42 a few days after her win in the heptathlon at the Hypo Meeting in Goetzis with the fifth best score of 6988 points.
Femke Bol: "This was my first Diamond League for this year and this is a great result. It met all my expectations. I executed the race as I wanted. It was a strong field which pushes me even more. I changed the rhythm between the hurdles, the change makes it easier, less steps and I am still fast. I am looking forward to run in Hengelo in two days because there will be a lot of people from home".
Men's 5000 metres:
Mohamed Katir from Spain set the world seasonal lead with 12.52.09 to win the men's 5000 metres in 12:52.09 with the fastest final 1000 metres split run over this distance beating Yomif Kejelcha from Ethiopia, who improved his seasonal best with 12:52.12 in a race where 13 athletes dipped under the 13 minutes barrier for the first time in history. Katir set the Spanish record with 12:50.79 two years ago in Florence. Luis Grijalva from Guatemala set the national record with 12:52.97 to beat world record holder Joshua Cheptegei from Uganda (12:53.81), Telahun Bekele from Ethiopia (12:54.31), William Kincaid (12:54.40 PB), Joe Klecker (12:55.16), last year's Golden Gala second placer Jacob Krop (12:56.57). Cheptegei returned to the track after overcoming a knee injury.
Men's 100 metres:
World champion Fred Kerley clocked another 9.94 to win his second 100 metres race in the Diamond League season on a damp and cool night repeating the same time as in Rabat. African record holder Ferdinand Omanyala placed second in 10.05. Last year's Diamond League winner Trayvon Bromell took third place with 10.09 edging Akani Simbine with the same time. European Indoor champion Samuele Ceccarelli smashed his PB by three tenths of a second to 10.13 to finish fifth ahead of Rohan Browning (10.15), Yohan Blake (10.15) and world silver medallist Marvin Bracy Williams (10.23).
Fred Kerley: "The secret of my success is being consistent. I ran 9.88 already this year, so when my time is sub 9.80 the world will be surprised. I leave the pressure behind. I believe in myself and in what I am capable to do. I am really happy today. I know what I have to do in the next couple of races. The weather ? Everybody today, in every lane, ran in the same conditiions".
Men's 200 metres:
World bronze medallist Erriyon Knighton moved away from the rest of the field down the home straight to win his first 200 metres race this year in the Diamond League in 19.89. Jereem Richards from Trinidad and Tobago took second in 20.28 ahead of Aaron Brown from Canada (20.31) and Filippo Tortu (20.41).
Erriyon Knighton: "I am very satisfied with this time in the first race of the season"
Women's 100 metres:
Three-time world medallist Marie Josée Ta Lou won the women's 100 metres in 10.97 into a headwind of -0.4 m/s beating European champion Gina Luckenkemper from Germany (11.09) and Imani Lansiquot from Great Britain (11.18). Dina Asher Smith withdrew from the competition after suffering from cramps in her calf during the warm-up.
Marie Josée Ta Lou: "Today, I feel a bit tired because I am jetlagged. The most important thing was the win and I got it. This season my main goal is to win everytime I stand on the track".
Men's 110 metres hurdles:
Double world champion Grant Holloway won his first Diamond League race this season with 13.04 into a headwind of -0.2 m/s missing the meeting record by three hundredths of a second. European Indoor champion Jason Joseph set the Swiss record to 13.10 to finish second.
Grant Holloway: "It was good. I wanted to come out there and execute my race plan and if it did not work, I would have tried to do something better, but I executed my race with perfection so I could not have done anything better today.Maybe the start could be a little better, there can be a thousand thing that I can I can improve but I am consistent and this season is still going on. The conditions were good, a little bit cooler than in Florida but it just feels good to be here".
Women's 3000 metres steeplechase:
Ethiopian 19-year-old middle distance runner Sembo Almayeu took the first win of her career in the Diamond League in a meeting record and a world lead of 9:00.71 beating 2021 world under 20 champion Jackline Chepkoech from Kenya (9:04.07) and Zerfe Wondemagegn from Ethiopia, who improved her PB to 9:04.61.
Men's triple jump:
Last year's Diamond League champion Andy Diaz set the national record with 17.75m in the first round to win the men's triple jump. The previous Italian record was held by Diaz's coach Fabrizio Donato, who jumped 17.60m in Milan in 2020. Diaz was congratulated by coaches Donato and Andrea Matarazzo. Diaz hopes to represent his adopted country Italy at the World Championhips in Budapest and at the Olympic Games in Paris.
Andy Diaz: "It was crazy to take the national record on the first attempt this evening. My coach Fabrizio Donato set the previous Italian record on June 2000, It's mine and it was wonderful to achieve this result in front of the Italian crowd. Fabrizio Donato gave me a home when I arrived in Italy and we worked together from the first day to reach this result. We have to work more and more to improve. Fabrizio is even happier than me. Thank you very much Florence.
Women's long jump:
European indoor silver medallist Larissa Iapichino from Italy leapt to 6.79m in the first round to win the first Diamond League competition of her career in front of her home fans. Former NCAA champion Tara Davis Woodhall took the second place with 6.74m ahead of Maryna Beck Romanchuk from the Ukraine (6.59m), Ese Brume from Nigeria (6.58m) and Malaika Mihambo from Germany (6.57m).
Larissa Iapichino: "I have got my first victory in the Diamond League in my hometown. It is simply wonderful. Today the conditions were very difficult. No one of us has jumped in a perfect way and the goal was in my opinion to take as few mistakes as possible. I managed as well and I took a victory in a very tough race. I think that anyone of us could win today. I gave all my best trying to get focused on my own. It's a very good moment for me. I am full of confidence but I know that I will keep stronger and stronger when difficulties will arrive".
Women's pole vault:
Olympic champion Katie Moon won her second Diamond League competition with 4.71m beating Tina Sutej from Slovenia on countback. Moon cleared 4.71 at the second time of asking, while Sutej needed three attempts to clear this height. Last year's Diamond League champion Nina Kennedy placed third with 4.61m to beat Italian record holder Roberta Bruni and Sandi Morris on countback.
Katie Moon: "It was a tough competition. I was a little bit inconsistent. After the injection in my ankle, after the Doha Diamond League I have not jumped a lot so today. I was jumping my way back into shape. I was not super consistent but I am happy about how some of my jumps went."
Men's shot put:
Leonardo Fabbri from Italy produced his best throw of 21.73m in the fourth round to win the men's shot put in front of his home fans. Fabbri was born in Florence and grew up in the Tuscan city. Tom Walsh from New Zealand, who won in Florence Golden Gala two years ago, took second place with 21.69m beating Tomas Stanek (21.64m). Last year's Diamond League champion Joe Kovacs finished out of the top 3 in fourth place with 21.55m. USA's Adrian Piperi and Italy's Zane Weir also threw over the 21 metres barrier with 21.43m and 21.13m.
Leonardo Fabbri: "This stadium always gives me great feelings and I was focused to keep the stadium record. Everything has felt perfect since I woke up this morning. I have to work and train to make this possible even in other locations. I live a few km away from Florence. The stadium was full of friends of mine.
Women's discus throw:
Olympic champion Valarie Allman from the USA took the win in the women's discus throw with 65.96m in the fifth round after 57.60m in the first attempt and three fouls. Allman beat world champion Feng Bin from China, who threw the discus to 65.91m in the fifth round. Germany's Shanice Craft placed third with 64.47m.
Valarie Allman: "This was an unbelievable competition in a dramatic way ! Today was all about competing. My training has been going well. The rain messed with my training and my technique. I was not able to fly properly, but in the end I managed to win. At my first attempt I found the right tension. I will celebrate this win with spaghetti and ice cream".
Men's high jump:
Ju'Vaughn Harrison and Sangyhyeok Woo cleared 2.30m on their first attempt in a thrilling competition. Harrison jumped 2.32m in his third attempt to score his second Diamond League event following his victory in Doha. World Indoor champion Sanghyeok Woo failed three attempts at 2.32m to take second place.
Ju'Vaughn Harrison: "I was a bit nervous because of the wet conditions so I was not pushing and putting my foot down too hard. The level of high jump is always going to be good. It is still early in the season and a lot of the high jumpers show up in the back end. So I would not count anybody out. We had a great competition today. My target is to win the world championships this year. I will compete the long jump in Hengelo on Sunday. Focusing on high jump all the time, you get used to it, so long jumping gives me a break in between the high jumps. The next high jump competition ? I don't know we will see."
Women's 400 metres:
Nalalia Kaczmarek from Poland won the women's 400 metres in 50.41 edging European indoor silver medallist Lieke Klaver from the Netherlands (50.75) and Lynna Irby Jackson from the USA (50.84).
-->