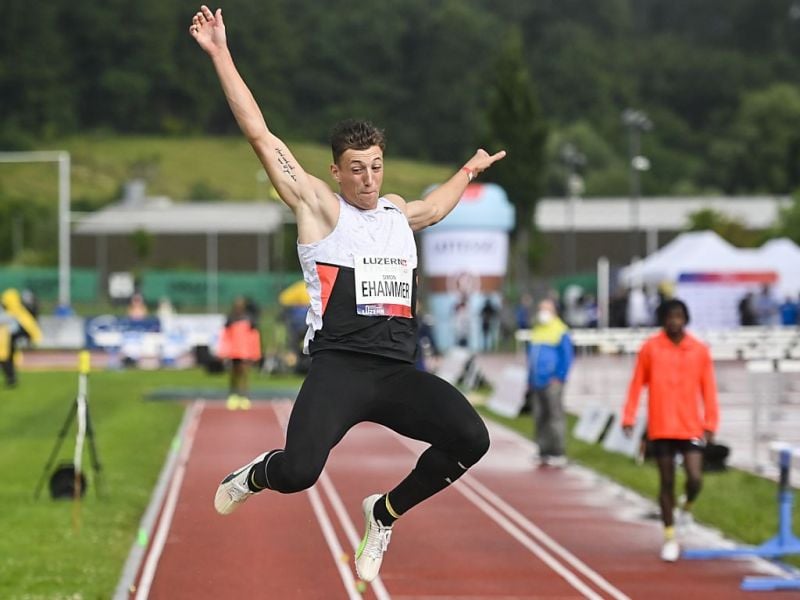 Simon Ehammer and Adrianna Sulek are the overnight leaders at the Hypo Meeting at the Moesle Stadium in Goetzis. Ehammer leads by just two points over Olympic champion Damian Warner after five events with 4636 points in a very close competition. Lindon Victor is ranked third with 4379 points ahead of former Goetzis winner Kai Kazmirek (4296). The first day was highlighted by a world decathlon best of 8.45m in the long jump set by Simon Ehammer.
Sulek totalled 3940 points after four events to lead after four events with a gap of 97 points over Anouk Vetter.
Men's decathlon:
Warner won the 100 metres in 10.14 repeating the same time he clocked in last year's year's edition. Warner missed his world all-time decathlon best by 0.02. His compatriot Pierce Lepage took second place in 10.35 missing his lifetime best by 0.05. Simon Ehammer improved his PB by 0.04 to 10.46.
Ehammer leapt to a sensational 8.45m in his first attempt in the long jump to take the lead in the overall ranking with 2163 points.
Ehammer improved his own Swiss record in the long jump by 15 cm. He broke the 19-year-old Swiss long jump record with 8.30m in the Ratingen Combined Events meeting three weeks ago, improving the 8.28m world decathlon best that Warner had set en route to his win in Goetzis in 2021.
This mark would have been good enough to win the individual gold medal at the past four editions of the Olympic Games. With this result Ehammer scored 1178 points, the best ever individual performance in any decathlon competition.
He also improved the world leading mark held by olympic champion Miltiadis Tentoglou with 8.35m since April.
Warner jumped 7.93m to rank second after two attempts with 2105 points.
Estonia's Hans Christian Hausenberg jumped 7.85m to take third place in the overall standing with 1955.
Lindon Victor from Grenada won the shot put coming close to his PB with 16.28m to move up into third place in the overall standing with 2708 points. Ehammer threw to 14.42m to keep his leading position with 2917 points ahead of Warner, who brought his total tally to 2890 with his best of 14.92m in the first round and closed the gap on Ehammer.
Ehammer maintained his lead of 27 points over Warner after both athletes cleared 2.03m in the high jump. Victor jumped 2.00m to keep third place with 3511 points. US decathlete Hunter Price won the high jump with 2.09m on his debut in Goetzis ahead of Maicel Uibo (2.06m) to move up from eighth into fourth in the overall standing with 2413 points.
Rik Taam from the Netherlands improved his PB to 47.28 in the third heat to set the fastest time in the 400m. Malike Diatike from Germany won the fourth heat in 47.42 ahead of Warner, who clocked 47.92. Ehammer finished fifth in his heat in 48.44 and defended his lead by a small margin of just two points.
Ehammer is on target to break his own Swiss record of 8354 points set in Ratingen.
The Swiss athlete is planning to compete in the long jump at the World Championships in Eugene and in the decathlon at the European Championships in Munich this summer.
Simon Ehammer: "I want to become the first Swiss athlete to finish in the top three in Goetzis.
Warner is chasing his seventh win in Goetzis.
Women's heptathlon:
World Indoor bronze medallist Kendell Williams won the 100m hurdles in 13.13 into a headwind of -0.7 m/s beating Olympic silver medallist Anouk Vetter (13.28). Sulek clocked 13.61.
European under 23 champion Adrianna Sulek had a clean sheet until 1.89m before improving her lifetime best to 1.92m in her third attempt to take the overall lead with 2166 points. Lisa Maria Lusti finished second setting a PB of 1.86m.
Williams cleared 1.80m at the second time of asking to bring her total tally to 2083 points. Sophie Weissenberg from Germany needed three attempts at 1.80m to move up into third place with 2019.
Sulek set another PB in the shot put with 13.79m to maintain her overall lead with 2946 points. The Polish athlete built up a lead of 107 points over Vetter, who produced the third best throw of the day with 14.88m. Odile Ahouanwanou from Benin took the win in the shot put with 15.27m to move up into third place in the overall standing. Vanessa Grimm from Germany produced a second best throw of 14.96m.
Sulek clocked 23.86 in the 200m crowning her outstanding first day with her third consecutive PB. The European Under 23 champion leads at the top of the standings overnight with 3940 points. Vetter ran 23.76 edging Williams by just 0.01 to end the first day in second place with 3843 points. Germany's Sophie Weissenberg improved her PB to 23.86.
Williams ranks in third place overnight 16 points behind Vetter. Ahouanwanou follows in fourth place with 3785 points after clocking 24.26 in the half-lap event.
Adrianna Sulek: "I did not expect to end the first day in first place. I set three PBs and it was a big surprise for me".
Swiss record holder Annik Kaelin won the third heat improving her PB to 23.89 to end the first day in seventh place with 3726 points.
Reigning world champion Katarina Johnson Thompson won the 200 metres in 23.51 to end the first day in ninth place with 3695 points. After winning the world title in Doha 2019 the British eptathlete underwent surgery on her Achilles tendon. In the other three events she produced 13.80 in the 100m hurdles, 1.77m in the high jump and 12.87m in the shot put.
Holly Mills sits just four points behind in 10th place after producing 13.44 in the 100m hurdles, 1.77m in the high jump, 13.36m in the shot put and 24.47 in the 200m.
-->