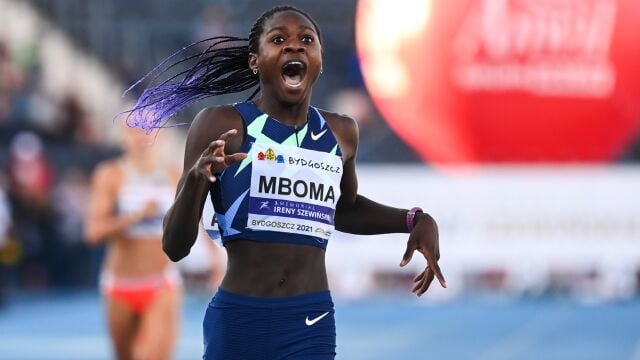 Cristina Mboma set the world under 20 and African record in the women's 400 metres with a sensational 48.54 at the Memorial Irena Szewinska at the Zdzislaw Kryszkoviak Stadium in Bydgoszcz.
The Namibian 18-year-old sprinter smashed her previous record of 49.22 set earlier this year. She became the seventh fastest 400m sprinter in history and the first under 20 athlete to break under the 49 seconds barrier.
Justyna Swiety Ersetic finished a distant second with 51.91.
"I could not believe I will be so fast. I'm really impressed," said Mboma.
Nilsen clears 5.92m in the pole vault
Four vaulters cleared 5.82m in an exciting pole vault competition. Former NCAA outdoor champion Christopher Nilsen cleared 5.92m in the first attempt to set a seasonal best and a stadium record. Ernest John Obiena from the Philippines improved the national record to 5.87m to finish second. Three-time world medallist Piotr Lisek finshed third with 5.82 beating 2016 Olympic champion Thiago Braz Da Silva on countback.
Chris Nilsen: "I was pretty tired after travelling a couple of days ago. I wanted to keep that consistency over 5.80m, came here and got a season's best with 5.92m. It was a really competitive competition and that was the most fun of it. I think the feeling of having a crowd back to semi-normal, and everyone jumping really well made it a really good competition".
Polish wins for Fajdek and Wlodarczyk in the hammer throw
Reigning olympic champion and record-holder Anita Wlodarczyk and four-time world champion Pawel Faydek claimed a Polish double in the hammer throw.
Wlodarczyk started the competition with a seasonal best of 75.83m and followed it with an impressive 77.93m in the second round. The Polish hammer thrower then produced four more throws over the 75 metres barrier (76.14m, 76.21m, 75.18m and 76.23m). All six throws were beyond her previous seasonal best. Her compatriot Malwina Kopron finished second with 75.41m beating Alexandra Taverniew from France (73.87m). Wlodarczyk is now ranked third in the world seasonal list behind DeAnna Price (80.31m) and Brooke Andersen (78.18m).
Anita Wlodarzcyk: "My message is that I am back and I am ready. I am happy that every single throw was above 75 metres. I hope that I will be ready in Tokyo and I will fight for gold. After seven months training, I am ready for 78 metres. Maybe in Tokyo ? Maybe that will be the day when everything is good and I will throw 80 metres ?".
Four-time world champion Pawel Fajdek set the meeting record in the men's hammer throw with 82.77m beating Olympic bronze medallist Wojciek Nowicki, who threw to 80.00m in the final round to beat Ukraine's Mykhaylo Kokhan by four cm.
Pawel Fajdek: "It was really nice. It's my third competition in a row where I throw over 82 metres. I feel good and feel really healthy and that's good. We have two more competitions and then we go to Tokyo, now we have to focus on technique and health and the body feeling good and that's it".
Walsh wins the men's shot put
New Zealand's 2017 world champion and 2016 olympic bronze medallist Tom Walsh won the men's shot put with 21.46m to beat Armin Sinancevic from Serbia (21.16m) and Chuk Enekwechi from Nigeria (21.11m).
Worknesh Mesele set a meeting record in the women's 800m with 1:59.39. Diribe Welteji finished runner-up improving her lifetime best to 1:59.46.
Abraham Sime took the win the men's 3000 metres steeplechase with 8:21.41. Tigist Ketema claimed the women's 1500m in 4:03.90 missing the meeting record by just 0.04.
Cornelius Tuwei won the men's 800 metres in 1:45.76.
Olympic silver medallist Orlando Ortega from Spain clocked 13.33 in the men's 110 metres hurdles into a headwind of -1.1 m/s.
European champion Elvira Herman took first place in the women's 100m hurdles in 13.15 into a headwind of -1.8 m/s.
Michelle-Lee Ahye from Trinidad and Tobago sprinted to 11.33 in the women's 100m into a headwind of -1.9 m/s. Gift Leotlela from South Africa followed up his recent win in Madrid with another victory in 10.24 into a headwind of -1.8 m/s.
See the full meet results here.
Women's 400m results
| Place | Name | Nat. | Mark |
| --- | --- | --- | --- |
| 1. | Christine MBOMA | NAM | 48.54 |
| 2. | Justyna ŚWIĘTY-ERSETIC | POL | 51.91 |
| 3. | Cátia AZEVEDO | POR | 52.03 |
| 4. | Małgorzata HOŁUB-KOWALIK | POL | 52.07 |
| 5. | Aleksandra GAWORSKA | POL | 53.52 |
| 6. | Anna PAŁYS | POL | 54.16 |
| 7. | Mariola KARAŚ | POL | 54.37 |