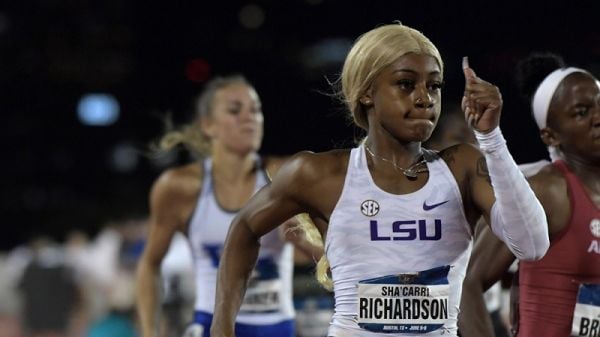 Sha'Carri Richardson produced the 6th fastest 100m time in history at the Miramar Invitational on Saturday in South Florida.
The 21-year-old Richardson stormed to a victor in the 100m final clocking 10.72 seconds (W +1.6m/s) to become the 6th fastest 100m performer of all time. In the prelims, she comfortably clocked 11.00 seconds.
"My coach will be proud but he'll say I still have more work to do, and I agree. My season is going to be unbelievable," said Richardson.
400m hurdler Shamier Little won the women's 400m flat in a new personal best time of 49.91. She became only the second woman in history to break 53 seconds for 400m hurdles (her PB is 52.75) and 50 seconds for 400m flat.
Kendra Harrison (USA), the world indoor champion, stormed to a wind-aided 12.38 (2.7m/s) victory in the 100m hurdles final. Cindy Sember (12.55) and Tiffany Porter (12.57) were second and third respectively. In the qualification round, Harrison clocked a wind-legal 12.54 (2.0m/s) to win her heat.
Grant Holloway, the reigning World champion and 60m hurdles World indoor record holder, opened his outdoor season with a strong 110m hurdles win in 13.04 (wind +2.2m/s).
Jenna Prandini won the 200m dash with 22.29 (wind 2.3m/s). She finished ahead of world silver medallist Brittany Brown (22.39), the 2016 world U20 champion Candace Hill 22.43, and double Olympic champion Elaine Thompson-Herah (22.44).
Kyree King prevailed in the men's 100m final with 9.97.
-->