American sprinter Justin Gatlin easily beat two great rivals, Asafa Powell and Tyson Gay, in  the 100m at Lausanne Diamond League meet on Thursday night.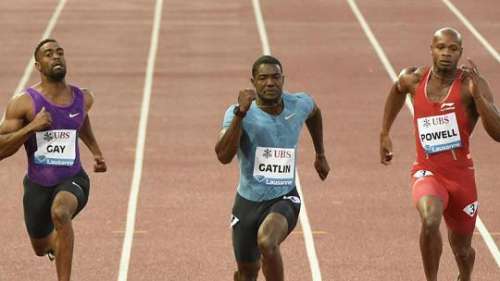 Gatlin posted another astonishing time of 7.75 seconds only 0.01 seconds slower than his world leading mark to solidify his name as the favorite for the next month's world championships in Beijing.
"I love this track! Last year I ran 9.79sec, this year there was more competition with Tyson Gay and Asafa Powell," said Gatlin. "It's always good to face the best, it's like a heavyweight boxing match, that's what I want to do." He added.
Former world record holder Asafa Powell of Jamaica took second with a time of  9.92 seconds.
"It wasn't my best race, it's actually one of my slowest times of the season but I'm still confident," Said Powell, who clocked 89th sub-10sec 100m.
"Every time I put on a Jamaica vest I try to do my best for myself and my nation and this year will be no different." Powell added.
Tyson Gay the 2007 double world sprint champion was third posting the same time as Powell.
"I have a sore hip and I've been doing my best to get better, but I have no excuses," Gay said. "I've really been trying to shake the cobwebs off. Now I have to get back to training and work hard to get better."