• USA Women Smashe DMR World Record

Posted by:
Watch Athletics
Sunday, 08 February 2015
USA's New Balance team of Sarah Brown, Mahogany Jones, Megan Krumpoch and Brenda Martinez broke the women's distance medley relay (DMR) world record on Saturday night at the New Balance Indoor Grand Prix.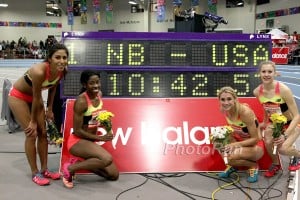 The team NB USA in a thrilling race vs NY All-Stars team smashed the previous world record of 10:50.98 by more than 8 seconds.
In the final leg NB USA team memeber, Brenda Martinez, managed to chase down NY All-Stars Nicole Tully and pass her in the last 10m of the race for the win.
"I really needed to dig down and just get after it," the 2013 world 800m bronze medalist Martinez said. "I didn't even know it was the last lap — I was kind of lost out there. I snapped out of it and said, 'I need to go right now.' "
The winners Team New Balance USA posted a new DMR world record of 10:42.57.
Another record that fell same night was the women's 2-mile American record by Jenny Simpson. The 2011 world 1500m champion dominated the race by clocking 9:18.35. The second place finisher Sentayehu Egiyu from Ethiopia finished almost 8 seconds behind Simpson.
Results Women DMR
Place
Name


Affiliation
Time




Heat (Pl)


1
NB - USA


NBU A
10:42.57




1 (1)


2
NY All-Stars


NYAS A
10:42.79




1 (2)


3
NB - Ireland


NBI A
11:03.07




1 (3)


4
Harvard


HARV A
11:22.53




1 (4)


5
Boston Colle


BOSC A
11:24.67




1 (5)


6
Northeastern


NEU A
11:50.74




1 (6)
Women 2-miles Results
Place
Name
Affiliation
Time


1018m
1618m
2018m
2618m
2818m
3018m
2mile
1
Jenny Simpson
USA
9:18.35


2:57.17 [35.63]
4:42.64 [35.40]
5:52.84 [35.43]
7:39.62 [35.52]
8:14.39 [34.78]
8:47.66 [33.27]
9:18.35 [30.69]
2
Sentayehu Ejigu
ETH
9:27.05


2:57.45 [35.61]
4:42.90 [35.41]
5:53.12 [35.44]
7:39.88 [35.50]
8:14.84 [34.97]
8:50.98 [36.14]
9:27.05 [36.08]
3
Buze Diriba
ETH
9:29.03


2:57.74 [35.59]
4:43.27 [35.46]
5:53.61 [35.42]
7:40.80 [35.87]
8:17.40 [36.61]
8:54.20 [36.80]
9:29.03 [34.83]
4
Gotytom Gebreslase
ETH
9:31.41


2:57.96 [35.61]
4:43.49 [35.47]
5:53.33 [35.45]
7:40.47 [35.85]
8:17.87 [37.41]
8:55.21 [37.34]
9:31.41 [36.21]
5
Stephanie Garcia
USA
10:04.14


2:58.25 [35.69]
4:46.36 [36.72]
6:02.40 [38.53]
8:01.60 [40.39]
8:41.82 [40.23]
9:22.93 [41.11]
10:04.14 [41.22]
DNF
Heather Wilson
USA
-


2:56.96 [35.67]
More New Balance Indoor GP Results Here>>