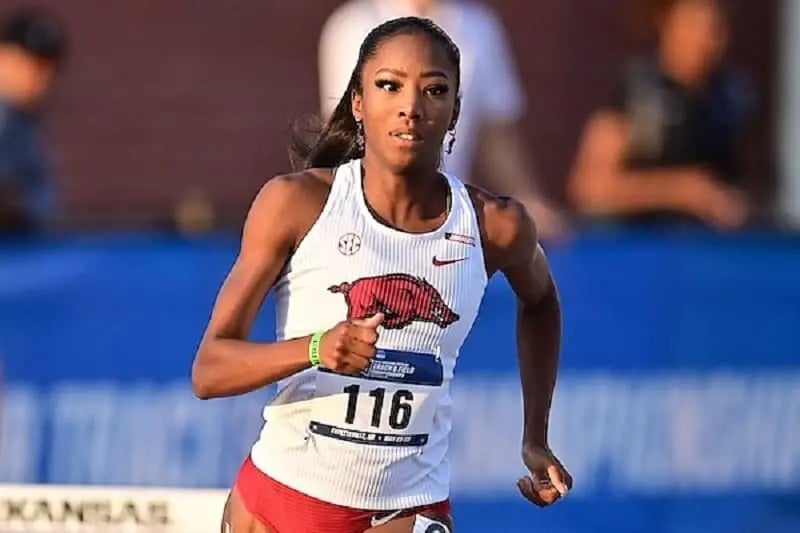 On Saturday afternoon, Britton Wilson shattered the US Collegiate (NCAA) 400m record.
On Saturday afternoon, the NCAA indoor champion blazed 49.51 seconds to win the women's 400m at the Tom Jones Memorial in Gainesville, Florida. Wilson shaved 0.07 seconds from Olympic 800m champion Athing MU's previous record from 2021.
Rhasidat Adeleke of Texas finished second in the same heat, setting a new Irish national record with 49.90 seconds. Arkansas' Rosey Effiong took third, clockong 50.93 seconds,
On Friday, Wilson won the 400m hurdles with a World leading time of 53.23.
In the men's 400m, Emmanuel Bynum of Tennessee won the men's collegiate section with a time of 44.67 seconds. Jereem Richards of Trinidad and Tobago won the men's Olympic Development 400m section with a new new personal best time of 44.68 seconds.
Elsewhere at the Tom Jones Invitational:
In the men's 100m collegiate race, Terrence Jones of Texas Tech clocked a wind-legal 9.91 (+1.0) to equal the seventh-fastest time in US collegiate history. His teammate Courtney Lindsey took second at 10.04, while Amir Willis from Florida State took 3rd at 10.08 seconds.
Meanwhile, Olympic 200m champion Noah Lyles posted 9.95 seconds (w+1.6s) to win the Olympic Development 100m race. Joseph Fauhnbulleh was second in 9.98, while Kendal Williams was third in 10.03 seconds.
A day earlier, Lyles prevailed in the men's Olympic Development 200m race, clocking wind-legal 20.16.
The University of Texas sprint star Julien Alfred after setting St. Lucia's 200m national record with 21.91 on Friday, ripped a wind-aided 10.72 (+2.4) in the women's 100 meters to set an all-time, all-conditions collegiate best. The previous all-conditions NCAA best belonged to Cambrea Sturgis, who ran 10.74 (+2.2) last year.
-->