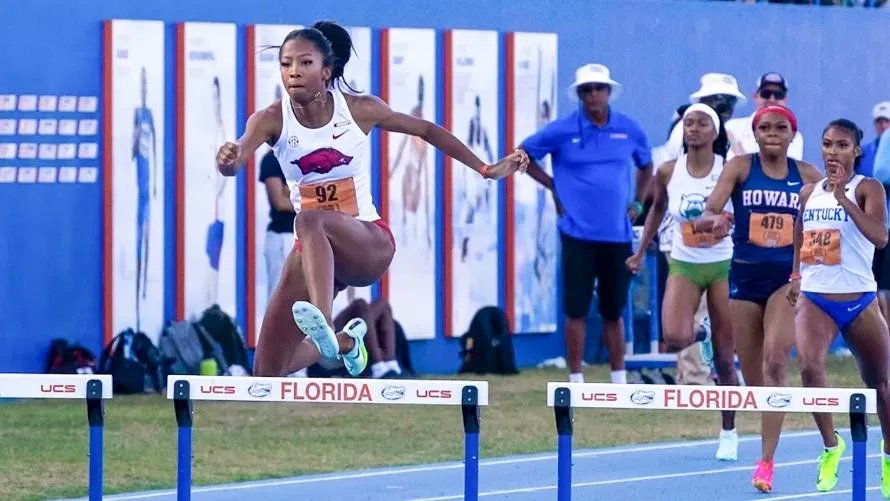 Britton Wilson from the University of Arkansas set a new 400m hurdles world lead of 53.23 seconds in her first individual race of the year at Tom Jones Memorial Invitational in Gainesville, Florida.
Anna Hall took second with 54.48, and Masai Russell was third with 55.39 seconds.
Wilson picked up from where she left off following an exceptional indoor season, including an NCAA title, an American record, and No. 2 on the all-time mark in the 400m of 49.48.
Women's 400m Hurdles Results
| Place | Athlete | Time | Heat |
| --- | --- | --- | --- |
| 1 | Britton Wilson Arkansas | 53.23 | 1 |
| 2 | Anna Hall Adidas | 54.48 | 1 |
| 3 | Masai Russell Kentucky | 55.39 | 1 |
| 4 | Jessica Wright Howard | 55.81 | 1 |
| 5 | Vanessa Watson Florida | 56.33 | 1 |
| 6 | Lashanna Graham Clemson | 56.54 | 2 |
| 7 | Kaila Barber Unattached | 56.55 | 1 |
| 8 | Leah Phillips LSU | 56.56 | 3 |
| 9 | Mariel Bruxvoort Iowa | 56.71 | 2 |
| 10 | Paige Magee Iowa | 56.79 | 2 |
Tom Jones Memorial Invitational 2023 Results
-->