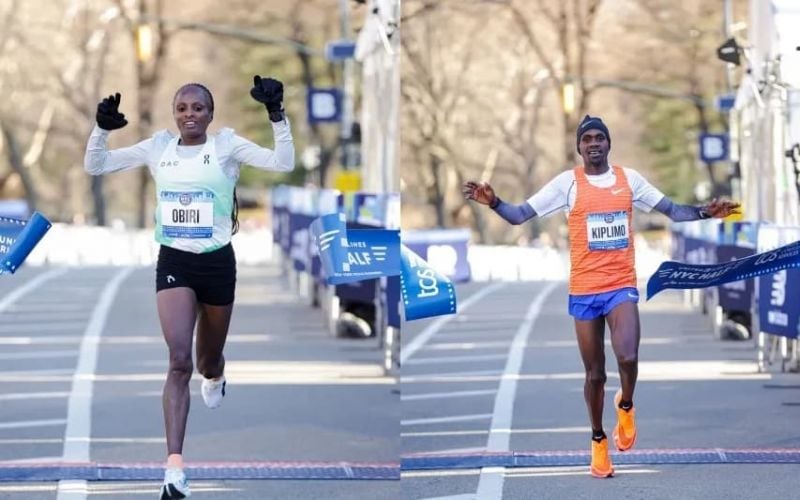 Despite cold and windy conditions, Hellen Obiri and Jacob Kiplimo delivered convincing victories at the United Airlines New York City Half Marathon on Sunday, March 19.

The two-time world 5000m champion Obiri was in a close contest with Ethiopia's Senbere Teferi for a large part of the race until she pulled away from the last year's champion just after the 15km to win the race in a new course record time of 1:07:21.

"I'm so grateful to have won this race," said Obiri, the 2019 world cross-country champion. "There was a lot of wind, but I tried to push the pace after 15km. Obiri said. "My mind was just on winning, not the time because it is a hard course. I still wanted to run sub-70, so I'm happy to have done that and won today."
Meanwhile, Uganda's Jacob Kiplimo also produced an impressive performance as he won the men's race with a time of 1:01:31. The world half marathon record holder, Kiplimo, waited until the 16km marker to make his move when he started to push the pace running uphill, as Talbi and Cheptegei fell back. Passing the 17 km marker, he had gained a 10-second lead on Cheptegei, and like Obiri, he ran solo from there to the finish.
Impressively, Kiplimo ran each 5k quicker than the prior, clocking a blistering 13:52 in his final 5k as he beat 5,000 and 10,000 World record holder Joshua Cheptegei by almost 40 seconds.
"From start to finish, even though it was a little cold, I did my best," Kiplimo said. "I think my preparation the last two months helped a lot for this because I was doing two trainings a day preparing for the World Cross Country Championships, plus this half marathon."
-->