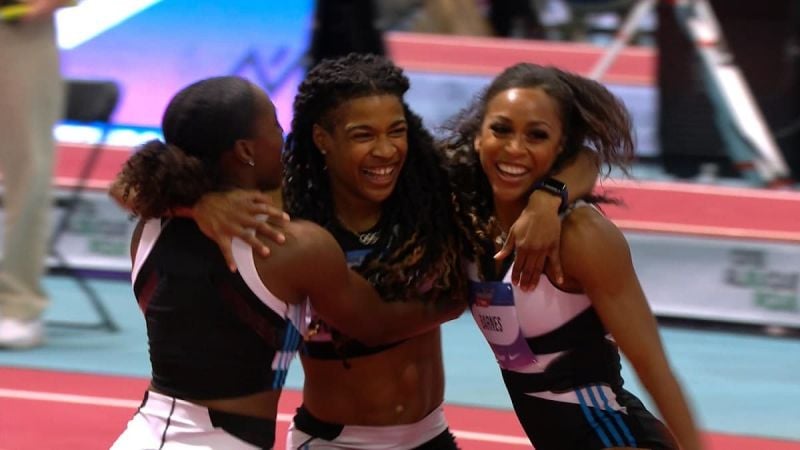 The women's 60m dash final highlighted the final day of the 2023 USA track and field indoor championships on Saturday in Albuquerque, New Mexico.
Aleia Hobbs sped to a new American record in the women's 60m dash final with a blazing 6.94 seconds. Hobbs set a new USA national record and the 2nd fastest time in history behind Irina Privalova's 6.92 second World record. The previous US 60m indoor record belonged to Gail Devers at 6.95 seconds.

The world indoor bronze medallist Marybeth Sant-Price took second place at the US championships with 7.09 SB, with Destiny Smith-Barnett concluding the podium with a new PB of 7.11.


In the men's 60m final on Saturday night, JT Smith took a surprise victory in 6.53. Two-time world 200m champion Noah Lyles qualified for the final with 6.56 but decided not to run the 60m final due to a tight hip flexor.
Sam Kendricks, the two-time world pole vault champion, cleared 5.91m to win his fourth US title. The Olympic and world champion Katie Moon won the women's pole vault with an impressive clearance of 4.80m.

Freddie Crittenden stormed to a victory in the men's 60m hurdles final, setting a new PB of 7.49. He crossed the line only 0.004 seconds ahead of Robert Dunning, who also set a personal best of 7.49 seconds. Alaysha Johnson won the women's 60m hurdles in 7.83. She was the only female hurdler to break the 8 seconds in the final.
In the middle distance races, TNikki Hiltz unleashed a massive kick in the final lap to take the 1500m title in 4:17.10. It was Hiltz's first US title. The men's 1500m final was also decided in the last lap as Josh Thompson managed to hold off Samuel Prakel, the 3000m US champion from the day earlier, to his first US title in 3:42.31.

Bryce Hoppel was a clear winner in the men's 800m in 1:45.92. Nia Akins was crowned US champion in the women's 800m with a 2:00.16 PB.
Anna Hall shattered the USA pentathlon record, missing the World record by only 9 points. In her final event the 800m she need to run 2:05.10 to set the WR, but she ended up running 2:05.71.
USA Track and Field Indoor Championships 2023 Results
-->