• Boston Marathon Releases Amazing Women's Elite Field

Posted by:
Watch Athletics
Wednesday, 11 January 2023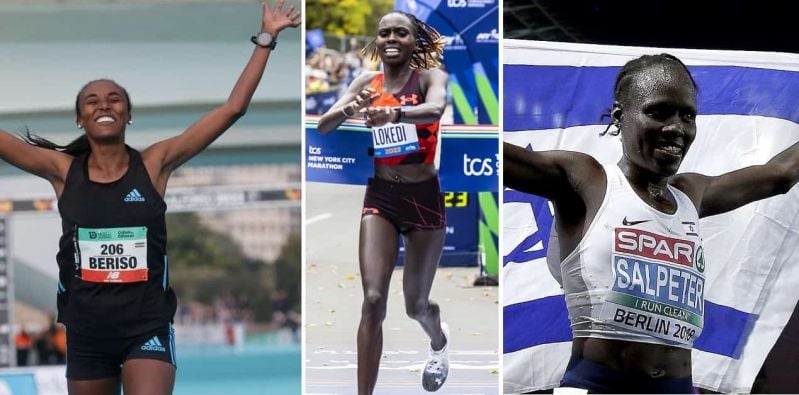 Last night, the 2023 Boston Marathon organizers released a fantastic women's elite runner's field. The list includes global championships medalists, Olympians, and five Boston Marathon champions.
This year's women's elite field is the deepest in history in terms of quality, as there are 16 women with a marathon personal best under 2 hours, 21 minutes, and nine of them hold PBs inside the magical mark of 2 hours and 20 minutes.
"Each year the B.A.A. welcomes strong, competitive, and talented fields to Hopkinton, with athletes ready to race for 26.2 miles," said Mary Kate Shea, B.A.A. Director of Professional Athletes & Technical Support. "This year's field is among the fastest and most decorated professional fields in history, and we anticipate an exciting race from start to finish on Patriots' Day."
The women's race is led by Ethiopia's Amane Beriso, who won the Valencia Marathon last December with a sensational personal best of 2:14:58. Israel's Lonah Salpeter and Kenya's Sharon Lokedi also had remarkable breakthrough performances in 2022. Salpeter claimed a bronze medal at the World Athletics Championships in Eugene, won the European marathon gold in Berlin, and took second at New York City Marathon. Lokedi produced the most significant victory in her career when winning the New York City last November.
The 2023 Boston Marathon will take place on Patriots' Day on Monday, April 17.
Boston Marathon 2023 Women's Elite Field:
| NAME | COUNTRY | PERSONAL BEST |
| --- | --- | --- |
| Amane Beriso | Ethiopia | 2:14:58 (NR) |
| Sheila Chepkirui | Kenya | 2:17:29 |
| Joyciline Jepkosgei | Kenya | 2:17:43 |
| Lonah Salpeter | Israel | 2:17:45 |
| Angela Tanui | Kenya | 2:17:57 |
| Fancy Chemutai | Kenya | 2:18:11 |
| Gotytom Gebreslase | Ethiopia | 2:18:11 |
| Hiwot Gebremaryam | Ethiopia | 2:19:10 |
| Edna Kiplagat^* | Kenya | 2:19:50 |
| Celestine Chepchirchir | Kenya | 2:20:10 |
| Maurine Chepkemoi | Kenya | 2:20:18 |
| Mary Ngugi | Kenya | 2:20:22 |
| Nazret Weldu Gebrehiwet | Eritrea | 2:20:29 (NR) |
| Sara Hall* | USA | 2:20:32 |
| Ababel Yeshaneh | Ethiopia | 2:20:51 |
| Vibian Chepkirui | Kenya | 2:20:59 |
| Atsede Baysa^ | Ethiopia | 2:22:03 |
| Desiree Linden^ | USA | 2:22:38 |
| Viola Cheptoo | Kenya | 2:22:44 |
| Nienke Brinkman | Netherlands | 2:22:51 (NR) |
| Emma Bates | USA | 2:23:18 |
| Sharon Lokedi | Kenya | 2:23:23 |
| Dakotah Lindwurm | USA | 2:25:01 |
| Jessica Stenson | Australia | 2:25:15 |
| Laura Thweatt | USA | 2:25:38 |
| Nell Rojas | USA | 2:25:57 |
| Annie Frisbie | USA | 2:26:18 |
| Sara Vaughn | USA | 2:26:23 |
| Haruka Yamaguchi | Japan | 2:26:35 |
| Aliphine Tuliamuk | USA | 2:26:50 |
| Maggie Montoya | USA | 2:28:07 |
| Hanna Lindholm* | Sweden | 2:28:59 |
| Maegan Krifchin | USA | 2:29:12 |
| Militsa Mircheva | Bulgaria | 2:29:23 (NR) |
| Jane Bareikis | USA | 2:30:04 |
| Sydney Devore | USA | 2:31:07 |
| Annmarie Tuxbury | USA | 2:31:31 |
| Kaitlin Goodman | USA | 2:32:08 |
| Kodi Kleven | USA | 2:32:45 |
| Jess Watychowicz | USA | 2:33:09 |
| Briana Boehmer* | USA | 2:33:20 |
| Nina Zarina | Russia | 2:33:22 |
| Jesse Cardin | USA | 2:33:34 |
| Savannah Berry | USA | 2:33:42 |
| Olivia Pratt | USA | 2:34:22 |
| Anne-Marie Blaney | USA | 2:34:38 |
| Mckale Montgomery | USA | 2:35:01 |
| Liza Howard | Canada | 2:35:29 |
| Esther Atkins | USA | 2:36:32 |
| Sylvia Bedford | USA | 2:36:32 |
| English Jackson Tomlinson | USA | 2:36:51 |
| Aisling Cuffe | USA | 2:37:23 |
| Rachel Coogan | USA | 2:37:40 |
| Claire McCarthy* | Ireland | 2:38:26 |
| Ann Centner | USA | 2:38:30 |
| Tennille Ellis | Australia | 2:39:08 |
| April Lund* | USA | 2:39:23 |
| Carmen Hussar* | Canada | 2:39:51 |
| Gina Rouse* | USA | 2:41:19 |
| Natasha Bliss* | USA | 2:43:28 |
| Julie Lajeunesse* | Canada | 2:44:49 |
| Laurie Knowles* | USA | 2:44:53 |
| Jennifer Hughes* | USA | 2:45:19 |
| Jenny Hitchings* | USA | 2:45:32 |
| Hilary Corno* | USA | 2:45:34 |
| Rebecca Brown* | Australia | 2:45:43 |
| Erika Kemp | USA | Debut |
| Danielle Moreno | USA | Debut |
| Maria Coffin | USA | Debut |
^ - Boston Marathon Champion
* - Masters (40+) athlete