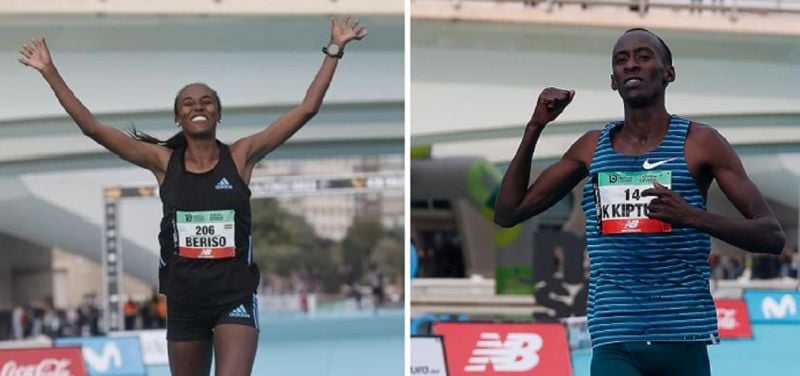 Ethiopia's Amane Beriso Shankule and Kenya's Kelvin Kiptum won the 2022 Valencia Marathon Trinidad Alfonso, a World Athletics Platinum race, running in 2:14:58 and 2:01.53. The famous Spanish race was held in near-perfect conditions.
Beriso won the women's race in an Ethiopian record of 2:14:58, becoming just the third runner to break the 2:15 barrier. Beriso, who entered the race with a PB of 2:20:48 from Dubai 2016, claimed the biggest race of her career, smashing her previous PB by almost six minutes.
Beriso took 2:02 minutes off the previous course record held by Peres Jepchirchir, who won the Valencia Marathon in 2020 in 2:17:16.
World half-marathon record holder Letesenbet Gidey from Ethiopia finished second in 2:16:49. Sheila Chepkirui from Kenya crossed the finish line in 2:17:29. Tadu Teshome completed the top four in 2:17:36. Australia's 46-year-old Sinead Diver improved the national record with 2:21:34. Twelve athletes broke the 2:22 barrier in the best race for depth. Giovanna Epis from Italy missed Valeria Straneo's Italian record by just 10 seconds, crossing the finish-line 15th in 2:23:54. Mary Galimany set the Spanish record with 2:26:14 at the age of 37.
The women's leading group reached the 5 km mark in 16:08, on pace to run a final time of 2:16:08. Gidey was running in a large pack together with Beriso. Gidey and Beriso ran a split of 15:47 from 15 km to 20 km and went through the halfway mark in 67:18, on pace to run 2:14:36.
The Ethiopian duo reached the halfway mark in 1:07.18. They continued to gain on world record pace when they reached the 25 km mark in 1:19:37, on a 2:14:22 pace. They ran their last three 5 km splits in 15:47, reaching the 30 km in 1:35:24 on a 2:14:10 pace. Beriso broke away from Gidey at 37 km and held on to move to third in the all-time world list behind Brigid Kosgei (2:14:04) and Ruth Chepngetich (2:04:18). Gidey faded in the final 10 km. Still, she set the fastest women's debut in history and the sixth best performance in the all-time list.
Beriso did not race in any marathon race from January 2020 to August 2022. She won the Mexico City marathon race in 2:25:05 on 28 August at altitude.
Amane Beriso: "I ran a great race on a fantastic course. I hoped to break the world record, but the pacemakers did not help me".
Men's race: Kiptum sets the fastest-ever debut time
Kenya's Kelvin Kiptum won the men's race in 2:01:53 in the first marathon of his career. Kiptum set the fourth fastest time in history and the fastest debut ever.
The leading pack of 20 men went through the 20 km mark in 14:40, running at a 2:03:46 pace. Nineteen athletes were on pace to run 2:03:16 when they reached the halfway mark in 1:01:38.
Three athletes remained in the lead at the 31 km mark: world marathon champion Tamirat Tola, Kelvin Kiptum, and Gabriel Geay from Tanzania (PB 2:04:55 in Milan 2021 and seventh place at the World Championships in Eugene). They were running at a 2:03:09 pace at 30 km.
Kiptum made his decisive move at 32 km, breaking away from Tola and reaching 35 km with a 15-second lead. The Kenyan runner clocked a 5 km section between 30 to 35 km in 14:00 and was on pace to run a final time of 2:02:26.
Kiptum becomes the third runner in history to break the 2:02 barrier, moving to third in the all-time list behind Eliud Kipchoge (2:01:09) and Kenenisa Bekele (2:01:41).
Kiptum, who turned 23 two days ago, ran a negative clocking 1:00:15 in the second half of the race and a split of 28:04 from 30 to 40 km. Kiptum set his half marathon PB of 58:42 in Valencia in 2020, but he has not finished a race over any distance since October 2021. He did not finish the RAK Half Marathon race last February.
Geay finished second, smashing his PB with 2:03:00. Alexander Mutiso from Kenya crossed the finish line in 2:03:29 on his debut. Tamirat Tola finished fourth in 2:03:40. Kaan Kigen Ozbilen from Turkey missed his PB by 20 seconds with 2:04:36. Nicolas Navarro finished 13th in 2:07:01.
The Valencia Marathon produced great results with nine athletes under 2:06, twelve athletes under the 2:07 barrier, eighteen athletes under 2:08, and twenty-two athletes under 2:09.
Kelvin Kiptum: "I cannot believe that I could run the third fastest time in history. This performance is a God's blessing".
-->