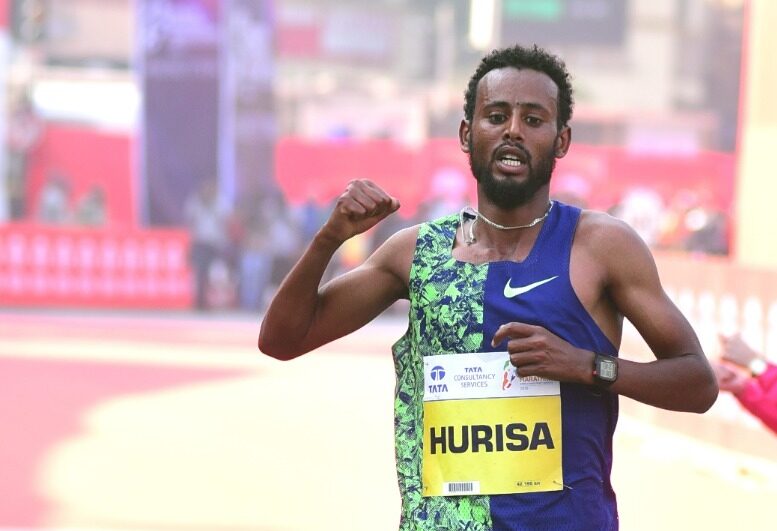 Ethiopia's Derara Hurisa returns to defend his crown at Asia's most prestigious Tata Mumbai Marathon on January 15, 2023, in a competitive elite men's field, with a dozen runners holding personal bests under the 2:08:09 course record he set in 2020.
The 18th edition of the USD 405,000 prize fund World Athletics Gold Label Road Race takes place after a two-year pandemic-forced break and will also witness over 55,000 amateurs across six categories on its much-awaited return.
The elite men's and women's winners will take home USD 45,000 each. The runners will be further incentivised by a Course Record Bonus of USD 15,000.
"I'm up for the challenge and have set my sights on the title," said Hurisa, who clinched the 2021 Guadalajara Marathon in Mexico in a time of 2:12:28.
Toeing the start line in the men's section are also Hurisa's compatriots Ayele Abshero and Hayle Lemi and Kenya's Philemon Rono, a training partner of the legendary Eliud Kipchoge.
Abshero was runner-up here in 2020, 11 seconds adrift of Hurisa, on an AIMS-certified course that is widely regarded as challenging. Abshero, who finished 10th at the 2022 Linz Marathon in Austria in 2:09:37, has a personal best of 2:04:23, which makes him the fastest in the field.
With a personal best of 2:04:33, Lemi is the second fastest in the group.
"I'm excited about my first Tata Mumbai Marathon. I've heard it's a tough course," said Lemi, winner of seven marathons, including the Boston Marathon in 2016 and Dubai in 2015. "It's a tremendous field and is going to be close," added the Ethiopian, a.k.a. Lemi Berhanu, who was runner-up in the 2021 Boston Marathon.
Rono finished an impressive sixth at the 2019 Boston Marathon and won the Toronto Marathon the same year in 2:05:00. He recorded sixth-place finishes at the 2021 Abu Dubai Marathon and the 2022 Seoul Marathon.
Chepkech, the dark horse
In the women's field, seven runners hold personal bests under the course record of 2:24:33 set by Valentine Kipketer in 2013, with Dera Dida (Ethiopia), Sharon Cherop (Kenya) and Rahma Tusa (Ethiopia) leading the charge on their debut here.
Silver medallist at the 2019 World Cross Country Championships, Dida won bronze in 10,000m at the 2019 African Games. In 2022, she won the Bejaia Half Marathon in 71:17 and finished eighth at the Great Ethiopian Run 10K.
More information see at https://tatamumbaimarathon.procam.in/
-->