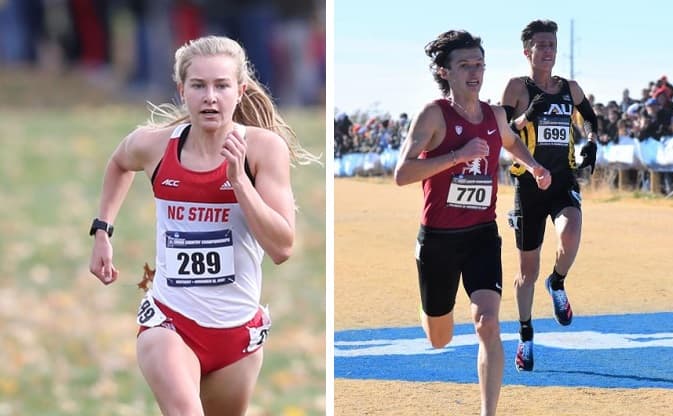 Charles Hicks and Katelyn Tuhoy were the winners at the 2022 NCAA D1 Cross Country Championships on Saturday (19) in Stillwater, Oklahoma. Northern Arizona University men and North Carolina women took the team titles.
Stanford University's Charles Hicks won the men's title at the NCAA Cross Country Championships in Stillwater (Oklahoma) on a cold day. Hicks broke away from Northern Arizona's Nico Young on the penultimate uphill with 700 meters to go and held on to win the race. Hicks broke the course record with 28:43.6 in the 10 km race, running 43 seconds faster than Conner Mantz, who won this title in 2021.
Hicks was born in Great Britain and competes for Great Britainat the international level. He attended high school in the United States.
Northern Arizona University and Oklahoma State both scored 83 points in the men's team ranking. The NCAA team champion was crowned by a tie-breaker for the first time ever in the history of the NCAA Cross Championships. Northern Arizona's Nico Young (second), Drew Bosley (third) and Brodey Hasty (25th) all finished ahead of their opponents of Oklahoma State, so Northern Arizona State won its third consecutive team title and its sixth title in seven years. Arizona ties Oregon for fourth-most titles among the most successful teams in the history of these championships. Brigham Young University finished third with 132 points ahead of Stanford (195 points).
Women's race:
Katelyn Tuhoy won the women's race in 19:27 leading her team NC State Wolfpack to the NCAA team title with 114 points ahead of New Mexico (140 points). Florida's Parker Valby finished second in 19:30 ahead of Kelsey Chmiel (19:37).
Valby opened up a gap of 2 seconds over Tuhoy and extended her lead to 8 seconds at 2.8 km and 11.8 seconds at 4 km.
Tuhoy pushed the pace to catch Valby and reduced her gap to 5 seconds with 1 km to go. Tuhoy overtook Valby in the final stages of the race and cruised to a 3.2 second win.
Hilda Olemomoi crossed the finish line in sixth place, leading the Alabama women's team to third place with 166 points.
-->