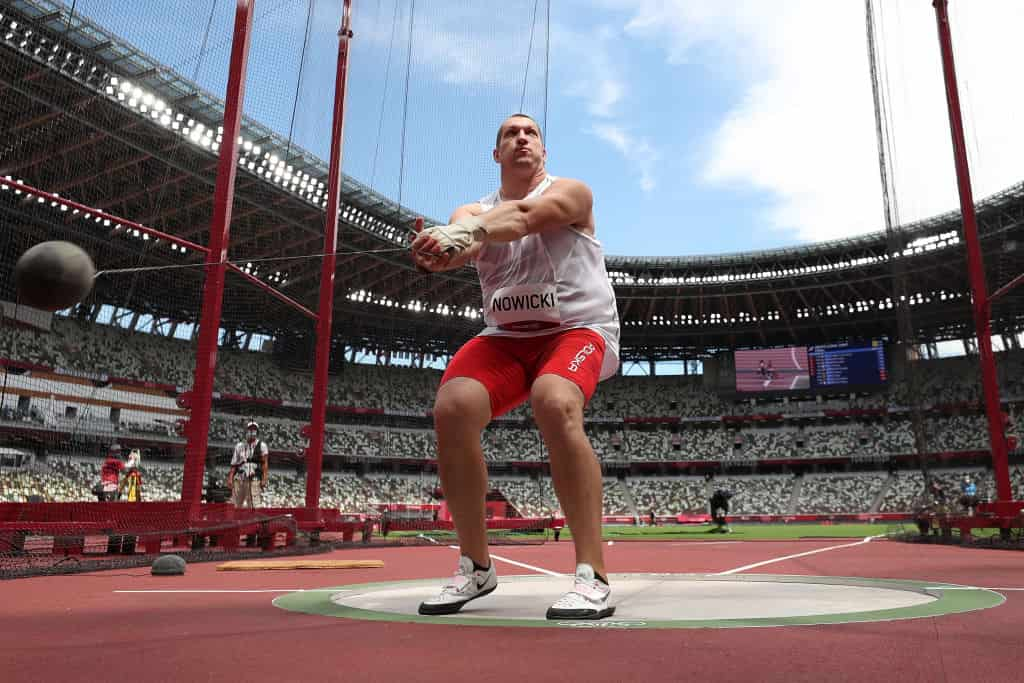 Polish stars Wojciech Nowicki and Anita Wlodarczyk highlighted the Memorial Irena Szewinska in Bydgoszcz, a World Athletics Continental Tour Gold meeting, with a double win in the hammer throw. Five meeting records and one national record were set at this meeting.
Men's hammer throw:
Olympic champion Wojciech Nowicki produced his best throw of 80.28m in the fourth round to take the win over four-time world champion Pawel Fajdek, who set his seasonal best of 80.19m. Bence Halasz from Hungary and Mykhaylo Kokhan set their seasonal best respectively with 78.81m ad 78.09m.
Women's hammer throw:
Three-time Olympic champion Anita Wlodarczyk took the lead with a throw of 73.98 in the third round. She produced a best throw of 74.13m in the fourth round to win her second Continental Tour competition this year after Nairobi. Hanna Skydan from Azerbajan finished second with 73.19m beating last year's Olympic bronze medallist Malwina Kopron (72.44m).
Men's shot put:
Olympic bronze medallist Tom Walsh from New Zealand produced his winning throw of 21.80m in the fourth round. His series featured three more throws over the 21 metres barrier (21.26m, 21.79m, 21.13m). Joe Kovacs came close to Walsh with a throw of 21.76m in the sixth round after a consistent series that included four more throws over the 21 metres (21.05m, 21.57m, 21.15m and 21.23m). World indoor champion Darlan Romani from Brazil took third spot with 21.45m. European champion Michal Haratyk took fourth place improving his seasonal best to 20.99m. Walsh leads 26-25 in his career head-to-head matches against Kovacs.
Tom Walsh: "It was one of those competitions where everyone had to work to figure things out a little bit. I am happy with how I managed to figure it out, get some aggression, and throw some balls out. I am really happy to do what it took to win and sometimes, that's what it is about. Today I felt there were four of us in the fight. To figure out a way to make that ball go far enough to win is a nice feeling now".
Men's pole vault:
Olympic silver medallist Chris Nilsen had a clean sheet until 5.80m to repeat his last year's win at this meeting. Jacob Wooten claimed second place with 5.70m beating Valentin Lavillenie and Piotr Lisek on countback.
Men's 800 metres:
Four PBs and one seasonal best were set in a high-quality race. Dutchman Tony Van Diepen came through in the final sprint to win the 800 metres in a PB of 1:44.31 beating Tshepo Tsipe, who also improved his PB to 1:44.59 sharing the same time as Andreas Kramer from Sweden. Kramer made a move with 300m to go, but he was caught by Van Diepen, who took the edge in the final 50 metres.
Mohamed Ali Gouaned crossed the finish-line in 1:44.67 ahead of Mateusz Borkowski from Poland, who improved his PB to 1:44.79.
Women's 100 metres:
Michelle Lee Ahye from Trinidad and Tobago repeated her last year's win in the women's 100m improving the meeting record to 11.17. Brazil's Vitoria Rosa took second place in 11.32.
Men's 100 metres:
US sprinter Elijah Hall Thompson won the 100 metres final improving his lifetime best to 10.02. Europeaan Under 23 champion Jeremiah Azu finished second in 10.18 edging out 2019 African Games Raymond Ekewo (10.19).
Men's 400m hurdles:
Khallifah Rosser continued his good period of form by winning the men's 400m hurdles in 48.23 one week after setting his PB of 48.10 at the Prefontaine Classic in Eugene. Rosser improved the meeting record held by Louis Van Zyl by 0.48. Former world under 20 champion Sokwakhana Zazini from South Africa finished runner-up in 49.17 ahead of Italy's Mario Lambrughi (49.75).
Women's 400 metres hurdles:
Olympic finalist Viktoriya Tkachuk from the Ukraine looked to have secured the win in the home straight, but Melissa Gonzales from Colombia dipped at the line to take the win by 0.01 in a very close finish setting a national record of 54.80.
Women's 100 metres hurdles:
US hurdler Tia Jones took a very narrow win in the women's 100m hurdles in 12.79 into a headwind of -0.9 m/s edging last year's Diamond League champion Tobi Amusan by 0.01 in a close photo finish.
Men's 110 metres hurdles:
US Damian Britt held off Polish indoor record holder Damian Czykier in the men's 110 metres hurdles by just 0.01 in 13.36.
Men's 1500 metres:
Mohamed Mohumed from Germany pulled away in the final straight to win the men's 1500m in a lifetime best of 3:35.69 in a close sprint beating three athletes, who set their PBs: Adisu Girma from Ethiopia (3:35.81), Matt Stonier from Great Britain (3:35.92) and Daniel Monguti from Kenya (3:36.12). Mohumed improved his previous PB by nearly three seconds and broke the meeting record by eight seconds.
Women's 800 metres:
Adelle Tracey from Great Britain pulled away in the final 100 metres to win the women's 800 metres in 2:01.57 beating Anna Wielgosz (2:01.71) and Ellie Baker from Great Britain (2:01.91) in the final sprint.
Men's high jump:
European under 23 bronze medallist Norbert Kobielski cleared 2.24m in the first attempt to take the win in the men's high jump.
-->