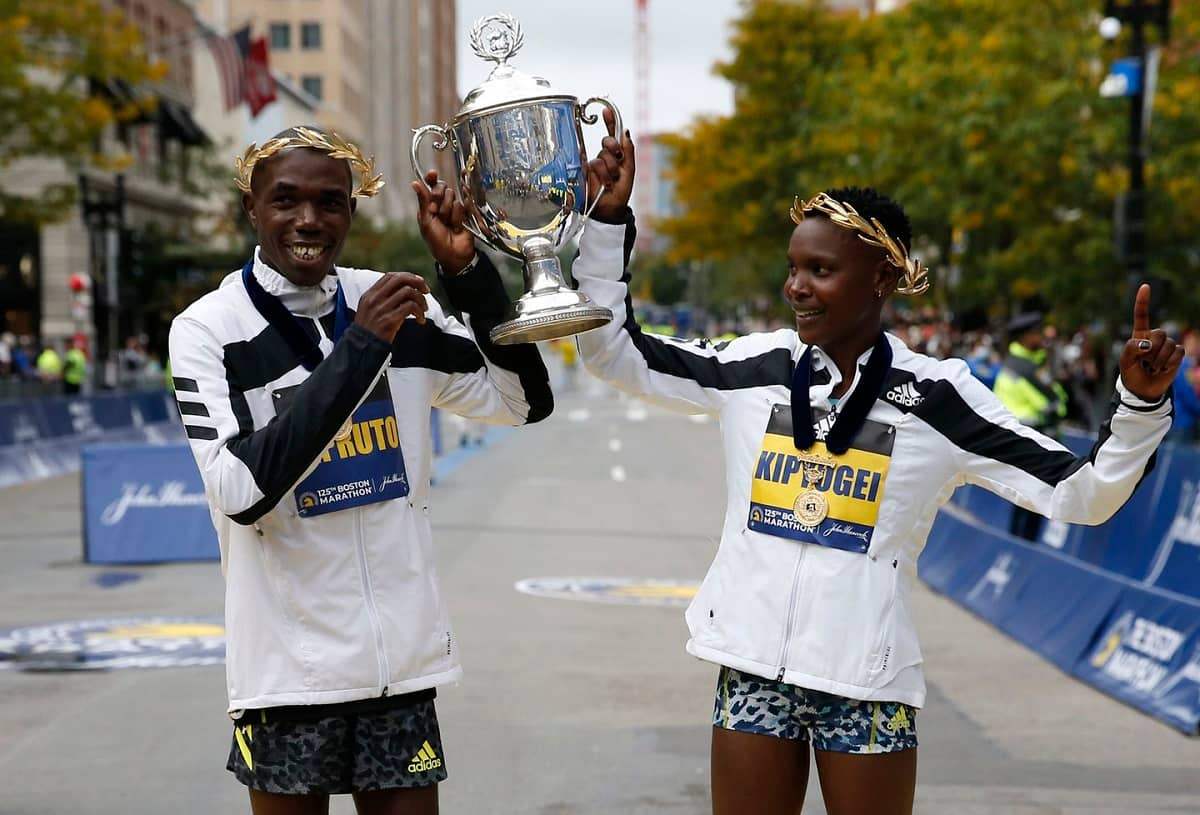 Benson Kipruto won the men's race at the 125th edition of the Boston Marathon in 2:09:51 to claim his first World Marathon Majors race.
Kipruto finished 10th in the 2019 edition of the Boston Marathon in 2:09:53 and won two marathon races in Toronto in 2018 in 2:05:13 and Prague in 2021 in 2:10:16.
The thirty-year-old Kenyan runner pulled away from a big pack to beat former Boston Marathon champion Lemi Berhanu.
US runner CJ Albertson set the early pace covering the first 10 km in 29:32 and led with a big margin over the chasing group in the first half of the race. Albertson, who started the race with a PB of 2:11:18, extended his lead at the halfway mark to just over two minutes. The chasing pack caught up with Albertson over the most difficult section of the course after the 32 km around the Heartbreak Hill.
Kipruto made his decisive move at 35 km and covered the final 5 km in 14:06. He finished 46 seconds ahead of Lemi Berhanu, who finished second in 2:10:37, one second ahead of Ethiopia's Jemal Yimer, who crossed the finish-line in 2:10:38 in his debut marathon.
Collin Bennie finished seventh in 2:11:03 as the top US runner. Albertson crossed the finish-line in 10th place in 2:11:44.
"It was slower than I thought it would be as there were no pacemakers. The fans helped, though", said Kipruto.
Diana Kipyogei won the women's race in 2:24:45 to complete a Kenyan double on her seasonal debut over the marathon distance eleven months after her win in Istanbul in 2:22:06.
The women's race set off at a slow start. Kipyogei broke away at 29 km and led until the 32 km, when she was caught by 2018 world half marathon champion Netsanet Gudeta. Kipyogei broke away and opened up another gap. Kipyogei led by 27 seconds over two-time world champion Edna Kiplagat, who tried to close the gap on her compatriot in the final km, but Kipyogei went on to win in 2:24:45 after covering the second half in 1:10:34.
Mary Ngugi completed the Kenyan sweep finishing third in 2:25:20 ahead of Monica Ngige (2:25:32) and Nestanet Gudeta (2:26:09).
"I am very happy. The hills were the toughest part. I kept looking over my shoulders to make sure no one was coming back", said Kipyogei.
The world's oldest marathon race, which is traditionally held in April, took place 910 days after the previous edition in 2019, due to the cancellation caused by the Covid-19 pandemic.
Complete Boston Marathon results
Top results men marathon
1. Kipruto, Benson (KEN) - 2:09:51
2. Berhanu, Lemi (ETH) - 2:10:36
3. Yimer, Jemal (ETH) - 2:10:37
4. Ayana, Tsedat (ETH) - 2:10:47
5. Barsoton, Leonard (KEN) - 2:11:11
6. Teshager, Bayelign (ETH) - 2:11:15
7. Bennie, Colin (USA) - 2:11:26
8. Debela, Dejene (ETH) - 2:11:37
9. Chebet, Wilson (KEN) - 2:11:40
10. Albertson, Cj (USA) - 2:11:43
Top results women marathon

1. Kipyogei, Diana (KEN) - 2:24:45
2. Kiplagat, Edna (KEN) - 2:25:09
3. Ngugi, Mary (KEN) - 2:25:20
4. Ngige, Monicah (KEN) - 2:25:32
5. Gudeta, Netsanet (ETH) - 2:26:09
6. Rojas, Nell (USA) - 2:27:12
7. Edesa, Workenesh (ETH) - 2:27:38
8. Baysa, Atsede (ETH) - 2:28:04
9. Eshetu, Biruktayit (ETH) - 2:29:05
10. Abayechew, Tigist (KEN) - 2:29:06
-->