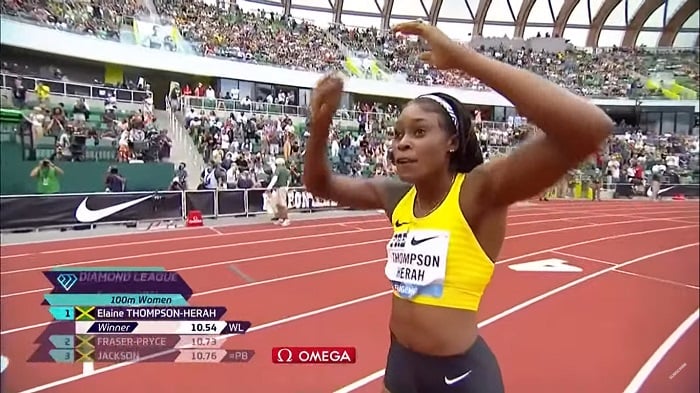 The 46th edition of the Prefontaine Classic was highlighted by seven meeting records and three Diamond League records.
Elaine Thompson-Herah won the women's 100 metres in a sensational 10.54 setting the second fastest time in history, the Diamond League and the meeting record. Only Florence Griffith Joyner ran faster than Thompson Herah in history when she set the world record at the US Trials in 1988 in Indianapolis. The Jamaican sprinter, who scored the double-double winning the 100m and 200m gold medals at the Olympic Games in Tokyo, improved her fresh national record of 10.61 by 0.07.
Shelly Ann Fraser Pryce finished second with 10.73 edging Sherika Jackson, who equalled her lifetime best with 10.76. Teahna Daniels set her PB with 10.83 ahead of Marie Josée Ta Lou (10.90). Javianne Oliver equalled her PB with 10.96 edging Mujinga Kambundji, who missed her lifetime best by just 0.01 with 10.96. Sha'Carri Richardson finished ninth with 11.14.
Elaine Thompson Herah: "I think the records are in reach, because I ran 10.5 and I have so much more in me. I don't want to get carried away. I have more races. I don't get get too excited. The celebrations will start in October and November, but now I have a mission to complete. It means a lot to me, because my job is to inspire a generation"
Results Eugene Diamond League / Prefontaine Classic
Men's shot put:
Double Olympic champion Ryan Crouser broke the Diamond League record twice with 22.95m and 23.15m in four throws in a superb men's shot competition and did better than the previous meeting record held by Darlan Romani in two more attempts with 22.90m and 22.89m. Crouser claimed the Final 3 throw with 22.41m in the sixth attempt. Darlan Romani, who won at the Prefontaine Classuc in 2019 with the previous Diamond League and Pre Classic record of 22.61m, threw 21.69m in the fifth round before finishing second with 21.44m in the Final 3. Joe Kovacs produced 21.94m in the fourth round in his only valid attempt before a foul in the Final 3.
Crouser earned his 21st consecutive win. The US star produced the three best performances in history this year: 23.37m at the US Olympic Trials in Eugene last June, 23.30m at the Olympic Games and 23.15m at this year's Diamond League meeting in Eugene.
Ryan Crouser: "I felt good out here competing today. It was a little bit of a challenge, coming off a major championships like the Olympics to travel and have a big sigh of relief and then to refocus in. So I was really happy with the performance today. This was a really awesome homecoming, post Olympic meet"
Women's 1500 metres:
Double Olympic champion Faith Kipyegon left the rest of the field behind to break the meeting record with 3.53.23. Linden Hall from Australia was the only other runner able to run under the 4 minutes barrier with with 3:59.73. US middle-distance runner Josette Norris took a surprising third place with 4:00.07 beating Winnie Nanyondo (4:00.72).
Faith Kipyegon: "I have run my own PB. I have run the best I could Especially I ran a 3:53. I am looking forward to next year, being back in Oregon. I really get excited to be back here".
Men's 200 metres:
World champion Noah Lyles set a meeting record and a world leading time with 19.52 beating Kenny Bednarek, who finished second with 19.80. Noah's brother Josephus Lyles smashed his PB to 20.03 ahead of Aaron Brown (20.12) and Olympic 400m hurdles silver medallist Raj Benjamin (20.15).
Noah Lyles: "It's really nice to see. I was not really feeling that my mindset was right for today but I feel like five sessions of therapy I was able to let go of what happened in Tokyo and convince myself that I know I am upset and I know I am in great shape to run and come out here and be able to put it on the track. I don't think you understand how lifeless it was in Tokyo to have no crowd there. It was dead silent. To come here and see a whole lot of people who love track, it was amazing to see"
Women's 200 metres:
World 200m bronze medallist Mujinga Kambundji from Switzerlandcontinued her outstanding season with an impressive win in the women's 200m in a wind-assisted 22.06 (+2.4 m/s) edging US Trials champion Gabby Thomas (22.13), world champion Dina Asher Smith (22.19) and Jenna Prandini (22.36).
Mujinga Kambundji: "I feel amazing. I ran a really good time, beat all the girls, so I am really happy. This is such a beautiful stadium. I was excited to sse it. It will be really cool next year. It's so nice to run in front of spectators"
Men's 100 metres:
Olympic 200m champion André De Grasse headlined a world-class men's 100m race in a wind-assisted 9.74 (+2.9 m/s) beating Fred Kerley (9.78), Ronnie Baker (9.82), Michael Norman (9.90), Justin Gatlin (9.93), Akani Simbine (9.95) and Isiah Young (9.98).
André De Grasse: "I felt good to finally compete in front of fans. I felt like it got my adrenaline going. I knew it was going to be a good day, a good race. I just went out to have some fun. Not a lot is expected of me now that the Olympic Games are over. This field was magnificent. So many people run under 10 seconds. It's been a while since anyone had done that before. It's really good to be part of that conversation".
Bowerman Mile:
Olympic champion Jakob Ingebrigtsen won the Bowerman Mile for the first time in his career setting a meeting record, a lifetime best and a world lead with 3:47.24. Ingebrigtsen set the second fastest time in Europe in history. Only Steve Cram ran faster with his European record of 3:46.32 in 1985.
Jakob Ingebrigtsen: "Racing at Hayward Field is always a great experience for milers. I feel that this is my home meet, after Oslo of course. I really enjoy racing and competing and being able to win races. It's every athlete's dream. It's great to be able to be here and take part in a great meet. It's a lot of fun".
Oceanian record holder Stewart McSweyn finished second with 3:48.40 breaking the 3:50 barrier for the second time this season after setting his lifetime best of 3:48.37 in Oslo last July. World champion Timothy Cheruiyot finished third with 3:51.17 ahead Ronald Kwemoi (3:51.31)
Women's 800 metres:
Fresh Olympic gold medallist Athing Mu dominated the women's 800 metres setting the world leading time, the national record, the meeting record and her lifetime best with 1:55.04. Kate Grace finished second with 1:57.60 holding off Jamaica's Natoya Goule (1:57.71), Raevyn Rogers (1:58.01) and Olympic bronze medallist Keely Hodgkinson (1:58.30).
Athing Mu: "A personal record again this season, that's pretty great. The Hayward Magic, they call it. I think this was the greatest field of people ever".
Women's 3000 metres steeplechase:
Kenya's Norah Jeruto set the meeting record and the third fastest time of all time with 8:53.65. Olympic silver medallist Courtney Frerichs broke the 9 minutes barrier for the first time in her career setting the North American record with 8:57.77. Former world champion Hyvin Kyeng finished third improving her seasonal best to 9:00.05 ahead of Winfred Yavi Mutile (9:04.27) and world under 20 record holder Chelliphine Chepsol (9:07.07).
Men's 2 miles:
World record holder and 5000m olympic champion Joshua Cheptegei won a thrilling 2 miles race with a world leading time of 8:09.55. Olympic 10000m champion Selemon Barega from Ethiopia took second place with 8:09.82 holding off Paul Chelimo by 0.01. Uganda's Jacob Kiplimo finished fourth improving his PB to 8:10.16.
Women's 400m hurdles:
Reigning world champion Dalilah Muhammad clocked 52.77 setting a meeting record in the women's 400m hurdles ahead of 2015 world silver medallist Shamier Little (53.79). Olympic finalist Gianna Woodruff from Panama improved the continental record of 54.20 beating Anna Ryzhikova (54"40).
Men's 800 metres:
World championships finalist Marco Arop from Canada pulled away in the final straight to take the first Diamond League win of his career in 1:44.51 ahead of world bronze medallist Ferguson Rotich Cheruiyot (1:45.02) and fresh Olympic champion Emmanuel Korir (1:45.05).
Women's pole vault:
Fresh Olympic champion Katie Nageotte cleared 4.82m on her third attempt to take her second Diamond League win in the women's pole vault, beating Holly Bradshaw, who cleared 4.72m.
Katie Nageotte: "I felt good in the warm-up, buti t just crashed. I am just proud that I came away with thewin"
Men's triple jump:
Olympic champion Pedro Pablo Pichardo took the lead with 17.24 in the first round and saved the best for the Final 3 jump-off when he bounded out to 17.63m. Fabrice Zango produced his best jump of 17.12m in the second attempt and leapt to 17.08m in the Final 3. Donald Scott finished third with 16.96m.
Women's high jump:
Iryna Gerashchenko and Vashti Cunningham cleared 1.98m in the second attempt and there was nothing to separate the two jumpers. Gerashchenko won an epic competition by clearing 1.94m in a very long jump-off of six heights.
Distance Night:
Sifan Hassan made an attempt to break the 5000m world record of 14:06.62 set by Letesenbet Gidey on the traditional Distance Night on the eve of the Prefontaine Classic in Eugene, but she fell short of her target clocking 14:27.69.
Hassan was too tired after her epic double gold medal in the 5000m and the 10000m and the bronze medal in the 1500m at the Olympic Games in Tokyo.
The Dutch star was close to world record pace until after the 3000m pace, which she went through in 8:30.54. She ran alone since before the 2400m mark and slowed from running 67-second laps to 69 second laps in the final part of the race before crossing the finish-line in 14:27.69.
Hassan finished almost 15 seconds ahead of Ethiopia's Senberi Teferi, who crossed the finish-line in second place in 14:42.25 ahead of her compatriot Fantu Worku (14:42.85). The next four runners set PBs: Kenya's Loice Chemnung finshed fourth in 14:43.65 ahead of US Alicia Monson (14:48.49), Abbey Copper (14:52.37) and Kenya's Sheila Chelangat (14:52.66).
Burundi's Francine Nyonsaba (2016 Olympic silver medallist and two-time world indoor champion in the 800 metres) took a surprising win in the women's 2 miles setting a meeting record and the fastest time in the world this year with 9:00.75. Nyonsaba has moved up to second in the world all-time list behind Meseret Defar's world record of 8:58.58 set in 2007. Nyonsaba took the lead with 600m to go and opened up a big lead over 10000m world record holder Letesenbet Gidey.
Nyonsaba went through the 3000m mark in 8:26.79 to set to fastest time of the year over this distance as well.
Gidey finished runner-up in 9:06.74, also dipping under the previous meeting record of 9:13.27. Double 5000m world champion Hellen Obiri finished third in 9:14.55 ahead of 5000m world bronze medallist Konstanze Klosterhalfen (9.18.16).
In the International Mile US Craig Engels overtook Charles Philibert Thiboutot in the home-straight and started celebrating too early waving to the crowd. However, Geordie Beamish from New Zealand sprinted past Engels to take a surprising win in 3:54.86. Engels took runner-up spot in 3:55.41 and Philibert Thiboutot (3:55.48). The top eight finishers broke the 4 minutes barrier.
US Rebecca won the women's North American 1500 metres in 4:06.35 holding off her compatriot Sage Hurta, who finished second setting her PB of 4:07.35. Dani Jones took third place in 4:08.45.