Rising pole vault star Shawn Barber won the gold medal in the the Pan American Games Tuesday (21).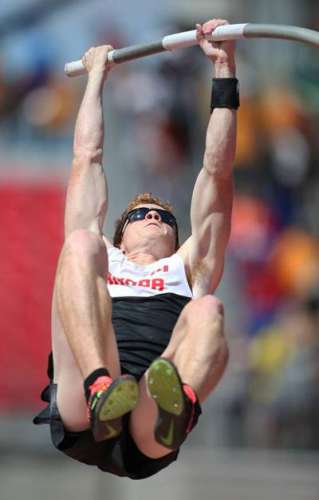 The 21-year-old University of Acron pole vaulter, Shawn Barber, continued his his imoressive season on Tuesday, by taking Pan-American Games title with a mark of 5.80m equaling the Pan Amercican record.
PAN-AMERICAN GAMES POLE VAULT RESULTS
"I couldn't have been prouder to represent Akron and Canada so successfully on an international stage this afternoon," said Barber. "My success wouldn't be possible without the tireless efforts and support of Dennis Mitchell and the rest of the team at the University of Akron."
In the women's 5000m final Brazil's Juliana Paula Dos Santos edged Mexico's Brenda Flores for the win.
Jamaica's O'Dayne Richards set an impressive national record in the shot put of 21.69m to win the gold medal.