With lots of exciting of athletics at the Stade Louis II stadium, Ethiopia's Genzebe Dibaba stole the show with a mind blowing world record in the women's 1500m, at Monaco Diamond league meet on Friday, July 17.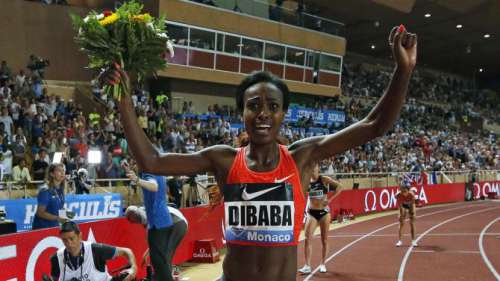 The previous world record at 3:50.46 was set by Chinese runner Qu Yunxia back in 1993 in Beijing . The controversial record and other all time top 4 performances were set by Chinese athletes under the guidance of coach Ma Junren whose six athletes failed doping tests at 2000 Sydney Olympics.
On Friday night there were no doubts about the world indoor record holder over 1500, 3000 and 5000m, Dibaba, as she powered to a new 1500m world record of 3:50.07.
Dibaba was almost perfectly paced by world indoor champion in 800m Chanelle Price of the United States, who led through 800m in 2:04. It was then Dibaba, who took the lead in the race clocking 60 seconds over the next lap and marking 3:04 at 1200m. Dibaba then pushed hard in the final 300m to cross the line in a new world record time of 3:50.07.
"The pacemakers finally did a good job," said Dibaba.
"One thing is clear: I will double at the World Championships and let's try for the 5 000m world record in Beijing." Dibaba added.