Japan's team won it's first International Chiba Ekiden Relay since 2009 defeating in the final leg last three-year champion and course record holder team Kenya.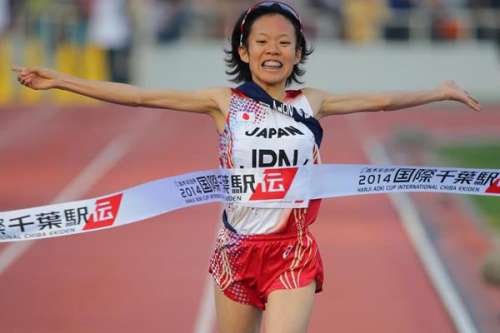 The Japanese team consisting of three men and three women covered the 42.195 km course in 2:05:53 beating Kenyan team by 24 seconds. Japan University Select Team took bronze medal clocking 2:07:16.
The
International Chiba Ekiden
is an annual team
road running
competition held in
Chiba
,
Japan
in late November. The
marathon
relay race
, or
ekiden
as it is known in Japan, is one of the prominent annual races of its kind. The competition is split into six legs which combine to make up the
marathon
distance of 42.195 km. The Chiba Ekiden was first held in 1988 and featured separate competitions for both men and women.
Since 2007, each competing country selects three men and three women for their team. The legs are divided as follows: 5 km (men), 5 km (women), 10 km (men), 5 km (women), 10 km (men), and 7.195 km (women).
2014 International Chiba Ekiden
Chiba, Chiba, 11/24/14
13 teams, 6 stages, 42.195 km
click here for complete results
Team Results
1. Japan - 2:05:53
2. Kenya - 2:06:29
3. Japan University Select Team - 2:07:16
4. Russia - 2:07:42
5. New Zealand - 2:09:00
6. U.S.A. - 2:09:13
7. Canada - 2:09:28
8. Australia - 2:10:16
9. Germany - 2:13:12
10. Chiba Prefecture - 2:13:16
11. France - 2:13:35
12. Estonia - 2:16:49
13. China - 2:19:56
Top Stage Performances
- click stage for complete results
First Stage
- 5 km, men
1. Brett Robinson (Australia) - 13:33
2. Jake Robertson (New Zealand) - 13:34
3. Lucas Bruchet (Canada) - 13:35
4. Tadashi Isshiki (Japan Univ.) - 13:35
5. Egor Nikolaev (Russia) - 13:38
Second Stage
- 5 km, women
1. Elena Korobkina (Russia) - 15:21
1. Ayuko Suzuki (Japan) - 15:21
3. Jessica O'Connell (Canada) - 15:33
4. Nikki Hamblin (New Zealand) - 15:34
5. Madeline Heiner (Australia) - 15:37
Third Stage
- 10 km, men
1. Henry Sang (Kenya) - 28:25
2. Kota Murayama (Japan) - 28:39
3. Evgeny Rybakov (Russia) - 28:43
4. Ken Yokote (Japan Univ. Team) - 28:44
5. Christo Landry (U.S.A.) - 28:55
Fourth Stage
- 5 km, women
1. Liz Costello (U.S.A.) - 16:17
2. Shelmith Nyawira Muriuki (Kenya) - 16:19
2. Alla Kuliatina (Russia) - 16:19
4. Natashi Labeaud (Canada) - 16:20
4. Misaki Onishi (Japan) - 16:20
Fifth Stage
- 10 km, men
1. Matthew Kisorio (Kenya) - 27:42 -
CR
2. Zane Robertson (New Zealand) - 28:22
3. Minato Oishi (Japan) 28:46
4. Anatoly Rybakov (Russia) - 29:20
5. Kentaro Hirai (Japan Univ. Team) - 29:31
Sixth Stage
- 7.195 km, women
1. Ayumi Hagiwara (Japan) - 23:02
2. Rina Nabeshia (Japan Univ. Team) - 23:21
3. Mercy Kibarus (Kenya) - 23:46
4. Lanni Marchant (Canada) - 24:09
5. Rachel Ward (U.S.A.) - 24:15
-->