Japan's Tomi Tanaka running her second marathon in her career out-sprinted Kenya's
Philes Ongori

to win the Yokohama International women's marathon, an IAAF silver label road race, on Sunday, November 16.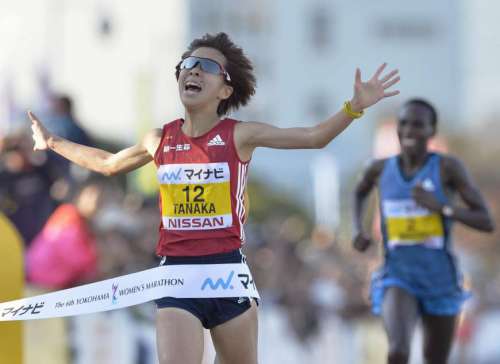 Tanaka posted a time of 2:26:57 just two seconds ahead of Philes Ongori.
"The time was bad, but as I was running, the calls of support never stopped," Tanaka said. "Many teammates and employees of Daiichi Seimei came not for an ekiden, but to support me alone. I could hear the cheers of my parents, family and friends, and that gave me energy."
Running the marathon for the first time Reia Iwade of Japan impressed with a third place and mark of 2:27:21 Well experienced Kenyan Caroline Rotich took third in 2:27:32.
The Olympic champion Tiki Gelana who was favorite to win the race took only 6th place clocking 2:29:13. "I was feeling pain and not at my best, but I'm happy because I completed the race," said Gelana.
1. Tomomi Tanaka (Team Daiichi Seimei) - 2:26:57
2. Philes Ongori (Kenya) - 2:26:59
3. Reia Iwade (Team Noritz) - 2:27:21
4. Caroline Rotich (Kenya) - 2:27:32
5. Azusa Nojiri (Hiratsuka Lease) - 2:28:54
6. Tiki Gelana (Ethiopia) - 2:29:13
7. Alina Prokopeva (Russia) - 2:29:18
8. Olena Shurkhno (Ukraine) - 2:29:26
-->