After finishing in second and third place for the past two years, Ethiopia's Shume Hailu finally won the 7th edition of the
Marathon des Alpes-Maritimes Nice-Cannes this Sunday.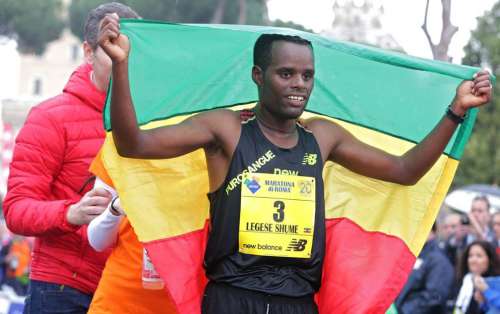 Hailu's winning time of 2:09:27 was the second fastest time oif the race history and was only 47 short of the current course record.
After the finish Hailu was short in his commentaries: "I came here to win today," Exhausted Hailu told reporters.
Behind Hailu finished Kenyan's Barnabas Kiptum and Edwin Kemboi who posted 2:10:28 and 2:10:38 respectively.
In the women's marathon race, Rose Chepchumba of Kenya defeated compatriot Emily Rotich for the win. Winner Chepchumba clocked 2:33:52 while Rotish finished after 2:35:21. Abdi Tigisit of Ethiopia came in third with a time of 2:37:30.
The marathon race organizers announced that record number of 14,100 runners had completed the course.
Top Results Marathon des Alpes-Maritimes Nice-Cannes
1
02:09:26
SHUMI HAILU
M
SE
2
02:10:28
KIPTUM BARNABAS
M
SE
3
02:10:38
KEMBOI EDWIN
M
SE
4
02:10:57
KIPSEREM MARIUS
M
SE
5
02:11:20
YATOR BELLOR
M
SE
6
02:12:30
REGASA MINDAYE
M
SE
-->