Mark Kiptoo took the win at today's Frankfurt marathon: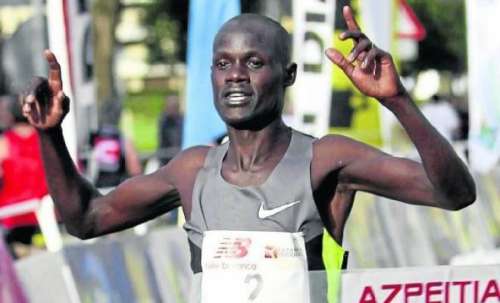 The 38 year-old Kiptoo, who finished second at last years Frankfurt marathon won the race clocking 2:06.49. Kiptoo's teammate Mike Kigen took second in 2:06:59 while Gilbert Yegon was third in 2:07:08.
Last year's winner Vincent Kipruto of Kenya finished in a disappointing 13th place in 2:12:09 while favorite Ethiopian Tsegaye Mekonnen dropped out after the 30km mark.
Germany's Arne Gabius ran a sensational debut with 2:09:32, which is the first sub 2:10 mark by a German since 1990.
The women's race winner Ethiopia's Aberu Kebede posted a fast time 2:22:21. Sharon Cherop of Kenya was second with 2:23:44, Ashetu Bekere (Ethiopia) took third in 2:24:59.
Men Top 10
| place | name | netto | brutto |
| --- | --- | --- | --- |
| 1 | » Kiptoo, Mark Kosgei (KEN) | 02:06:49 | 02:06:49 |
| 2 | » Kigen, Mike Kipruto (KEN) | 02:06:59 | 02:06:59 |
| 3 | » Yegon, Gilbert Kollum (KEN) | 02:07:08 | 02:07:08 |
| 4 | » Zawude, Tebalu (ETH) | 02:07:10 | 02:07:10 |
| 5 | » Robi, Deribe (ETH) | 02:07:16 | 02:07:16 |
| 6 | » Korir, Ronald (KEN) | 02:07:29 | 02:07:29 |
| 7 | » Wanjiru, Daniel Kinyua (KEN) | 02:08:18 | 02:08:18 |
| 8 | » Takele, Adugna (ETH) | 02:08:31 | 02:08:31 |
| 9 | » Gabius, Arne (GER) | 02:09:32 | 02:09:32 |
| 10 | » Kiprono, Allan Kipkorir (KEN) | 02:09:38 | 02:09:38 |
Top 10 Women
| place | name | netto | brutto |
| --- | --- | --- | --- |
| 1 | » Kebede, Aberu (ETH) | 02:22:21 | 02:22:21 |
| 2 | » Cherop, Sharon Jemutai (KEN) | 02:23:44 | 02:23:44 |
| 3 | » Bekere, Ashete (ETH) | 02:24:59 | 02:24:59 |
| 4 | » Ngetich, Emily Chemutai (KEN) | 02:25:14 | 02:25:14 |
| 5 | » Kiprop, Helah Jelagat (KEN) | 02:27:14 | 02:27:14 |
| 6 | » Jepkorir, Winny (KEN) | 02:29:05 | 02:29:05 |
| 7 | » Stepto, Emma Luise (GBR) | 02:32:40 | 02:32:40 |
| 8 | » Stockhecke, Mona (GER) | 02:33:50 | 02:33:50 |
| 9 | » Nelson, Adriana (USA) | 02:33:54 | 02:33:54 |
| 10 | » Munn, Hayley (GBR) | 02:37:44 | 02:37:44 |
-->