Ethiopia's running legend, Haile Gebraselassie, will headline this Sunday's Great Scotish Run in Glasgow.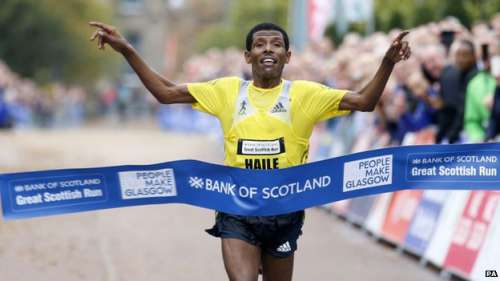 Last year at the Great Scottish Run Gebrselaasie broke the M40 world half marathon record clocking a blistering 61:09 for the win.
"I have fantastic memories of my first race in Scotland and I am delighted to be coming back to race in the Bank of Scotland Great Scottish Run for a second time," said 41-year-old Gebrselassie,
"So maybe, with better weather this year, I can run faster. What was important last year was not the time, but to win the race. It was my first ever race in Scotland and I wanted to win it. This year, we will see. I cannot indicate at this stage what time I am going to run."
On Sunday, Gebrselassie will face Glasgow Commonwealth games top two finishers in the marathon, Michael Shelley of Australia and Stephen Chemlany of Kenya. Also, Mark Kiptoo of Kenya and Stephen Mokoka of South Africa are among the contenders to win the race on October 5th.
The women's race will see a clash between Olympic marathon champion Tiki Gelana of Ethiopia and Kenya's two time world marathon champion Edna Kiplagat.
The Scotish great run take is scheduled for Sunday October 5 at 10:30am local time.
-->