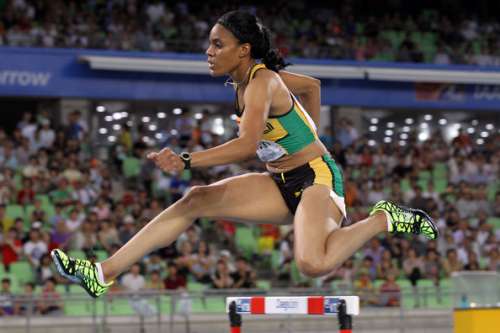 Kaliese Spencer set a new world-leading time of 53.41 to win the women's 400 metre hurdles at the Jamaican Track and Field Championships late on Friday. Janieve Russell, the 2012 world junior champion, was second in 54.75 seconds, and Nikita Tracey took third to book their tickets to the Commonwealth Games.
In the Men's 400m Hurdles Roxroy Cato ran the second fastest time in the world 48.48 seconds to win the men's 400 metre hurdle race.
Veronica Campbell Brown won the women's 100m title clocking 10.96 seconds. London Olympics silver medalist Kerron Stewart finishing in second clocked 11.02 seconds while Schillonie Calvert finished third in 11.16.
The men's 100m title took Nickel Ashmeade  winning the race in 10.06 Runner up Jason Livermore posted (10.11) and the third place finisher Kemar Bailey-Cole clocked (10.16).
The Jamaican national championships continue today and tomorrow.
Top Results
RESULTS
Men
100m (wind -1.5 m/s)
1. Nickel Ashmeade 10.06 seconds
2. Jason Livermore 10.11
3. Kemar Bailey-Cole 10.16
400m hurdles
1. Roxroy Cato 48.48
2. Annsert Whyte 48.58
3. Leford Green 49.00
Triple jump
1. Damon McLean 16.15 metres
2. Daniel Lewis 16.04
3. Wayne Northover 15.83 
Women
100m (wind -0.4m/s)
1. Veronica Campbell-Brown 10.96
2. Kerron Stewart 11.02
3. Schillonie Calvert 11.16
400m hurdles
1. Kaliese Spencer 53.41
2. Janieve Russell 54.75
3. Nikita Tracey 55.18
Discus
1. Kellion Knibb 58.88m
2. Danniel Thomas 55.02
3. Tara-Sue Barnett 51.56
Long jump
1. Jovanee Jarrett 6.38m
2. Chanice Porter 6.25
3. Claudette Allen 6.09