Renaund Lavillenie, the world record holder and the 2012 Olympic gold medalist in pole vault won the annual Drake Relays Pole Vault at the Mall on Wednesday (April 23) at the Jordan Town Creek Center.
Lavillenie, who competed for the first time since he injured his foot after breaking Sergey Bubka's world record in February 15 in Donetsk, cleared 5.71m to capture Drake Relays title.
Steve Lewis, a 2012 Olympian from Great Britain, cleared the the same height as Lavillenie, but had to settle in second place since he took the 5.71m height with third attempt while Lavillenie did it with second attempt.
Both pole vaulters failed to clear a (5.81m), a height that would have set a new meeting record.
"It was good for me to take the win today and to be here because it was a crazy atmosphere," Lavillenie commented.

"It was awesome to get a win and tie out with Renaud," stated Lewis. "It gives me plenty of confidence for the season – this is my second competition back and I didn't compete indoors so this was like a little taste of an indoor season for me, which is awesome. The atmosphere was electric like last year, but this year I knew what to expect and it was a really good time." added the Frenchman.
The women's Drake Relays pole vault title captured Yarisley Silva of Cuba, who cleared 4.68m with first attempt and set a new world leading mark.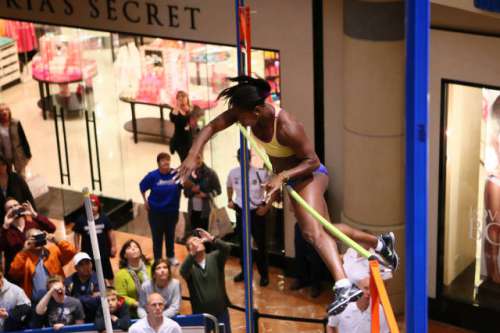 The second place took American Kylie Hutson who in her second attempt cleared 4.68m.