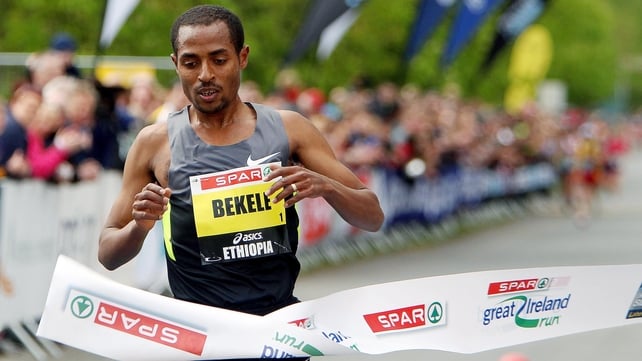 Kenenisa Bekele, a three-time Olympic champion in 5000m and 10000m, will run his first marathon race in his career on Sunday April 6 in Paris.
The world record holder in 5000m and 10000m on the track, Bekele, in his marathon debut will face a tremendous field of fellow Ethiopians and Kenyans, whose personal bests range from 2:05 to 2.08.
The 31 year old Bekele, last year on September 15, made a half marathon debut in South Shields (GBR)  beating in a thrilling finish Mo Farah (VIDEO>>),  the Olympic 5000m and 10000m champion, with a time of 60.09. After that race Bekele announced that he would try to debut in marathon and signed up for London marathon where he would go against Mo Farah and many other top marathoners in the world. On January his agent scratched Bekele from London marathon and signed signed up his athlete for Paris marathon ending a clash between Mo Farah.
Kenyans have dominated the Paris marathon for the last three years. Mark Kiptoo who holds a PR of  2:06:16 with compatriots Luka Kanda, Gideon Kipketer, Luka Kanda and Mike Kigen will have to team up to keep the Paris marathon trophy in their homeland as Ethiopian Abdullah Shami is the fastest entrant in the race with PR of 2:05:42.
In the women's race, Kenyans Valentine Kipketer and Flomena Cheyech top the women's list with personal best marks of  2:23:05 and 2:24:34 respectively. We cant forget about Meskerem Assefa of Ethiopia, the 2013 Houston marathon winner (2:25:17), who is among contenders for Paris marathon trophy.
Watch Paris Marathon Live Online. See details here>>

Elite Men
Abdullah Shami (ETH), 2:05:42
Mark Kiptoo (KEN), 2:06:16
Getachew Negari Terfa (ETH), 2:07:32
Limenih Getachew (ETH), 2:07:35
Gezahagn Girma (ETH), 2:07:41
Luka Kanda (KEN), 2:08:04
Gideon Kipketer (KEN), 2:08:14
Mike Kigen (KEN), 2:08:24
Simon Munyutu (FRA), 2:09:24
Gregoriy Andreyev (RUS), 2:10:25
Kenenisa Bekele (ETH), debut
Behailu Ketema (ETH), debut
Elite Women
Valentine Kipketer (KEN), 2:23:05
Flomena Cheyech (KEN), 2:24:34
Meskerem Assefa (ETH), 2:25:17
Martha Komu (FRA), 2:25:33
Zemzem Ahmed (ETH), 2:27:12
Sarah Chepchirchir (KEN), debut