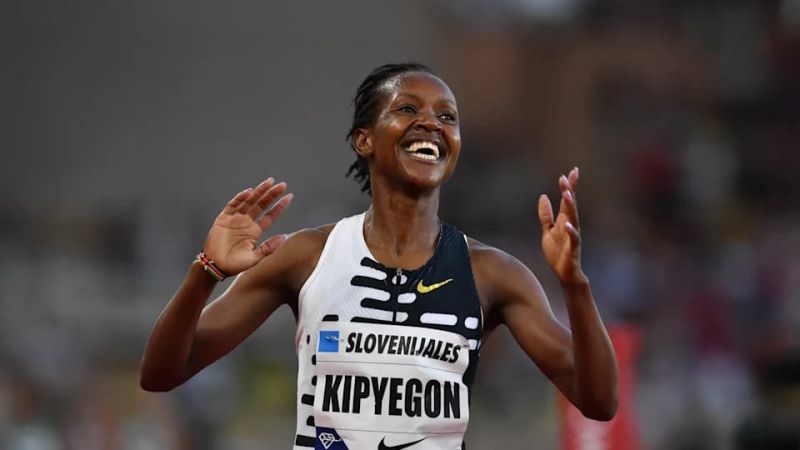 In a year marked by astonishing achievements and shattered records, Faith Kipyegon has once again solidified her position as a dominant force in middle-distance running. The Kenyan sensation, who has already rewritten the record books by setting new world marks in the 1500m, mile, and 5000m events this season, achieved another remarkable feat by clinching her third consecutive world 1500m title in Budapest.
Kipyegon's incredible journey throughout the year has been nothing short of awe-inspiring. With three world records to her name, she stepped onto the track in Budapest with expectations soaring high. The tension was palpable as she joined the elite field of runners, each determined to etch their name into the annals of history.
From the very start of the race, it was evident that Kipyegon meant business. Taking control of the pace, she strategically maneuvered through the field, biding her time for the perfect moment to make her move. As the race progressed, Kipyegon's commanding presence at the front of the pack showcased her unwavering focus and determination.
Approaching the final 200 meters, Kipyegon unleashed a surge of energy that left her competitors struggling to keep up. With the finish line in sight, she powered through, crossing it in a triumphant display of sheer athleticism and willpower. The clock stopped at a remarkable 3 minutes and 54.87 seconds, a testament to Kipyegon's unparalleled skill and dedication.
The victory was not just a personal accomplishment; it was a historic moment for women's athletics. Faith Kipyegon became the first woman to secure three world 1500m titles, a distinction that solidifies her legacy as one of the greatest middle-distance runners of all time.
While Kipyegon claimed the top spot on the podium, the battle for silver and bronze was equally intense. Ethiopia's Diribe Welteji demonstrated her prowess, finishing with a time of 3:55.69 to earn the silver medal. Sifan Hassan of the Netherlands, who had faced adversity earlier in the competition after a fall in the 10,000m event, showed her resilience by securing the bronze medal with a time of 3:56.00.
Kipyegon's journey is far from over. With the week unfolding, she remains poised to achieve an unprecedented feat – becoming the first woman to complete a double victory in the 1500m and 5000m events at a single World Championships. As she prepares to take on this new challenge, the world watches in anticipation, marveling at her ability to redefine the boundaries of human potential.
In a stunning turn of events, Laulauga Tausaga-Collins emerged as the surprise winner in the women's discus event, securing her place in history with a new personal best throw of 69.49 meters on her fifth attempt out of six. The victory not only marked a remarkable improvement for Tausaga-Collins, who finished 12th in last year's world championships, but it also made her the first U.S. woman to claim a world title in this discipline.
Tausaga-Collins' triumph was not without its challenges, as she faced fierce competition from the reigning Olympic champion Valarie Allman. Allman put up a strong fight and managed to secure the silver medal, contributing to a historic moment for U.S. athletics. The one-two finish by Tausaga-Collins and Allman marked the first time that American women have claimed both gold and silver in a women's throwing event in the history of world championships.
Switching gears to the men's high jump, Gianmarco Tamberi of Italy showcased his prowess by clinching the gold medal with a leap of 2.36 meters, achieved on a countback. Tamberi, who shared the Tokyo Olympic gold with Qatar's Mutaz Essa Barshim in a heartwarming display of sportsmanship, continued his winning streak in Budapest. JuVaughn Harrison added to the excitement by securing the high jump silver, marking the first U.S. men's medal in this event since Jesse Williams' gold in 2011. Mutaz Essa Barshim claimed the bronze with a jump of 2.33 meters.
The 3000m steeplechase delivered a thrilling showdown between reigning Olympic and world champion Soufiane El Bakkali of Morocco and world record holder Lamecha Girma of Ethiopia. The two athletes engaged in a fierce duel, with El Bakkali ultimately emerging victorious in a test of speed, stamina, and strategy.
-->