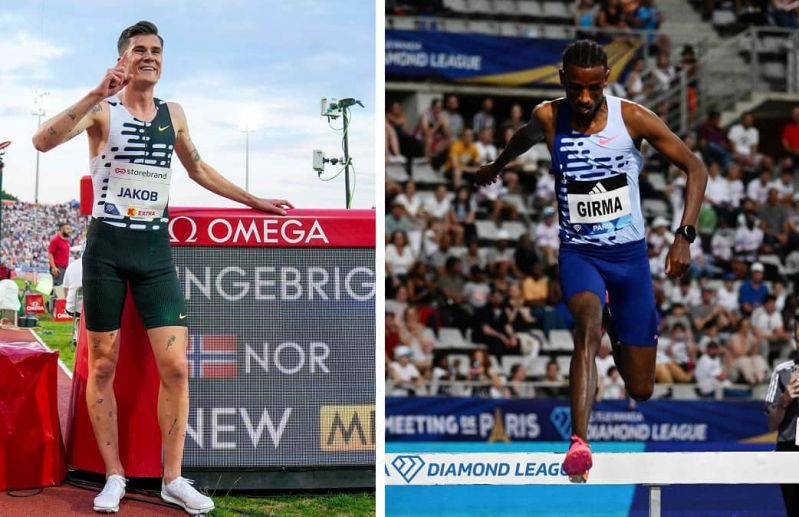 The Athletissima Lausanne Diamond League meet takes place this Friday 30 August, following a special city event, the women's high jump a day earlier on 29 August.
A number of Olympic Games and World Championships will be held at the Stade Olympique de la Pontaise.
The most anticipated race will be the men's 1500m featuring Jakob Ingebrigtsen and Lamecha Girma. These two runners made history earlier this month by setting a world two-mile and 3000m steeplechase record, respectively. The duo will now have the opportunity to challenge each other for fast 1500m times in Lausanne when the Wanda Diamond League continues on Friday.
Women's Start Lists
100m
| # | Name | NAT | SB | PB |
| --- | --- | --- | --- | --- |
| 1 | AHOURÉ-DEMPS Murielle | CIV | 11.09 | 10.78 |
| 2 | TA LOU Marie-Josée | CIV | 10.75 | 10.72 |
| 3 | LANSIQUOT Imani | GBR | 11.03 | 11.03 |
| 4 | NEITA Daryll | GBR | 10.97 | 10.90 |
| 5 | LÜCKENKEMPER Gina | GER | 11.00 | 10.95 |
| 6 | HOBBS Zoe | NZL | 10.97 | 10.97 |
| 7 | SWOBODA Ewa | POL | 11.03 | 11.03 |
| 8 | KAMBUNDJI Mujinga | SUI | | 10.89 |
200m
| # | Name | NAT | SB | PB |
| --- | --- | --- | --- | --- |
| 1 | GRAVERSGAARD Mette | DEN | 23.30 | 23.30 |
| 2 | BURGHARDT Alexandra | GER | 23.12 | 23.00 |
| 3 | JIYA Tasa | NED | 22.84 | 22.84 |
| 4 | SEDNEY Zoë | NED | 23.27 | 23.27 |
| 5 | ATCHO Sarah | SUI | 23.05 | 22.80 |
| 6 | BÜRGI Céline | SUI | 23.46 | 23.46 |
| 7 | CALIGIURI Iris | SUI | 23.61 | 23.61 |
| 8 | POINTET Leonie | SUI | | |
800m
| # | Name | NAT | SB | PB |
| --- | --- | --- | --- | --- |
| 1 | BISSET Catriona | AUS | 1:58.32 | 1:58.09 |
| 2 | YARIGO Noélie | BEN | 1:58.65 | 1:58.65 |
| 3 | ALEMU Habitam | ETH | 1:58.59 | 1:56.71 |
| 4 | HODGKINSON Keely | GBR | 1:55.77 | 1:55.77 |
| 5 | REEKIE Jemma | GBR | 1:58.94 | 1:56.90 |
| 6 | BELLÒ Elena | ITA | | 1:58.97 |
| 7 | GOULE Natoya | JAM | 1:58.23 | 1:56.15 |
| 8 | MORAA Mary | KEN | 1:58.72 | 1:56.71 |
| 9 | WYCISZKIEWICZ-ZAWADZKA Patrycja | POL | 2:03.50 | 2:03.50 |
| 10 | HOFFMANN Lore | SUI | 2:01.37 | 1:58.50 |
| 11 | WERRO Audrey | SUI | 1:59.67 | 1:59.53 |
100m Hurdles
| # | Name | NAT | SB | PB |
| --- | --- | --- | --- | --- |
| 1 | VISSER Nadine | NED | 12.71 | 12.51 |
| 2 | AMUSAN Tobi | NGR | 12.47 | 12.12 |
| 3 | SKRZYSZOWSKA Pia | POL | 12.77 | 12.51 |
| 4 | CAMACHO-QUINN Jasmine | PUR | 12.31 | 12.26 |
| 5 | KAMBUNDJI Ditaji | SUI | 12.78 | 12.70 |
| 6 | ALI Nia | USA | 12.53 | 12.34 |
| 7 | JOHNSON Alaysha | USA | 12.41 | 12.35 |
| 8 | JONES Tia | USA | 12.44 | 12.38 |
400m Hurdles
| # | Name | NAT | SB | PB |
| --- | --- | --- | --- | --- |
| 1 | LEHIKOINEN Viivi | FIN | 54.40 | 54.40 |
| 2 | KNIGHT Jessie | GBR | 54.32 | 54.09 |
| 3 | NIELSEN Lina | GBR | 54.96 | 54.73 |
| 4 | FOLORUNSO Ayomide | ITA | 54.79 | 54.34 |
| 5 | BOL Femke | NED | 52.30 | 52.03 |
| 6 | WOODRUFF Gianna | PAN | 54.46 | 53.69 |
| 7 | RYZHYKOVA Anna | UKR | 55.53 | 52.96 |
| 8 | TKACHUK Viktoriya | UKR | 54.71 | 53.76 |
3000m Steeplechase
| # | Name | NAT | SB | PB |
| --- | --- | --- | --- | --- |
| 1 | da SILVA Tatiane Raquel | BRA | 9:24.75 | 9:24.38 |
| 2 | ABEBE Mekides | ETH | 9:11.09 | 8:56.08 |
| 3 | ALMAYEW Sembo | ETH | 9:00.71 | 9:00.71 |
| 4 | MULETA Lomi | ETH | 9:30.66 | 9:14.03 |
| 5 | WONDEMAGEGN Zerfe | ETH | 9:04.61 | 9:04.61 |
| 6 | FINOT Alice | FRA | 9:10.04 | 9:10.04 |
| 7 | PRATT Aimee | GBR | | 9:15.64 |
| 8 | MEYER Lea | GER | | 9:15.35 |
| 9 | COHEN Adva | ISR | 9:43.84 | 9:29.74 |
| 10 | CHEPKOECH Beatrice | KEN | 9:06.90 | 8:44.32 |
| 11 | CHERONO Fancy | KEN | 9:32.93 | 9:27.30 |
| 12 | MISMAS ZRIMSEK MaruSa | SLO | 9:10.07 | 9:10.07 |
| 13 | BOUZAYANI Marwa | TUN | 9:11.76 | 9:11.76 |
| 14 | CHEMUTAI Peruth | UGA | 9:31.71 | 9:01.45 |

Pole Vault
| # | Name | NAT | SB | PB |
| --- | --- | --- | --- | --- |
| 1 | KENNEDY Nina | AUS | 4.77 | 4.82 |
| 2 | NEWMAN Alysha | CAN | 4.61 | 4.82 |
| 3 | MURTO Wilma | FIN | 4.75 | 4.85 |
| 4 | CHEVRIER Margot | FRA | 4.71 | 4.71 |
| 5 | BRADSHAW Holly | GBR | | 4.90 |
| 6 | STEFANIDI Aikaterini | GRE | 4.55 | 4.91 |
| 7 | BRUNI Roberta | ITA | 4.61 | 4.72 |
| 8 | McCARTNEY Eliza | NZL | 4.75 | 4.94 |
| 9 | SUTEJ Tina | SLO | 4.76 | 4.76 |
| 10 | MOSER Angelica | SUI | 4.61 | 4.66 |
| 11 | MOON Katie | USA | 4.81 | 4.95 |
Javelin Throw
| # | Name | NAT | SB | PB |
| --- | --- | --- | --- | --- |
| 1 | BARBER Kelsey-Lee | AUS | 62.54 | 67.70 |
| 2 | LITTLE Mackenzie | AUS | 64.10 | 64.27 |
| 3 | HUDSON Victoria | AUT | 64.05 | 64.68 |
| 4 | AGUILAR Yulenmis | CUB | 60.61 | 64.17 |
| 5 | TZENGKO Elina | GRE | 63.65 | 65.81 |
| 6 | KITAGUCHI Haruka | JPN | 65.09 | 66.00 |
| 7 | MUZE Lina | LAT | 62.47 | 64.87 |
| 8 | JASIUNAITE Liveta | LTU | 61.57 | 63.98 |
| 9 | BORGE Sigrid | NOR | 66.50 | 66.50 |
| 10 | VILAGOS Adriana | SRB | 61.22 | 63.52 |
| 11 | INCE Ariana | USA | 56.12 | 64.38 |
4x100m
| # | NAT |
| --- | --- |
| 1 | Aus |
| 2 | Aut |
| 3 | Civ |
| 4 | Den |
| 5 | Ned |
| 6 | Por |
| 7 | Sui |
| 8 | Sui U23 |
High Jump - July 29 (City Center Event)
| # | Name | NAT | SB | PB |
| --- | --- | --- | --- | --- |
| 1 | MAHUCHIKH Yaroslava | UKR | 2.01 | 2.05 |
| 2 | OLYSLAGERS Nicola | AUS | 2.01 | 2.02 |
| 3 | TOPIC Angelina | SRB | 1.97 | 1.97 |
| 4 | LAKE Morgan | GBR | 1.97 | 1.97 |
| 5 | STANCIU Daniela | ROU | 1.96 | 1.96 |
| 6 | GERASHCHENKO Iryna | UKR | 1.94 | 2.00 |
| 7 | THIAM Nafissatou | BEL | | 2.02 |
| 8 | PIHELA Elisabeth | EST | 1.92 | 1.92 |
| 9 | LEVCHENKO Yuliia | UKR | 1.91 | 2.02 |
| 10 | LANG Salome | SUI | 1.90 | 1.97 |
| 11 | BRUUS Karmen | EST | | 1.96 |
Men's Start Lists
200m
| # | Name | NAT | SB | PB |
| --- | --- | --- | --- | --- |
| 1 | TEBOGO Letsile | BOT | 19.87 | 19.87 |
| 2 | BROWN Aaron | CAN | 20.00 | 19.95 |
| 3 | de GRASSE Andre | CAN | 20.33 | 19.62 |
| 4 | MENA Reynier | CUB | 19.95 | 19.63 |
| 5 | FAHNBULLEH Joseph | LBR | 20.14 | 19.83 |
| 6 | BURNET Taymir | NED | 20.36 | 20.34 |
| 7 | MUMENTHALER Timothé | SUI | | |
| 8 | RICHARDS Jereem | TTO | 20.08 | 19.80 |
400m
| # | Name | NAT | SB | PB |
| --- | --- | --- | --- | --- |
| 1 | BORLÉE Dylan | BEL | 45.80 | 45.18 |
| 2 | SCOTCH Leungo | BOT | 44.82 | 44.82 |
| 3 | LOBO Benjamin | DEN | 46.76 | 45.50 |
| 4 | RE Davide | ITA | 45.54 | 44.77 |
| 5 | BONEVACIA Liemarvin | NED | 45.06 | 44.48 |
| 6 | BAMIDELE Emmanuel | NGR | 44.24 | 44.24 |
| 7 | PETRUCCIANI Ricky | SUI | 46.30 | 45.02 |
| 8 | SPITZ Lionel | SUI | 45.79 | 45.46 |
1500m
| # | Name | NAT | SB | PB |
| --- | --- | --- | --- | --- |
| 1 | McSWEYN Stewart | AUS | | 3:29.51 |
| 2 | GIRMA Lamecha | ETH | 3:33.15 | 3:33.15 |
| 3 | LEMI Teddese | ETH | 3:32.24 | 3:31.90 |
| 4 | AKBACHE Mounir | FRA | | 3:39.81 |
| 5 | RANC Julian | FRA | 3:33.90 | 3:33.90 |
| 6 | GILES Elliot | GBR | 3:33.57 | 3:33.56 |
| 7 | GOURLEY Neil | GBR | 3:30.88 | 3:30.88 |
| 8 | KERR Josh | GBR | 3:30.07 | 3:29.05 |
| 9 | McCANN Luke | IRL | 3:34.76 | 3:34.76 |
| 10 | ARESE Pietro | ITA | 3:33.56 | 3:33.56 |
| 11 | INGEBRIGTSEN Jakob | NOR | 3:27.95 | 3:27.95 |
| 12 | TANNER Samuel | NZL | 3:33.15 | 3:31.34 |
| 13 | ELMER Tom | SUI | 3:35.62 | 3:35.62 |
| 14 | SOWINSKI Erik | USA | | 3:44.82 |
5000m
| # | Name | NAT | SB | PB |
| --- | --- | --- | --- | --- |
| 1 | DAVIES Callum | AUS | 13:48.63 | 13:48.63 |
| 2 | ROBINSON Ky | AUS | 13:22.29 | 13:21.85 |
| 3 | NTAKARUTIMANA Egide | BDI | 13:03.61 | 13:03.61 |
| 4 | BALEW Birhanu | BRN | 13:05.29 | 12:56.26 |
| 5 | AREGAWI Berihu | ETH | 13:04.52 | 12:50.05 |
| 6 | BAREGA Selemon | ETH | 12:56.18 | 12:43.02 |
| 7 | BEKELE Telahun Haile | ETH | 12:46.21 | 12:46.21 |
| 8 | DIDA Gemechu | ETH | | 13:14.39 |
| 9 | DIRIBA Boki | ETH | | 14:06.70 |
| 10 | EDRIS Muktar | ETH | | 12:54.83 |
| 11 | GIRMA Kuma | ETH | | |
| 12 | MYHRE Magnus Tuv | NOR | 13:09.44 | 13:09.44 |
| 13 | CZERWINSKI Adam | POL | | 14:17.33 |
| 14 | RAESS Jonas | SUI | 13:13.83 | 13:13.83 |
| 15 | ALMGREN Andreas | SWE | 13:25.70 | 13:01.70 |
| 16 | CHEPTEGEI Joshua | UGA | 12:53.81 | 12:35.36 |
110m Hurdles
| # | Name | NAT | SB | PB |
| --- | --- | --- | --- | --- |
| 1 | PEREIRA Rafael | BRA | 13.34 | 13.17 |
| 2 | LLOPIS Enrique | ESP | 13.37 | 13.30 |
| 3 | BELOCIAN Wilhem | FRA | 13.20 | 13.15 |
| 4 | KWAOU-MATHEY Just | FRA | 13.09 | 13.09 |
| 5 | ZELLER Joshua | GBR | 13.40 | 13.19 |
| 6 | SIMONELLI Lorenzo Ndele | ITA | 13.40 | 13.40 |
| 7 | IZUMIYA Shunsuke | JPN | 13.04 | 13.04 |
| 8 | JOSEPH Jason | SUI | 13.10 | 13.10 |
Shot Put
| # | Name | NAT | SB | PB |
| --- | --- | --- | --- | --- |
| 1 | MIHALJEVIC Filip | CRO | 21.50 | 21.94 |
| 2 | STANEK TomáS | CZE | 21.71 | 22.01 |
| 3 | FABBRI Leonardo | ITA | 21.81 | 21.99 |
| 4 | WEIR Zane | ITA | 21.74 | 21.99 |
| 5 | WALSH Tom | NZL | 22.22 | 22.90 |
| 6 | SINANCEVIC Armin | SRB | 21.14 | 21.88 |
| 7 | KOKOSHKO Roman | UKR | 21.52 | 21.52 |
| 8 | CROUSER Ryan | USA | 23.56 | 23.56 |
| 9 | PIPERI Adrian | USA | 21.61 | 21.61 |
Long Jump
| # | Name | NAT | SB | PB |
| --- | --- | --- | --- | --- |
| 1 | NAIRN LaQuan | BAH | 8.10 | 8.22 |
| 2 | PRAVDICA Filip | CRO | 8.09 | 8.09 |
| 3 | TENTOGLOU Miltiadis | GRE | 8.34 | 8.60 |
| 4 | SREESHANKAR . | IND | 8.41 | 8.41 |
| 5 | FURLANI Mattia | ITA | 8.24 | 8.24 |
| 6 | HASHIOKA Yuki | JPN | 8.06 | 8.36 |
| 7 | JOHNSON Cheswill | RSA | 8.08 | 8.26 |
| 8 | EHAMMER Simon | SUI | 8.32 | 8.45 |
| 9 | MONTLER Thobias | SWE | 8.01 | 8.27 |
Javelin Throw
| # | Name | NAT | SB | PB |
| --- | --- | --- | --- | --- |
| 1 | VADLEJCH Jakub | CZE | 89.51 | 90.88 |
| 2 | HELANDER Oliver | FIN | 87.32 | 89.83 |
| 3 | WEBER Julian | GER | 88.37 | 89.54 |
| 4 | PETERS Anderson | GRN | 85.88 | 93.07 |
| 5 | CHOPRA Neeraj | IND | 88.67 | 89.94 |
| 6 | GAILUMS Patriks | LAT | 84.05 | 84.05 |
| 7 | WALCOTT Keshorn | TTO | 85.85 | 90.16 |
| 8 | FELFNER Artur | UKR | 82.24 | 84.32 |
| 9 | THOMPSON Curtis | USA | 79.65 | 87.70 |
-->