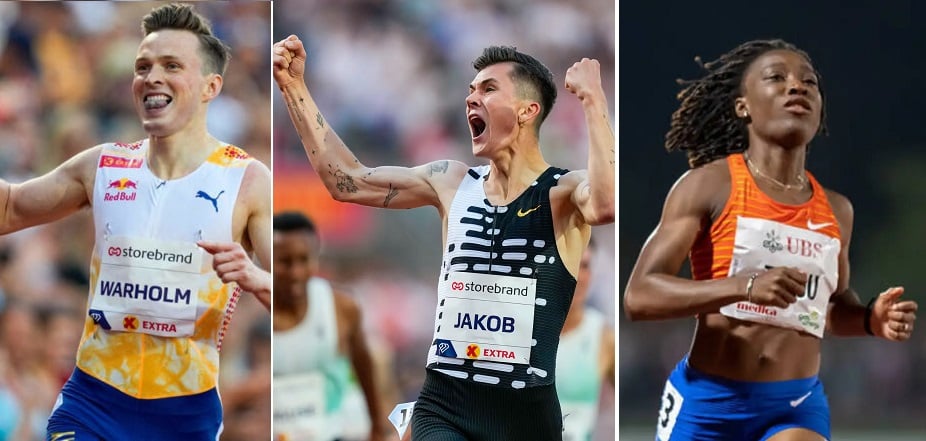 Olympic champion Jakob Ingebrigtsen set the European record and the fourth fastest time in history at world level with 3:27.95 to the delight of the Norwegian crowd. Ingebrigtsen won the Dream Mile in last year's edition of this meeting. The Norwegian star broke Hicham El Guerrouj's meeting record of 3:29.12 set in 1998.
Jakob Ingebrigtsen: "It was a good race. The race went as expected. Running by myself as usual and the crowd was amazing. It was fantastic to perform this way in front of my home crowd. It's a dream come true. I won the Dream Mile last year but running my main event is an incredible experience. I know that I was able to run fast like in Paris. It's all about consistency and delivering good performances in all of the races. I just have to keep focused on each race ahead in the build-up to Budapest".
Eight athletes dipped under the 3:30 barrier in one of the best 1500 metres races in history. Mohamed Katir from Spain narrowly missed his Spanish record by 13 hundredths of a second with 3:28.76. USA's Yared Nuguse set the area record with 3:29.02 to finish third. Former world champion Timothy Cheruiyot improved his seasonal best to 3:29.08. There were PBs for Mario Garcia from Spain (3:29.18), Azzedine Habz from France (3:29.26), Commonwealth Games champion Oliver Hoare from Australia (3:29.41 area record), Narve Nije Nordas from Norway (3:29.47). British athletes Josh Kerr and Neil Gourley clocked 3:30.07 and 3:30.88 respectively. Abel Kipsang improved his seasonal best with 3:31.76. Andreas Almgren improved the Swedish record to 3:32.00.
Men's 400 metres hurdles:
Karsten Warholm stormed to his third win at the Bislett Games with a Diamond League and meeting record of 46.52. Warholm ran faster than his previous world record time of 46.70 set in 2021. CJ Allen smashed his PB with 47.58 to finish second ahead of Wilfried Happio from France, who improved his seasonal best with 48.13m. Another Frenchman Ludvy Vaillant finished fourth in 48.59 ahead of world bronze medallist Trevor Bassitt (48.63).
Karsten Warholm: "When you are on the track, you are in the bubble but I really felt the crowd lift me in the home straight. The adrenaline was really pumping in the last 100 metres. It was a race I will always remember. I felt really good today and knew something special was coming. Today shows in the right circumstances. I can really attack the world record, maybe even this year. It really sucked to be out injured last year and I wanted to make sure I came back with a big boom. I have worked really hard to get back to this level and I am really happy. I am hoping for the world gold medal this year. That would be amazing to have again".
Women's 100 metres:
Marie Josée Ta Lou from Ivory Coast set a meeting record and a world lead to win her second Diamond League race this season in 10.75. Ta Lou narrowly missed her African record by just three hundredths of a second.
Marie Josée Ta Lou: "It is amazing to come back and win after winning two years ago. To run a world lead is especially good but it is early in the season as we still have two months to the World Championships, but it bodes well. I am running well in the Diamond League and it was a strong field here, but I need to keep working hard to get a medal at the World Championships".
Anthonique Strachan from the Bahamas improved her PB to 10.92 for second place. Shericka Jackson placed third in 10.98 sharing the same time with Dina Asher Smith and Darryil Neita. Ewa Swoboda took sixth place in 11.07.
Men's 5000 metres:
Yomif Kejelcha edged Jacob Kiplimo in a thrilling photo-finish to win the men's 5000 metres. Both Kejelcha and Kiplimo shared the same time with a world lead, a meeting record and a PB of 12.41.73. The previous meeting record was held by Kenenisa Bekele with 12:52.26. Telahun Haile Bekele broke the 12:50 barrier for the first time in his career with 12:46.21.
Joe Klecker took fourth place with 12:56.59 ahead of Luis Grijalva, who dipped under the 13 minutes for the second time this season with 12:56.63. Thierry Ndikumweanayo from Burundi set his PB of 12:58.60.
Yomif Kejelcha: "It was only a dream to win this event. Now my dream is Monaco, and then to become an Olympic champion one day. I will try to win the world title. It is going to be difficult. I will try my best. I expected the finish to be like this".
Women's 400 metres hurdles:
European record holder Femke Bol set a world lead of 52.30 to win the women's 400 metres hurdles. Bol improved her own meeting record by 31 hundredths of a second.
Femke Bol: "I think it is a good combination, me and Oslo. I really enjoyed the race as the atmosphere at the stadium was great. I love this stadium and you can hear how loud is the crowd. When it comes to the technique, I think I had a good execution. I tried to keep it until the seventh hurdle and I have to ask my coach if it was really good. I think it was really a bit better today. The World Championships is still two months away so I am feeling good and I continue the work towards the championships".
Jamaica's Rushell Clayton finished second in 53.84 ahead of Panama's Gianna Woodruff (54.46).
Men's pole vault:
Olympic champion Armand Duplantis started his Diamond League campaign with a win in the men's pole vault with 6.01m in his second attempt after clearing 5.61m and 5.81m in the first attempt. Duplantis missed out on a meeting record at 6.12m. Christopher Nilsen made a clean sheet until 5.91m before making three attempts at 6.01m. Ernest John Obiena, who joined the 6 metres club last week in Bergen, cleared all heights until 5.81m in her first attempt before failing two attempts at 5.91m and one at 6.01m.
Armand Duplantis: "I really like Oslo. It has a really good atmosphere especially when you have your athletes doing so well like they do really right now. It helps to create this unique energy at the stadium. I felt really good. I just had some problems to find the rhythm on the runway, choosing which poles to use. Some poles were softer than I expected. I have got higher jumps in me and I know I am in good shape. I should not complain too much over 6 metres and the Diamond League win. It is a good start to the Diamond League season for me. For me, I like the start".
Women's triple jump:
Yulimar Rojas took an early lead in the women's triple jump with a first round mark of 14.91. Leyanis Hernandez Perez from Cuba improved her PB of 14.87m in the first attempt.
Yulimar Rojas: "I am not sure I can say I am glad about my performance. I am never fully pleased with my competitions. I always aim for more. It was a strange event. It felt a little bit different. I felt fine during the warm-up but my legs were not really doing what I wanted. I am coming back from injury. I had a fall two weeks ago and I could not train well, so it means a lot to me to take the win in Oslo. I had some faults, which I am not happy about".
After two fouls Rojas produced three more valid jumps of 14.86m, 14.45m and 14.62m holding her lead in the final 3 to start her Diamond League title defense with a win in the first appearance of her career at the Bislett Games.
Men's 200 metres:
World bronze medallist Erriyon Knighton won his second Diamond League race this season improving Usain Bolt's meeting record with 19.77. Cuban record holder Reyner Mena finished second with 20.09 ahead of Olympic champion Joseph Fahnbulleh from Liberia (20.23), Alexander Ogando (20.27) and Olympic champion André De Grasse (20.33 seasonal best).
Erryion Knighton: "I can and I won it as I said I would. I felt very good coming into this race and I am pleased to take the world record from Usain Bolt, but I want to make a name for myself in the Diamond League and to be remembered going forward as the meeting record holder. I need to keep my body strong but I don't want to be too bulky as I am not used to running like that. My goal at the World Champs is to be on the podium but I hope I can win it".
Men's 400 metres:
Wayde Van Niekerk made a successful come-back in the Diamond League with a win in the men's 400 metres in 44.38 holding off Zambia's Muzala Samukonga, who clocked 44.49 ahead of USA's Vernon Norwood (44.51).
Wayde Van Niekerk: "I don't think people realise how hard this event Is both physically and mentally. You can see how long it takes me to recover so that shows I am still not where I am meant to be but I am getting there. I try not to think too far ahead but of course Budapest is a big goal. I am happy to be back beating these guys. It was special to have my family over here with me. I want my children to experience this life with me when they can, and it is lovely here."
Twenty-year-old Havard Bentdal Ingvaldsen from Norway improved Warholm's national record to 44.86 to finish fourth ahead of European champion Matthew Hudson Smith, who set his seasonal best of 44.92.
Women's 3000 metres:
World Cross Country champion Beatrice Chebet won the women's 3000 metres with a meeting record, a world leading time and a PB of 8:25.01. Lilian Rengeruk from Kenya finished runner-up with 8:25.90 improving her second PB in one week after clocking 14:23.05 in the 5000 metres. Margaret Chelimo Kipkemboi completed the Kenyan sweep in third place with 8:26.14. Alicia Monson was the first US finisher in fourth place in 8:29.43 ahead of her compatriot Weini Kelati (8:32.50) and Sarah Chelangat from Uganda, who improved the national record to 8:32.53.
Beatrice Chebet: "I am very thankful because I managed to run my PB and I can see my progress. The race was not easy but I had to believe in myself. My goal is to go there and to bring a medal to my country. When Faith Kipyegon ran in Paris, I was watching it and I got very motivated. I said one day I will do it. Step by step".
Women's Dream Mile:
Ethiopia's 17-year-old Birke Haylom won the Dream Mile setting a world leading time and a world under 20 record with 4:17.13. Haylom, who won the world under 20 title in Cali last year, improved the previous meeting record set by Sonia O' Sullivan with 4:17.25. Cory Ann McGee finished second improving her PB to 4:18.11. Jessica Hull from Australia improved her second Oceanian record this season with 4:18.24 two weeks after clocking 3:57.29 in the 1500 metres in Florence.
Men's long jump:
Swiss record holder Simon Ehammer won the first Diamond League competition of his career in the men's long jump with a leap to 8.32m in the second round. Marquis Dendy jumped 8.26m in the first round to take second place ahead of Olympic champion Miltiadis Tentoglou (8.21m).
Women's discus throw:
Jorinde Van Klinken from the Netherlands threw the discus to 66.77m in the fifth round to claim the first Diamond League win of her career. The Dutch thrower beat Olympic champion Valarie Allman (66.18m) and Sandra Perkovic (65.26m).
Women's shot put:
Last year's Commonwealth Games gold medallist Sarah Mitton won the women's shot put with 19.54m in the first attempt beating USA's Maggie Ewen by two cm in a close competition. Danniell Thomas Dodd finished third with 19.44 on countback over Chase Ealey.
Men's hammer throw:
Olympic champion Wojchech Nowicki set a Diamond League, a meeting record and a world lead with 81.92m in the second attempt. US record holder Rudy Winkler took second place with 79.42m ahead of Canada's Ethan Katzberg (77.93m).
-->