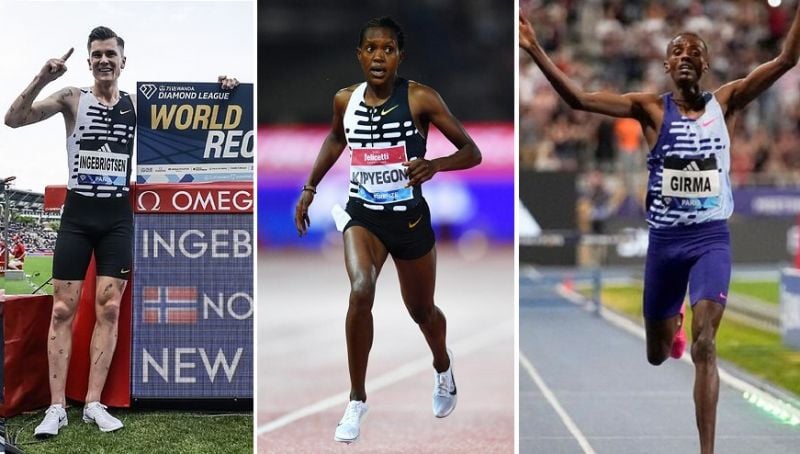 Faith Kipyegon and Lamecha Girma broke world records in the women's 5000 metres and in the men's 3000 metres steeplechase clocking 14:05.20 and 7:52.11 respectively in a memorable edition of the Paris Diamond League meeting. Jakob Ingebrigtsen set the world best performance over the non-olympic 2 miles distance with 7:54.10. It's the first time in the 13-year-old history of the Diamond League that three world records were broken in the same meeting. Three world leads were set by Grant Holloway in the men's 110 metres hurdles with 12.98, Keely Hodgkinson in the women's 800 metres with 1:55.77 and Emmanuel Wanyonyi in the men's 800 metres with 1:43.27.
Women's 5000 metres:
Faith Kipyegon broke her second world record at a Wanda Diamond League meeting for the second week in a row clocking 14:05.20 in the women's 5000 metres. One week ago Kipyegon set the world record in the 1500m with 3:49.11 at the Golden Gala in Florence. Kipyegon becomes the only athlete ever to have broken the world record in two separate events in the history of the Diamond League. Kipyegon ran the final 400 metri in 60.63.
Letesenbet Gidey, who held the previous world record with 14:06.62, set the second best of her career with 14:07.94. Ejgayehu Taye placed third with a seasonal best of 14:13.31. Lilian Rengeruk improved her PB to 14:23.05 to finish fourth ahead of Margaret Chelimo (14:23.67), Lemlem Hailu (PB 14:34.53), USA's Alicia Monson (14:34.88), Agnes Ngetich (PB 14:36.70), Agnes Ngetich (PB 14:42.63) and Laura Muir (PB 14:48.12).
Faith Kipyegon: "I did not think about the world record. I do not know how I made it. I just focused on the green light and tried to stay relaxed and enjoy the race. I just did the race and wanted to see what happens, when I saw that it was a world record I was so surprised."
Men's 3000 metres steeplechase:
Olympic and world silver medallist Lamecha Girma broke the 19-year-old world record held by Saif Saeed Shaheen clocking 7:52.11. Girma set his second world record this year on French soil after clocking 7:23.81 in the 3000 metres at the World Indoor Tour meeting in Liévin last February. Girma becomes the first Ethiopian athlete to break the world record in the 3000m steeplechase.
Lamecha Girma: "I am feeling so happy and very proud. I felt so fast during the race. The world record is not a surprise. I planned to break it tonight in Paris. It's the result of my determination. I will compete in Ostrava, but not the 3000m steeplechase. I will run on 1500m".
Ryuji Miura improved his Japanese record to finish second in 8:09.91. Daniel Arce from Spain finished third in 8.10.63 ahead of Ethiopia's Abrham Sime (8:10.73).
Men's 2 miles:
Olympic 1500 metres champion Jakob Ingebrigtsen set the first world record of his career in the 2 miles clocking 7:54.10. Ingebrigtsen improved the long-standing world record held by Daniel Komen with 7:58.61 since 1997.
Jakob Ingebrigtsen: "I feel tired. Being able to break this record feels amazing. The place felt very smooth for me, coming out of the 1500m. I would say it was a good race. The crowd was amazing. Without their help, it would have been more difficult. I was a bit surprised about the time in the end. My priority is the 1500m. The 5 km is the consequence is that I am a good runner. I am an endurance strength runner.
Women's 800 metres:
Olympic and world silver medallist Keely Hodgkinson smashed her own British record to a world leading time of 1:55.77 on her seasonal debut. Hodgkinson set her previous PB of 1:55.88 when she won the Olympic silver medal in Tokyo.
Keely Hodgkinson: "I am a little bit shocked that I ran so fast. I will be back to Paris next year. The weather was really nice. I had heard good things about the track. With this full stadium and the great crowd, it was amazing. The aim is to stay healthy. We still have to see. The focus is on Budapest. I don't know what is next with such a fast time son early in the season"
World indoor champion Ajée Wilson finished second with 1:58.16 ahead of Jamaica's Natoya Goule (1:58.23) and Australia's Catriona Bisset (1:58.55). Noelle Yarigo from Benin improved her national record to 1:58.65.
Men's 110 metres hurdles:
Double world champion Grant Holloway set the world leading time of 12.98 into a headwind of -0.5 m/s to win his second consecutive 110 metres hurdles in the Diamond League season.
European bronze medallist Just Kwaou Mathey improved his PB twice to 13.25 in the heat and 13.09 in the final. Jamal Britt finished third in 13.14 edging Daniel Roberts with the same time.
Grant Holloway: "I am absolutely satisfied. It was a new world lead. It is a great time. I wanted to set the tone. Last time I ran here 13.25, so it is a lot better. I really excited the whole way round and I am pleased with it. The meeting is great and the meeting director Jean Pierre is a great guy. I am pleased just to come back here and to continue on this level. I am really looking forward to what this season still has to offer. It is amazing".
Men's 100 metres:
Double 200 metres world champion Noah Lyles stormed to a win in 9.97 in the men's 100 metres edging African record holder Ferdinand Omanyala, who dipped under the 10 seconds with 9.98. World under 20 champion Letsile Tebogo took third place in 10.05. Olympic champion Marcell Jacobs opened his season with a seventh place in 10.21.
Noah Lyles: "9.97. That was the time that I ran, wow ! All my preparation was about the first 30m. The race was great. I set it up the way I needed it to be. It feels good to win here. I started my winning streak in Paris. I accomplished my mission. It feels good that I am still number one. It was a fun run, with a big run. They got me energized. I love that. It makes me want to come here".
Women's 400 metres:
Olympic and world silver medallist Marileidy Paulino from Dominican Republic chased down Sydney McLaughlin in the final straight to win the women's 400 metres in a meeting record of 49.12. McLaughlin opened her season with a PB of 49.71. The previous meeting record had been held by Tonique Williams Darling with 49.15 since 2004. Salwa Eid Naser dipped under the 50 seconds for the second time this season with 49.95.
Marileidy Paulino: "I am not surprised about this victory and about this time. My race went really well. I felt great during the race. I had a bad start, but I was able to get back into the race in the second half and especially at the end. I had a great preparation."
Men's 800 metres:
Emmanuel Wanyonyi set the world leading time with 1:43.27 in an exciting final sprint to take a close win in the 800 metres in 1:43.27 ahead of world bronze medallist Marco Arop from Canada (1:43.30), Slimane Moula from Algeria (1:43.40), Benjamin Robert from France (1:43.48), Wycliffe Kinyamal from Kenya (1:43.56).
Emmanuel Wanyonyi: "I train with Janet Jepkosgei and my training has been really good. I have a good finishing kick. This is my year as a senior. I was focusing on the finish. My race tactics was to be with the pack until the last 150 metres and to kick it. I thought I would have dropped them but they gave me a hard time, especially the Olympic champion Korir. My target was to win and I achieved this goal, I am excited and I thank God for this victory".
Women's 200 metres:
Olympic bronze medallist Gabby Thomas won the women's 200 metres in 22.04 into a headwind of -0.4 m/s ahead of Abby Steiner and Marie Josée Ta Lou, who finished second and third sharing the same time of 22.34. Dina Asher Smith placed fourth in a seasonal best of 22.57.
Women's discus throw:
Valarie Allman broke her own meeting record from 2022 with a throw of 69.04m to take her second consecutive win in the Wanda Diamond League one week after her victory in Florence with 65.96m.
Valarie Allman: "I feel so good to execute what we were working on. My secret is to concentrate on the preparation and to take it one at a time. This crowd and this crowd were incredible. I feel very satisfied. I have executed a solid series. I am proud about this meeting record. It is an honour. It is a really special competition"
Double Olympic champion Sandra Perkovic opened her season with a second plac with 65.18m.
Women's high jump:
Olympic silver medallist Nicola Olyslagers battled back from a failure at 1.94m to take the win with 2.00m in her third attempt in the women's high jump. US Vashti Cunningham cleared 1.97m on her first attempt to finish second beating European bronze medallist Angelina Topic on countback. Iryna Gerashchenko from the Ukraine cleared 1.94m in her first attempt to finish fourth on countback over Morgan Lake.
Nicola Olyslagers: "Tonight I jumped 2.00m for the first time in two years. So I am of course happy. I am a bit shocked. At the same time I feel that I can go higher. I don't stop at 2m any more. How high I can go, I don't know, but I feel that one day I will to jump 2.10m. Not tomorrow, but one day. I will compete next in Turku and then in Czech Republic. Three competitions in nine days. I will not travel back to Australia until October, but my husband will join me soon".
Women's pole vault:
World bronze medallist and reigning Diamond League champion Nina Kennedy from Australia cleared 4.77m on her first attempt to win her first Diamond League competition this season in the women's pole vault. Margot Chevrier from France improved her PB to 4.71m to take second place with 4.71m on countback over Katie Moon. Wilma Murto placed fourth with 4.61m beating on Sandi Morris and Emily Grove on countback.
Nina Kennedy: "I am over the moon. I had a rough start into the season, but today I put everything together. This is the first win against Sandi Morris. I want to get the gold medal in Budapest.
Men's long jump:
Olympic champion Miltiadis Tentoglou leapt to 8.13m to start his defence of his Diamond League title with a win in the men's long jump. Simon Ehammer took second place with a leap to 8.11m beating Sreeshankar (8.09m).
Men's 400 metres hurdles:
US CJ Allen dipped under the 48 seconds for the third time this season with 47.92 to win the men's 400 metres hurdles. Wilfried Happio from France took second place with 48.28 edging out world silver medallist Trevor Bassitt with the same time.
Women's shot put:
Auriol Dongmo from Portugal set a seasonal best of 19.72m in the fourth round to win her second consecutive Diamond League competition of the season. World champion Chase Ealey took second place with a throw of 19.43m in the fifth round beating her compatriot Maggie Ewen (19.26m).
Auriol Dongo: "The competition went very well. I thank God for that. Until my third attempt I had technical difficulties and was tense. I told myself that I had to achieve something and improve otherwise I would not be able to continue with the final eight. I needed courage and believe in myself and it worked".
Women's javelin throw:
Haruka Kitaguchi won for the second consecutive year in the women's javelin at the Paris meeting with 65.09m in the third round. Double world champion Kelsey Lee Barber improved her seasonal best to 62.54m to take second place ahead of Yuleimnis Aguilar from Cuba (60.61m).
Women's hammer throw:
World champion Brooke Andersen won her second consecutive win this week after Bydgoszcz in the women's hammer throw with 77.13m in the third round beating world bronze medallist Janee Kassanavoid (74.74m). European bronze medallist Sara Fantini finished third with 71.13m.
Men's hammer throw:
Ethan Katzberg won the men's hammer throw with 77.93m in the fourth round. US record holder Rudy Winkler placed second with a throw of 77.63m in the second attempt.
Men's triathlon:
Two-time world champion Kevin Mayer won the men's triathlon with 2699 points. Mayer threw 15.31m in the shot put, leapt to 7.26m in the long jump and ran 13.70 in the 110 metres hurdles.
Kevin Mayer: "The 110m hurdles was very promising, the other two events were more frustrating, but you have to know that I resumed training at 100% only last week. Doing three events in only 30 minutes was very short. In the 110 metres I only warmed up for 10 minutes".
Men's 4x100 relay:
Jimmy Vicaut anchored France to win the men's 4x100 relay in 38.22 ahead of Great Britain (38.90).
-->