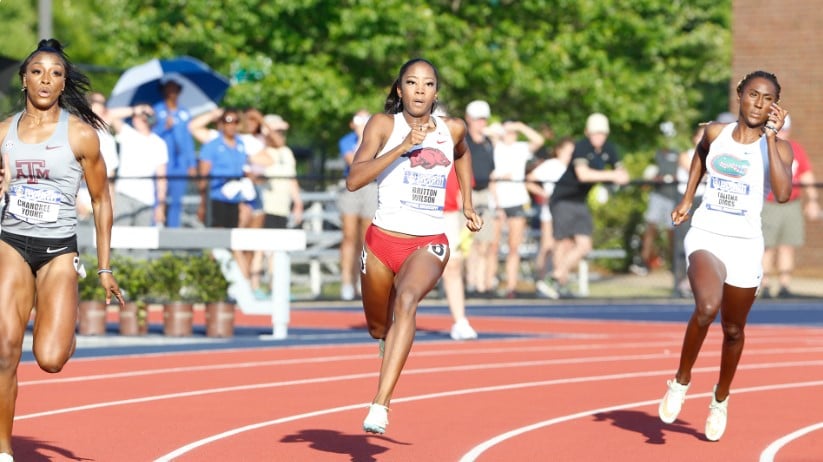 After a spectacular opening night on Wednesday, the 2023 NCAA Outdoor Track and Field Championships continued on Thursday, June 8 at Mike A. Myer Stadium in Austin, Texas.
The second day of the 2023 NCAA D1 Track and Field Championships will be highlighted by 5 women's finals ( hammer throw, javelin throw, pole vault, long jump, pole vault, 10000m) and the men's decathlon. Also, there will be exciting semifinals in sprint, hurdles, and middle distance events. All the action is scheduled to kick off at 3:30pm CT.
Men's Decathlon:
Leo Neugebauer from the University of Texas set a new German and NCAA Decathlon record with a total points of 8,836. In the process, Neugebauer set 6 new personal records across the 10 events. Runner up Kyle Garland from Georgia scored 8630 points while Austin West from Iowa took the bronze with 8054 points.
"It feels amazing. The fact that I was able to come out on top and with a record, especially here in Austin, I'm more than happy," Neugebauer said. "Yes, yes, my coach told me that. That makes me the greatest of all time in the whole country (Germany) – I can't even realize it yet." he added.

Women's 10000m:
Everlyn Kemboi broke away from the field with three laps to go three laps to win Utah Valley's first NCAA track title with a time of 32:39.08. Emily Venters from Utah was second with 32:47.70 ahead of defending champion Mercy Chelangat (32:49.62) of Alabama.
Nebraska Huskers win women's javelin and shot Put:
Nebraska women's track and field throwers Rhema Otabor and Axelina Johansson won the national titles in javelin and shot put, respectively.

Otabor, a junior from Nassau, Bahamas, took the NCAA javelin gold medal, breaking her own school record with 59.49m. Johansson, a sophomore from Hok, Sweden, claimed the NCAA shot put gold with a fantastic effort of 19.28m
63-3¼ after finishing second at the NCAA Indoor Championships this year and third at the NCAA Outdoor Championships last year. They are the first Husker women to win NCAA titles since Dace Ruskule (discus) in 2006.
Women's Hammer Throw Final:
Women's Pole Vault:
Julia Fixsen won the Virginia Tech's 22nd individual national championship in school history, winning the women's pole vault with a personal-best of 4.45m 14-7 ¼ clearance on her first attempt.
The junior entered NCAA championships ranked 10th in the event but saved her best performance of the season for the national stage.
"Probably the best I have all season. I felt like I've done this before and I know what to do. I've had really good practices and I have been jumping well over the bars, so I felt really comfortable, I also had other teammates with me which made it even easier. It just felt like I was at home." Fixsen said.
Women's 400m and 400m hurdles semi finals:
Britton Wilson from Arkansas led both 400m and 400m hurdles semis. She set a new NCAA 400m meet record in the heats with a blazing 49.36 seconds. Only 30 minutes later she also topped the 400m hurdles heats with 54.67. Wilson will contest both 400m and 400m hurdles finals on Saturday, June 10.
Women's 4x100m Semi Finals
The University of Texas Longhorns broke the NCAA record and World lead with a scorching 41.55 seconds to win heat 3. Kentucky's team won heat one with 42.30, while Ohio State took heat #2 in 42.68 seconds.
-->