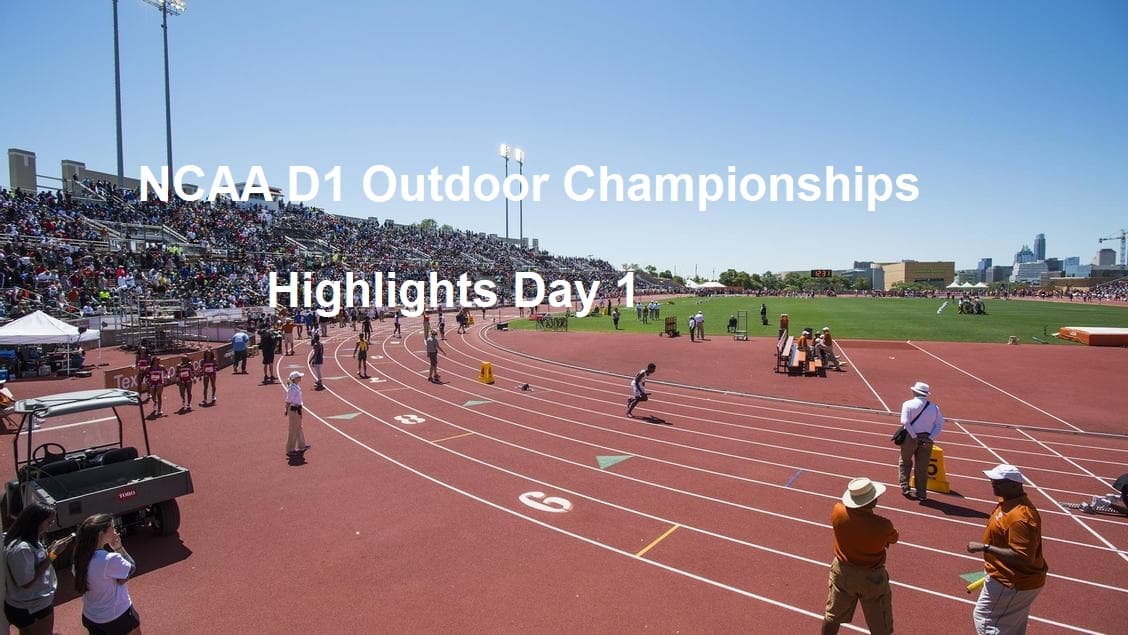 Highlights and videos for the 2023 NCAA Outdoor Track and Field Championships Day 1, Wednesday, June 7.
Opening day of the 2023 NCAA D1 Track and Field Championships started off with thrilling finals of the men's hammer throw, javelin throw, pole vault, and 10000m events for the men.
Men's 10000m Final:
Ky Robinson and Charles Hicks claimed first and second place in the 10000m for Stanford. Robinson produced a very fast final lap (54.19) lap to pull away from Hicks on the home straight and to win the title in 28:10.96.
Men's Long Jump Final:
Carey McLeod and Wayne Pinnock produced a 1-2 finish for Arkansas as the Razorbacks concluded day one on top with 21 points.
McLeod, the 2023 NCAA Indoor champion, on his sixth and last attempt, produced a winning result of 27-1.25 (8.26m). The defending NCAA champion Pinnock produced a 26-9 (8.15m) jump to take silver while, Kentucky's Jordan Turner effort of 26-8.25 (8.13m) was good enough for bronze.
Men's Hammer Throw Final:
Ikeji won the men's hammer throw with a stunning final-round throw of 77.92m (255-8). His triumphant performance moves Ikeji to No. 6 on the all-time collegiate list.
Men's Javelin Final
Tzuriel Pedigo claimed his second NCAA D1 javelin title after setting a new Louisiana State University record of 79.79 meters on his third throw of the contest.
Men's 100m Semi Finals
P.J. Austin from the University of Florida equaled the fourth-fastest time in collegiate history with this 9.89 (+1.3) to set the fastest time in semifinals of the 100 meters. Total of 5 men broke the 10-second barrier in the men's semis. RESULTS
Men's 200m Semis
Six men crushed the 20-second barrierin the semifinals and all were wind to make the final. Udodi Onwuzurike of Stanfrod with his stunning, No. 3 all-time collegiate mark of 19.76 seconds was fastest in the semifinals. RESULTS
Men's Pole Vault and Shot Put:
The last two champions in the opening day of the NCAA outdoor championships came from the men's pole vault vault and shot put.
South Alabama pole vaulter Kyle Rademeyer claimed the title on his only attempt at 5.70 meters (18-08.25). Hunter Garretson from Akron also cleared 5.70m but was second on a count back.
Jordan Geist delivered gold for Arizona by winning the men's shot put with a massive effort of 21.06m (69-1¼) in the final round, beating Turner Washington from Arizona State into 2nd place by 2cm.
-->