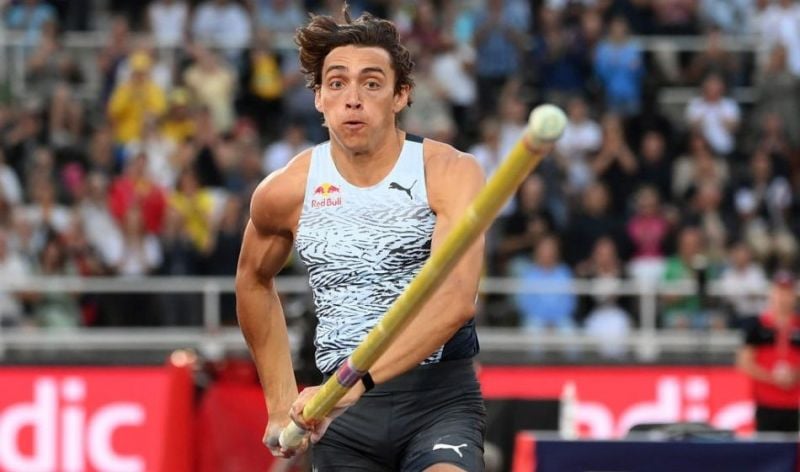 The Fanny Blankers Koen Games started on Saturday evening with the women's 10000 metres and will continue on Sunday afternoon with the main programme of the World Athletics Continental Tour meeting.
Double Olympic champion Sifan Hassan returned to the track to run the 10000 metres on Saturday evening at the Fanny Blankers Koen Games just six weeks after her win at the London Marathon in 2:18.33 on her debut over this distance last April.
Hassan returns to Hengelo where she broke the world record in the 10000 metres with 29:06.02. This record was improved two days later by Letesenbet Gidey with 29:01.03 at the Ethiopian Olympic Trials on the same track.
On Saturday Hassan set a world lead and the seventh time in history clocking 29:37.80 on a windy evening. The Dutch star went through the 3000m in 8:51.00 in the first 3 km. She was running in the front together with Tsigie Gebrselama from Ethiopia and Kenya's 19-year-old Grace Loibach Nawowuna.
Gebrselama ran in the front before the 5 km but Hassan took the control of the race and went through the halfway mark in 14:46.01. The pace slowed and Hassan led Nawowuna through 7000 metres in 20:41.67 and 8000 metres in 23:43.23.
Nawowuna led through 9000 metres in 26:47.08. Hassan launched her final kick with one lap to go and ran 60.86 in the final 400 metres to cross the finish-line in 29:37.80. Nawowuna clocked 29:47.42 on her debut in the 10000 metres. Gebrselama took third place in a PB of 30:04.42 beating Selah Businei (30:26.40) and Betty Chelangat (30:27.94).
Hassan holds three of the seven fastest ever women's 10000 metres times.
Sifan Hassan: "My goal was to run deep, run hard. I had the marathon just six weeks ago.The change was very hard so I wanted to see where I am. I did it and I am very happy with the time. I was teaching myself to hold back in the marathon and now I have to go deep again. The last three laps, I felt very amazing".
Hassan doubles up in the 1500 metres
Hassan will run the 1500 metres just 20 hours later on Sunday during the main programme of the FBK Games to test her speed against Uganda's Winnie Nanyondo (fourth at the World Championships in the 800m in Doha 2019) and Linden Hall, sixth at the Olympic Games in Tokyo in the 1500 metres in her lifetime best of 3:59.01.
Women's 400 metres:
Femke Bol will run her first outdoor 400 metres flat race of the season in front of her home fans at the Fanny Blankers Koen meeting, a World Athletics Continental Tour Gold meeting. The Dutch athlete will take on Belgium's Cynthia Bolingo, European indoor silver medallist in Glasgow 2019 and national outdoor record holder with 50.19 at the Brussels Diamond League meeting last year, and USA's Wadeline Jonathas, who finished fourth in the World Championships in Doha 2019.
Bol won three European outdoor medals in Munich in the 400 metres hurdles in 52.67, in the 400 metres in 49.44 and in the 4x400 relay in 3:20.87 following in the footsteps of her compatriot Fanny Blankers Koen, who won four Olympic gold medals in the 100 and 200 metres, in the 80 metres hurdles and in the 4x100 relay in London 1948 and three European gold medals in the 100 and 200 metres and in the 80 metres hurdles in Brussels 1950. Last winter Bol broke the world indoor record in the 400 metres with 49.26 at the Dutch Indoor Championships in Apeldoorn and won two European Indoor gold medals in the 400 metres in 49.85 and in the 4x400 relay in 3:25.66.
Bol won her first two 400 metres hurdles races of the 2023 outdoor season in Oordegem in 53.12 and at the Golden Gala in Florence.
Men's pole vault:
Reigning Olympic and world champion Armand Mondo Duplantis will return to Hengelo for the third consecutive year. The Swedish pole vault star set the meeting record in 2021 with 6.10m and won with 6.01m last year in rainy conditions. The Swedish star improved the world record to 6.21m at the World Championships in Eugene and 6.22m at the indoor pole vault meeting in Clermont Ferrand last winter. He cleared 5.91m in the first competition of this summer season at the Los Angeles Grand Prix on 27 May.
Duplantis will take on eight pole vaulters with a PB over the 5.80 metres barrier. The top rival for Duplantis is Australia's Kurtis Marshall, who won two gold medals at the Commonwealth Games in Gold Coast 2018 and Birmingham 2022 and placed fourth at the World Indoor Championships in Birmingham 2018. This year Marshall won the Australian title with 5.80m in Sydney. The line-up also features Germany's Bo Kanda Lita Baehre, who won the European silver medal in Munich behind Duplantis, Menno Vlonn, who finished fifth at the World Indoor Championships in Belgrade 2022 and holds national records indoors with 5.96m and outdoors with 5.88m, Ben Broeders from Belgium, national record holder with 5.85m and won the Diamond League competition in Paris Bercy with 5.80m, and Jacob Wooten, second at the US Indoor Championships in Albuquerque 2023 with 5.86m.
Men's 110 metres hurdles:
Double world outdoor champion Grant Holloway will chase his first time of the season under the 13 seconds barrier. Holloway finished second in Rabat in 13"25 into a headwind of -1.3 m/s and won at the Golden Gala in Florence in 13.04. He leads the world seasonal list with 13.01 in Atlanta. He will take on his compatriot Devon Allen, who clocked 13.25 in Rabat and 13.19 in Florence, and Freddie Crittenden, who won the US Indoor title in the 60 metres hurdles in 7.49 and set a seasonal best of 13.19 in Phoenix this year.
Men's long jump:
US Mr.Jump Ju'Vaughn Harrison will return to the long jump after winning two Diamond League competitions in Doha and Florence clearing the same height of 2.32m. Harrison won NCAA indoor and outdoor titles in the long jump and in the high jump and reached two Olympic finals in Tokyo in both events finishing fifth in the long jump with 8.15m and in the high jump with 2.33m. The US athlete holds a PB of 8.47m in the long jump.
Harrison will face Italian 18-year-old rising star Mattia Furlani, who also performs with excellent results in both jumping events and is known to all Italian fans as the Italian Mr. Jump . Furlani won two gold medals at the European Under 18 Championships in Jerusalem last year in the long jump with the Italian Under 18 record of 8.04m and in the high jump. Furlani started his outdoor season with a wind-assisted 8.44m (+2.2 m/s) in Savona setting the world all-time under 20 best performance in any wind conditions.
The other jumpers to watch are Will Williams, who won the US Indoor title with 8.20m last February and Chenault Lionel Coetzee, who jumped 8.27m last April.
Men's javelin throw:
German thrower Johannes Vetter will take on his compatriots Julian Weber and Andreas Hoffmann and 2012 Olympic champion Keshorn Walcott. Weber set his seasonal best of 88.37m at the Continental Tour Silver medal in Rehlingen on 28 May.
Timothy Herman from Belgium will chase his second win on the Continental Tour Gold circuit after taking the victory in Nairobi with a PB of 87.35m. The line-up also features Finnish throwers Oliver Helander, who won at the Continental Tour Gold meeting in Turku with 89.83m and finished eighth at the World Championships in Eugene, and Lassi Etelatalo, fourth at the World Championships in Doha 2019.
Women's high jump:
European indoor and outdoor champion Yaroslava Mahuchik won her first two high jump competitions this year in Nairobi with 2.00m and Rabat with 2.01m and is the only woman to clear the 2.00m barrier this year. Mahuchik set her PB of 2.05m in Brussels last year. She will take on her compatriots Iryna Gerashchenko, fourth at the Olympic Games in Tokyo, and Yuliya Levchenko, world silver medallist in London 2017.
Women's shot put:
Maggie Ewen will face reigning world champion Chase Ealey in the women's shot put. Ewen set the world seasonal mark with 20.45m in Westwood last weekend. Ealey set her seasonal best of 20.06m in Halle. The two US shot putters will face 2022 world indoor champion Auriol Dongmo from Portugal and Jessica Schilder from the Netherlands, European outdoor champion in Munich with 20.24m and world bronze medallist in Eugene with 19.77m.
Women's 100 metres:
European and Commonwealth bronze medallist Darryil Neita from Great Britain started her season with a win in the 100 metres in 10.97, missing her PB by just seven hundredth of a second. The British sprinter will take on Morolake Akinosoun, who won the 100m in Los Angeles last week in 10.97, Cambrea Sturgis, NCAA champion in the 100m in 10.74 and in the 200 in 22.12, Tehana Daniels, seventh in 10.02 in the Olympic final in Tokyo, Olympic finalist and 2021 European Indoor 60m champion Ajla Del Ponte from Switzerland and Michelle Lee Ahye from Trinidad and Tobago who won the gold medal in the 100m at the Commonwealth Games in Gold Coast 2018 and reached two world finals in the 100m in Beijing 2015 and London 2017.
Women's 100 metres hurdles:
USA's 2019 world champion Nia Ali has the fastest time among the entrants with her seasonal best of 12.53 set at Drake Relays in Des Moines. Ali will face two-time European Indoor champion Nadine Visser, who will run her first race of the season, world indoor silver medallist Deynne Charlton, European indoor bronze medallist Ditaji Kambundj from Switzeralnd, who clocked 12.86 in Zofingen this year, and Mette Graversgaard from Denmark, who finished fourth at the European Indoor Championships in Istanbul in 7.92 and set a national record of 12.83 in Savona on 24 May.
Men's 100 metres:
World silver medallist Marvin Bracy Williams will be chasing her second sub-10 time after clocking 9.93 in Montreuil last Wednesday. The US sprinter will face Reece Prescod from Great Britain, who started his season with a wind-assisted 9.94 in Savona, 2011 world champion Yohan Blake from Jamaica and 2018 world indoor bronze medallist Ronnie Baker.
Men's 400 metres hurdles:
US hurdler CJ Allen will chase his third consecutive sub-48 time in the men's 400 metres hurdles after finishing second in Doha in 47.93 and first in Los Angeles in 47.91. Allen will take on Andres Ibanez Guevara from El Salvador and Dutch hurdler Nick Smith, who hold PBs of 48.56 and 48.70 respectively.
Men's 400 metres:
USA's Olympic 4x400 relay champion Vernon Norwood starts with the fastest time among the entrants with his seasonal best of 44.68 set in Nairobi last May. Norwood will line up against Olympic 4x400 relay silver medallist and European indoor 400m bronze medallist Liemarvin Bonevacia from the Netherlands, Olympic 4x400 relay bronze medallist Isaac Makwala, who holds PBs of 43.72 in the 400m and 19.77 in the 200 metres, and Busang Collen Kebinatshipi from Botswana.
Men's 1500 metres:
Germany's Robert Farken is looking to continue his good period of form after clocking 3:32.10 in Rehlingen. Farken will go head-to-head against Elliot Giles, who set the British indoor record of 1:43.63 in the 800 metres, Andrew Coscoran from Ireland, national indoor record holder with 3:33.49 in Birmingham last February, and Azeddine Habz from France, European Indoor bronze medallist in Istanbul 2023.
Women's 200 metres:
European 400m indoor silver medallist Lieke Klaver will drop down in distance to run the 200 metres against her compatriot Jamile Samuel and USA' Kayla White, who clocked 22.38 in Gaborone last April.
-->