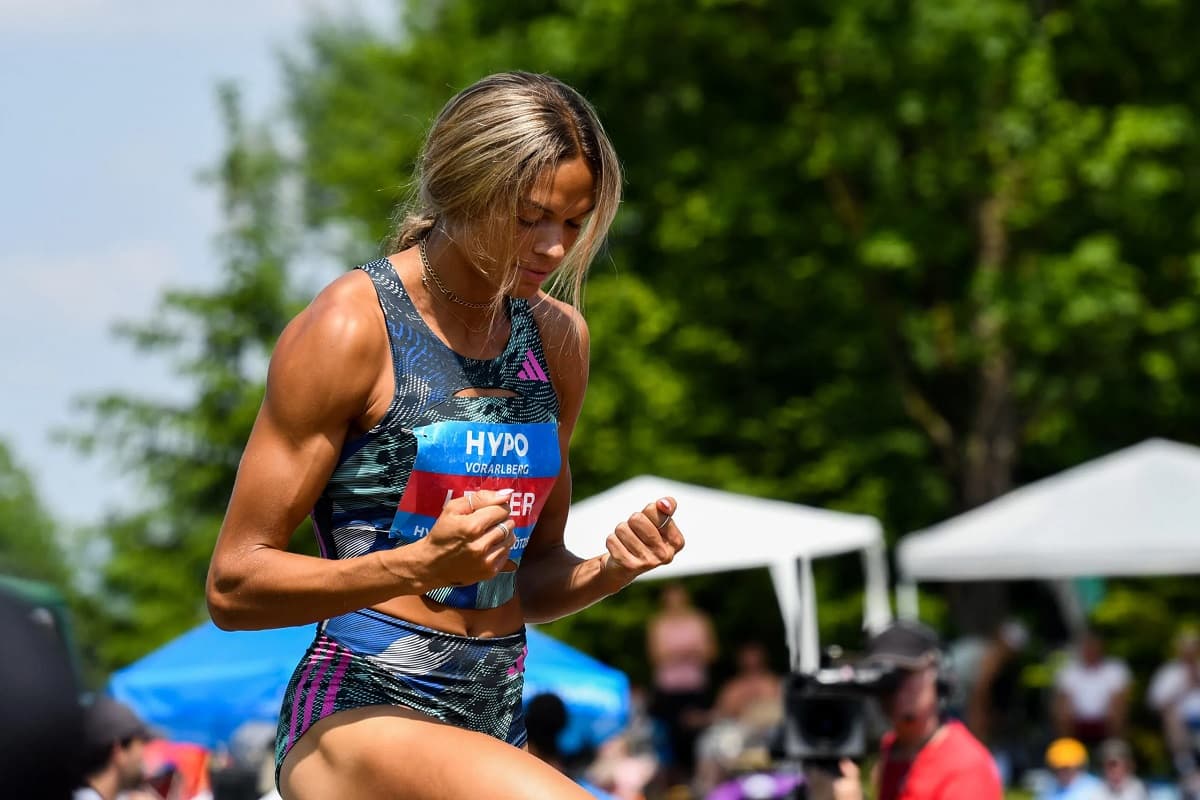 Anna Hall is on course to breaking the 7000 points barrier at the 48th edition of the Hypo Meeting at the Moesle Stadium in Goetzis after ending the first day in the lead with 4172 points. Only Jackie Joyner Kersee has collected more points after the first day.
Hall has the chance to improve the meeting record set by Belgian Nafissatou Thiam with 7013 points in 2017. She could even score 7100 points on Sunday. This score has been surpassed by Joyner Kersee in the 1980s.
Hall set three PBs during an outstanding first day in the 100 metres hurdles, in the high jump and in the 200 metres and is 150 points ahead of her best first day score set during the World Championships in Eugene, where she won the bronze medal with 6755 points.
Hall stormed to a PB of 12.75 in the 100 metres hurdles improving Nadine Visser's meeting record by 0.03. The 22-year-old US star beat her compatriot Taliyah Brooks, who set her seasonal best of 12.85. Adriana Rodriguez from Cuba also dipped under the 13 seconds to place third with 12.97 ahead of Adrianna Sulek from Poland (13.18).
Hall improved her PB to 1.92m in her first attempt in the high jump to take the lead in the overall standing with 2294 points. After producing a best mark of 13.92m in the shot put Hall clocked the fastest time in the 200 metres storming to a PB of 22.88.
"The fast time in the 100 metres hurdles is a combination between the fast track and the energy from the fans", said Hall. "I expected to run a fast time as I clocked 12.95 in Atlanta three weeks ago. I had a training session with Grant Holloway. I am not focusing on the score, but on one event at the time. My goal for tomorrow is just to keep having fun. Hopefully I can reach 7000 points but first I want to have a good sleep tonight".
Adrianna Sulek ended day one in second place with 3936 points. The Polish athlete is just six points ahead of two-time Goetzis winner Katarina Johnson Thompson.
Sulek set a PB in the shot put with 14.44m and finished third in the 200m with 23.80 and fourth in the 100m hurdles in 13.18 and in the high jump with 1.83m.
Katarina Johnson Thompson recovered from a slow start in the 100 metres hurdles, where she clocked 13.88, to set a PB of 13.92m in the shot put. The 2019 world champion also cleared 1.89m in the high jump and clocked 23.26 in the 200 metres. KJT sits in third place in the overall standing with 3990 points achieving her best opening day score since winning the world title in Doha 2019.
"It's the heptathlon and you never know what you are going to get", said Katharina Johnson Thompson. "That's why I love it so much. I can see the path back now, so I am really happy".
Seventeen Croatian heptathlete Jana Koscak set four PBs in the 100 metres hurdles with 13.26, in the high jump with 1.92m, in the shot put with 12.42 and in the 200m with 24.13. Koscak won the European Under 18 gold medal in Jerusalem last summer.
"I achieved crazy results in the high jump and in the 100 metres hurdles. They are my strongest events", said Jana Koscak.
Warner at the top of the overall standing:
Damian Warner sits at the top of the overnight standing with 4531 points in his first decathlon since he suffered a hamstring injury during the 400 metres at the World Championships in Eugene. Pierce LePage ranks in second place with 4513 points in a close competition. Warner is chasing his eighth win in his 10th appearance at the Hypo Meeting.
LePace set the fastest time in the 100 metres in a PB of 10.28 just ahead of Kendrick Thompson and Warner, who clocked the same time of 10.29.
Warner jumped 7.75m in the long jump to regain the lead from LePage, who produced a best leap to 7.57m. Simon Ehammer made three fouls in his favourite long jump event and bowed out of the competition. This also happened at last March's European Indoor Championships in Istanbul.
Warner followed with 14.92m in the shot put. LePage put 15.05m to get close to Warner, who had a lead of just 34 points over his compatriot before the high jump. Lindon Victor produced the best result in the shot put with 16.13m.
This year's European indoor silver medallist Sander Skotheim cleared 2.15m to win the high jump climbing from eleventh to third in the overall standing with 3531.
LePage cleared 2.03m to reduce his gap on Warner, who jumped 2.00m to defend his overall standing by a small margin of six points with a total score of 3610.
Warner finished third in his 400m heat in 47.76 behind Thompson (47.22) and Skotheim (PB 47.64). LePage clocked 48.01 to stay in second place. The Canadian athlete, carries a lead of just 18 points over LePage after five events.
"It was a tough day and a tough week in the lead to Goetzis. This past past week was a little bit of a struggle and you have questions about whether you are going to be able to finish, but you get here and see the crowd and competitors and fight. Luckily I am still in the lead and I will continue to fight. I had ups and downs in my training with some good days and some bad days. This is an important meeting for me and you always want to come out here to win and I have put myself in a position to do that. It won't be easy but I have been around for a long time and have fought before and I am up for a fight tomorrow as well", said Warner.
Moloney clocked 10.39 in the 100 metres and followed with 7.60m in the long jjump and a PB of 15.30m in the shot put. The Australian athlete broke the 400 metres meeting record held by Erki Nool clocking 46.46 to move from fourth into third in the overnight standing with 4497 ahead of Skotheim, who ran 47.64 to end the first day with 4458.
"I am working on the technical point of decathlon. Last year was rough because of injury problems. I executed the competition beautifully. I am very pleased with my first day. I can attack 8600 points tomorrow", said Moloney.
-->