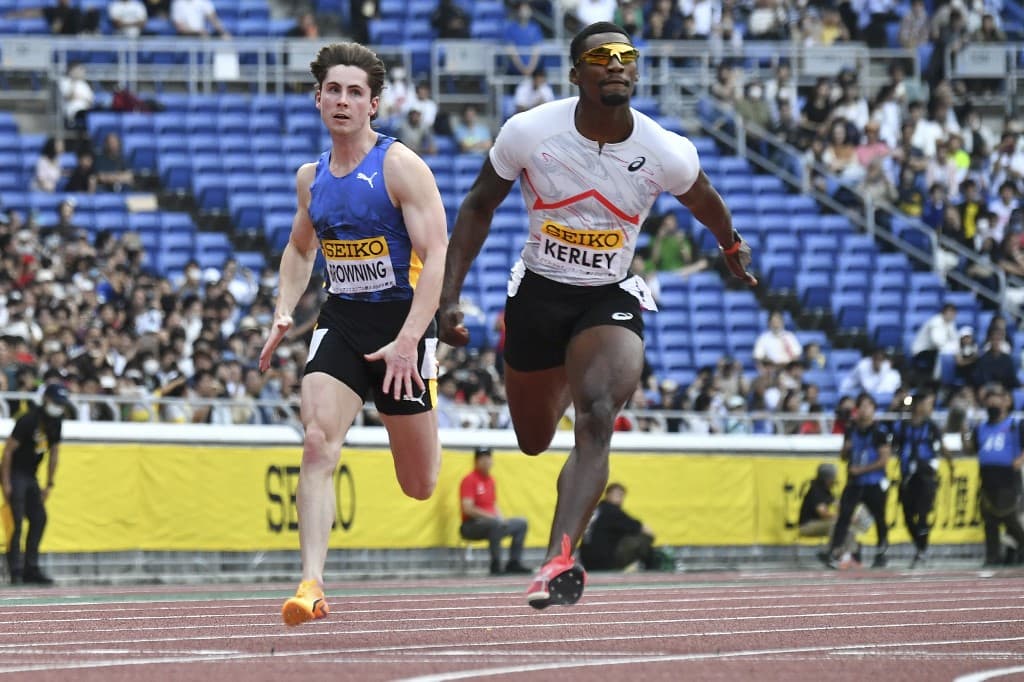 World champion Fred Kerley made his seasonal debut in the 100 metres clocking 9.88 in the heats to break the meeting record at the Seiko Golden Grand Prix, a World Athletics Continenatl Tour Gold in Yokohama, Japan on Sunday (21). The US sprinter set the fastest season-opener of his career. Later on, he easily won the100m final in 9.91 after two recalls.
Kerley moves to second in the world seasonal list behind Ferdinand Omanyala, who clocked 9.84 into a headwind of -0.5 m/s in Nairobi last week.
The American will face Olympic champion Marcell Jacobs, Ferdinand Omanyala and Trayvon Bromell in two Wanda Diamond League races in Rabat (28 May) and Florence (2 June).
Fred Kerley: "I ran a good time. It's a good starting point for the rest of the season. I have to prepare mentally to deal with false starts. My game plan was to execute the race well. Training has been going good. My coach put me in good training sessions for the tie here. I am up for any challenge but my main goal is Budapest. Every small step is leading up to the World Championships this year, so every meeting I go to is all about execution, getting the right movements, the right motion for the big meet in Budapest. The big goal is the double gold at the World Championships. If I do everything right that's what I want to end up with, a double gold medal. I am the fastest man in the world. No doubt about it and you will see it next Sunday in Rabat. That was my first 100m race of the season, so I can't complain. I ended the 2022 season with 9.86 in Eugene, so I know what I have got to do. Paris is on my radar. The only thing I want out of the Olympic Games in Paris is the individual gold medal. I came up 0.04 short in Tokyo and I don't plan on coming up short this time. Records came and go, but a gold medal lasts forever".
Australian 100m champion Rohan Browning finished second in 10.10. Ryuichiro Sakai claimed third place sharing the same time as Browning.
Men's 110 metres hurdles:
Shunsuke Izumyia won the men's 110 metres hurdles in a world-class 13.07 missing his own national record by just one hundredth of a second. Izumiya has moved to second in the world seasonal list behind world champion Grant Holloway.
Women's javelin throw:
Last year's Commonwealth Games silver medallist Mackenzie Little improved her seasonal best to 64.10m in her third attempt to win the women's javelin throw. Little set the second best performance in the world this year. Tori Peeters from New Zealand set the national record with 63.26m in the fourth round to beat world champion Kelsey Lee Barber from Australia (61.95m).
Men's High jump:
World indoor champion Sanghyeok Woo had a clean sheet up to 2.29m to win the men's high jump on countback over this year's Australian champion Joel Baden, who cleared this height in his second attempt. Woo failed three attempts at 2.32m. Naoto Hasegawa from Japan finished third with 2.25m beating Japanese champion Tomohiro Shinno on countback.
Women's 100 metres:
Oceanian record holder Zoe Hobbs from New Zealand won the women's 100 metres in 11.20 ahead of US Destiny Smith Barrett (11.41). Hobbs broke the 11 seconds barrier for the first time in her career clocking 10.97 in Sydney on 11 March.
Men's long jump:
Japan's Iromichi Yoshida improved his PB by 14 cm to 8.26m to beat world champion Jianan Wang, who added 13 cm to his seasonal best to 8.22m.
Women's long jump:
Maryse Luzolo from Germany leapt to a wind-assisted 6.79m (+2.5 m/s) in the fifth round to win the women's long jump ahead of Australian record holder Brooke Bushkuehl, who produced a legal jump of 6.77m in the fifth attempt.
Men's 400 metres hurdles:
Yusuke Kodama won the men's 400 metres hurdles in 48.77 beating his compatriots Kazuki Kurokawa (49.03) and Katayuki Kishimoto (49.28).
Women's 100 metres hurdles:
Asuka Terada from Japan won the women's 100 metres hurdles in 12.86 edging out her compatriots Yumi Tanaka (12.89) and Mako Fukube (12.91) and Australia's Celeste Mucci (12.93).
Women's 3000 metres:
World under 20 champion Teresiah Muthoni Gateri from Kenya set the meeting record of 8:43.81 to win the women's 3000 metres ahead of Australia's Rose Davies (8:44.07) and Kenya's Margaret Akidor (8:46.77).
Men's 3000 metres steeplechase:
Japanese record holder Ryun Miura won the men's 3000 metres steeplechase in 8:19.07 ahead of last week's Nairobi Continental Tour gold winner Amos Kirui from Kenya (8:20.86).
Women's 1500 metres:
Former world under 20 champion Nozomi Tanaka from Japan won the women's 1500 metres in 4:11.56 ahead of US Danielle Jones (4:12.12) and Vera Hoffman from Luxemburg (4:12.54).
Men's 3000 metres:
Hyuga Endo from Japan took the win in the men's 3000 metres in 7:45.08 beating his compatriot Kazuya Shiojiri (7:46.37) and Kenya's Charles Kamau Karanja (7:47.31).
Men's javelin throw:
Genki Dean produced a best attempt of 82.03m in the second round to clinch the win in the men's javelin throw ahead of Patricks Gailums from Latvia (79.67m).
-->