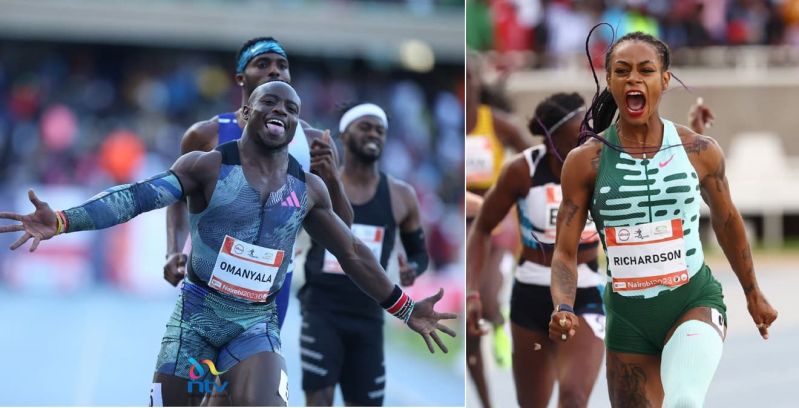 Ferdinand Omanyala and Sha'Carri Richardson highlighted sprint races in the fourth edition of the Kip Keino Classic in Nairobi, the fourth leg of the World Athletics Continental Tour Gold.
Five world leading performances were set at the Kip Keino Classic on Saturday Afternoon: Ferdinand Omanyala in the 100 metres (9.84), Emmanuel Wanyonyi in the 800 metres (1:43.32), Amos Kirui in the 3000m steeplechase (8:08.45) and Yaroslava Mahuchik in the women's high jump (2.00m).
Men's 100 metres:
African record holder Ferdinand Omanyala from Kenya set the world seasonal best of 9.84 into a headwind of -0.5 m/s to win the 100 metres for the second consecutive edition at the Kip Keino Classic in Nairobi. In his previous two appearances at the Nairobi meeting Omanyala finished second in an African record of 9.77 in 2021 and won in 9.85 in 2022. World and Olympic 200 metres silver medallist Kenny Bednarek dipped under the 10 seconds barrier for the fifth time in his career to finish second in 9.98 ahead of his compatriot Marvin Bracy (10.03).
Ferdinand Omanyala: "I expected a faster time, but it's a win and a world lead. I am happy with it. It feels so amazing to win at home in front of such a huge crowd. I am now focused on my next race at the Rabat Diamond League. I know it will not be easy but I will give it my all as I always do. My goal is to break my African record of 9.77".
Women's 200 metres:
Former 100m NCAA champion Sha'Carri Richardson cruised through to an impressive win in the women's 200 metres in 22.07 easing up in the final 30 metres with a tailwind of +1.7 m/s with a huge gap of 0.7 over three-time NACAC Championships medallist Kyra Jefferson (22.77). Shannon Ray completed the US sweep finishing third in 22.82. Richardson confirmed her excellent period of form after her win in the 100 metres in the Diamond League in Doha in 10.76. Richardson won her first 200 metres race this season following her second place in Gaborone.
Sha'Carri Richardson: "I am really elated to have won today. Nairobi is just great. A huge thanks to the fans who have shown me love. The race was amazing. I came here to Kenya knowing that I have no excuse but to do my best. I know I have more to do for my fans, for my loved ones".
Men's 800 metres:
Kenyan 18-year-old middle-distance runner Emmanuel Wanyoniy won the men's 800 metres in a world seasonal best of 1:43.32. Two-time Commonwealth Games champion Wycliffe Kinyamal also dipped under the 1:44 barrier to take second place in 1:43.66 ahead of former 1500 metres champion Timothy Cheruiyot (1:44.99).
Women's high jump:
European outdoor and indoor champion Yaroslava Mahuchik cleared a world leading mark of 2.00m to win the women's high jump. Mahuchik had a clean sheet at 1.90m and 1.93m before clearing 1.98m and 2.00m in her second attempt. Mahuchik is currently training in Belgium due to the war in Ukraine.
Laura Zialor from Great Britain needed three attempts at 1.90m before failing her three attempts at 1.93m. European indoor bronze medallist Kateryna Tabashnyk took third place with 1.87m.
Women's 100 metres:
World 4x100 relay champion Twanisha Terry won the women's 100 metres in a wind-assisted 10.86 (+2.5 m/s) ahead of Oceanian record holder Zoe Hobbs from New Zealand (10.97) and European Rani Rosius from Belgium (11.08). Egyptian record holder Bassant Hemida and Gina Bass from Gambia finished fourth and fifth clocking the same time of 11.09.
Shelly Ann Fraser Pryce pulled out of the Nairobi meeting after picking up a knee injury in training on Thursday. She left Nairobi to seek urgent specialized treatment in Milan.
Shelly Ann Fraser Pryce: "I am deeply disappointed to share that I was not able to compete in the Kip Keino Classic. I was looking forward to kick off my season at one of the greatest athletics events in East Africa. I love coming to Nairobi and seeing the fans and people. There is an unspoken energy you can't find anywhere else."
Men's 200 metres:
World 4x100 gold medallist Aaron Brown from Canada won the 200 metres in 20.12 ahead of US Kyree King (20.18), Olympic and world finalist Joseph Fahnbulleh from Liberia (20.19) and European 200m bronze medallist Filippo Tortu from Italy (20.30).
Men's 400 metres:
Last year's Commonwealth Games gold medallist Muzala Samukonga from Zambia won his second consecutive 400 metres on the Continental Tour Gold circuit this year in 44.25 following his victory in a national record of 43.91 in Gaborone. Vernon Norwood broke the 45 seconds for the second time this year with 44.68. Gilles Biron from France finished a distant third in 45.52.
Men's javelin throw:
Timothy Herman improved his PB by seven metres to 87.35m to take an upset in the men's javelin throw ahead of two-time world champion Anderson Peters, who had to settle with second place with 85.72m. Ihab Abdelrahaman finished third with 81.04m. Former world champion Julius Yego from Kenya placed fifth with 77.24m.
Women's hammer throw:
World bronze medallist Janee Kassanavoid produced a best throw of 74.25m in her first attempt to win the hammer throw ahead of Janeah Stewart (71.43m). World record holder and three-time Olympic champion Anita Wlodarczyk from Poland placed third with 70.27m in her seasonal debut beating European champion Bianca Ghelber from Romania (69.62m).
Men's hammer throw:
Olympic champion Wojchech Nowicki won the men's hammer throw for the second consecutive edition at the Kip Keino Classic in Nairobi with 79.78m. Ethan Katzberb placed runner-up with 76.38m.
Women's 800 metres:
Last year's Diamond League champion Mary Moraa won the women's 800 metres in 1:58.83 clinching her second consecutive victory on the Continental Tour Gold this year following her first place in the 400 metres in a national record of 50.44 in Gaborone. African silver medallist Netsanet Desta finished second in 2:00.04 ahead of Kenya's Vivian Kiprotich (2:00.54).
Men's 1500 metres:
Kamar Etiang moved past reigning world under 20 champion Reynold Cheruiyot Kipkorir in the final straight to win the 1500 metres in 3:32.01. Cheruiyot also dipped under the 3:33 barrier in 3:32.70. Etiang, who was born in 2002, set his previous PB of 3:33.12 on the same track in 2021.
Men's 3000 metres steeplechase:
Kenya's Amos Kirui took the win in the men's 3000 metres steeplechase in a world leading time of 8:08.45 holding off this year's Commonwealth Games champion Abraham Kibiwot (8:09.71), Leonard Bett from Kenya (8:10.02) and Uganda's Leonard Chemutai (8:13.53).
Women's 3000 metres steeplechase:
World record holder Beatrice Chepkoech returned to winning ways in the women's 3000 metres steeplechase in 9:13.51 beating her compatriots Faith Cherotich (9:15.08) and Jackline Chepkoech (9:25.63).
Women's 1500 metres:
Vivian Chemusto won the women's 1500 metres in 4:01.79 ahead of her compatriot Nelly Chepchirchir (4:04.56), Hawi Abera Kumsa from Ethiopia (4:06.15) and 3000m steeplechase Winfred Yavi from Barhein (4:06.34).
-->