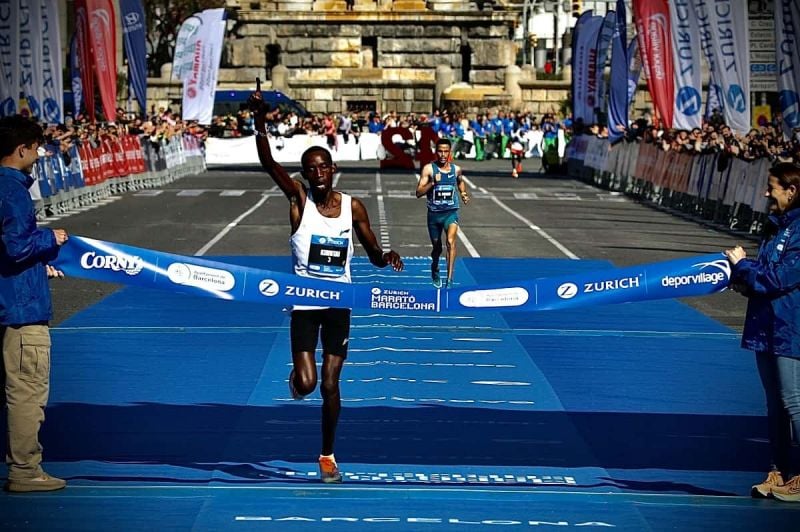 A former Kenyan, now Bahraini runner Marius Kimutai, clocked the second fastest time this year in the world of 2 hours, 5 minutes and 6 seconds to win the Barcelona Marathon on Sunday, March 19. Ethiopian Zeineba Yimer, with 2 hours, 19 minutes, and 44 seconds, won the women's race. Both runners also broke course records.
The weather forecast was nearly perfect for breaking personal records, with an initial temperature of 12º C, which later rose to 15º C, with a slightly cloudy sky and humidity around 80%.
In the men's race, a large pack of mostly East African runners set an early pace way below the course record of 2h05:53 set in 2022. They passed the 10km marker at 29:18, about 30 seconds faster than the course record pace, and went through the first half in 1:02:26.
A small group of three runners, Turkey's Kaan Kigen Ozbilen, Morocco's Othmane El Goumri, and Marius Kimutai, broke away from the main pack at 30km, continuing their fast pace. They maintained 30 seconds below the record.
Kigen could not keep up with the fast pace set by El Goumri and Kimutai and was left behind at kilometer at 37 kilometers. Just passing the 40km marker at 1h58:38, Kimutai launched the final kick and went away to win the race with a time of 2h05.06. He broke the course record by 47 seconds and his personal best by 41 seconds.
El Goumri took second with 2:05:12, and Turkey's Kanna Kigen concluded the podium with 2:05:37.
The 44th edition of the Barcelona marathon race ran through the city's most scenic places with 15,200 runners (3,600 women).
Watch the men's and women's pro race video replay
-->