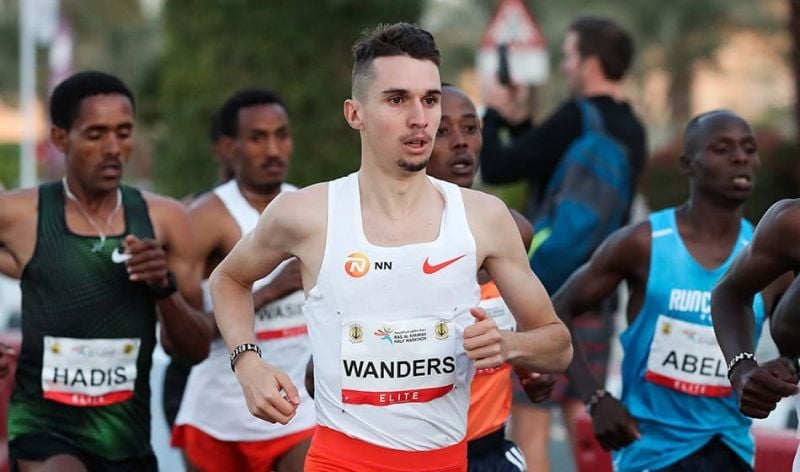 Some of Europe's top names in long distance running will compete at the ADAC Marathon Hannover on 26th March. Germany's multiple record holder Amanal Petros and European half marathon record holder Julien Wanders of Switzerland are on the start list for the traditional spring race while the European Championships' silver medallist Matea Parlov Kostro of Serbia returns to the race where she clocked her personal best. With a PB of 2:04:56 Kenya's Jonathan Maiyo currently is the fastest athlete in the elite field while Rabea Schöneborn of Germany heads the women's list with 2:27:03.
Organisers of the ADAC Marathon Hannover, who moved the race from the traditional April date to the end of March for the first time, expect to register over 20,000 runners for the 31st edition, including races at shorter distances. Last year's Hannover marathon champion Hendrik Pfeiffer, who switched clubs recently and now competes for local club TK Hannover, will compete in the half marathon on 26th March since he will run the Boston Marathon on 17th April. The ADAC Marathon Hannover is a World Athletics Road Race Label event. Online entry for all races is still possible at: www.marathon-hannover.de
Amanal Petros recently became the first German male athlete in history to have broken the three main national road running records: He already held the best marks for the half marathon (60:09) and the marathon (2:06:27) and then added the 10k record with a time of 27:32 in Castellón, Spain. The 27 year-old, who was fourth in the European Championships' marathon in Munich last summer, currently trains in Iten, Kenya. "I am looking really forward to run in Hannover for the first time. I am curious about the fast course," said Amanal Petros, who is a training partner of Julien Wanders. "If my training continues to go well and weather conditions are good on the day I hope to run another personal best." With such a result he would smash Hannover's 2:08:32 course record.
Julien Wanders so far could not transform his enormous potential to the marathon distance. The 26 year-old European record holder at 10k (27:13) and in the half marathon (59:13) ran his debut in Paris in spring 2022. Suffering of stomach problems he had to stop three times but still finished in 2:11:52. Wanders then did not finish his second marathon in Valencia in December after running a first half of 63:22. With its flat course and very good pacemaking options the ADAC Marathon Hannover might well be the place where Julien Wanders can finally perform well in the marathon. "A time of sub 2:10 would be nice. I opted for Hannover after speaking with Amanal about the race," said Julien Wanders.
It will be interesting to see what Jonathan Maiyo will be capable of in Hannover. The 34 year-old Kenyan clocked his personal record of 2:04:56 back in 2022 in Dubai. At that time it was a world-class time. Although Maiyo did not yet manage to run that fast again he showed a number of fine performances. In December he ran a solid 2:09:47 and took fourth place in Malaga.
Germany's Rabea Schöneborn, the twin sister of Deborah Schöneborn, returns to the ADAC Marathon Hannover and currently is the fastest woman on the start list with a PB of 2:27:03. She was runner-up here a year ago with 2:27:35 and then showed a fine performance at the European Championships. Finishing in 12th position she won the European Cup with the German team in Munich.
The athlete who finished behind Rabea Schöneborn last year in Hannover then turned the tables at the European Championships and became a surprise silver medallist: Matea Parlov Kostro was third at the ADAC Marathon Hannover with a PB of 2:28:39 and then finished runner-up in soaring temperatures in Munich with 2:28:42. The 30 year-old recently improved her half marathon PB to 69:53 and could be in a position for a big personal best in Hannover.
With a PB of 2:27:05 Viktoriia Kaliuzhna of Ukraine is the second fastest woman on the start list. Due to the war in Ukraine she currently lives near Wroclaw in Poland. Kaliuzhna competed in the 2021 Olympic Games as well as the European Championships, but on both occasions did not finish in very high temperatures. She will now be eager to bounce back. Aleksandra Brzezinska will be full of confidence when she travels to Hannover. The Pole ran a PB of 2:28:09 in Valencia in December.
More information about the ADAC Marathon Hannover is available at: www.marathon-hannover.de
-->