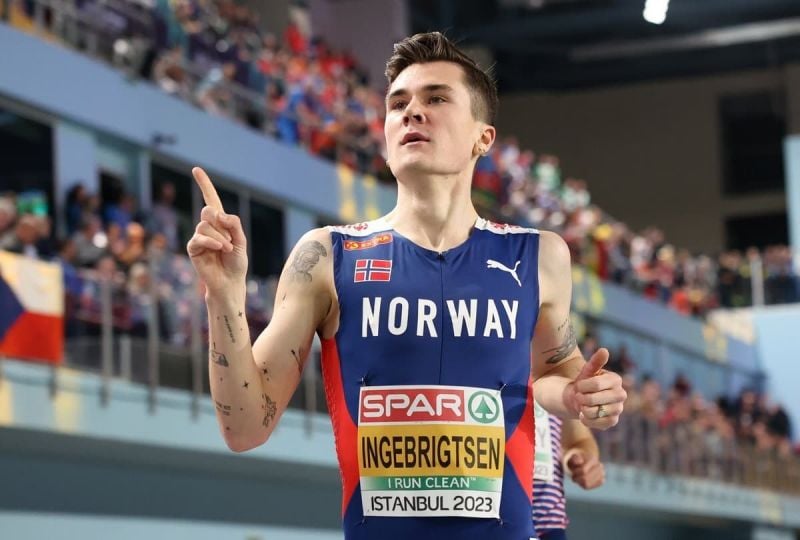 On Sunday in Istanbul, Norway's Jakob Ingebrigtsen cruised to the 3,000m gold at the European Indoor Championships to complete a 1500m/3,000m distance double. He has already collected 11 European senior titles, between indoor, outdoor, and cross country.
Ingebrigtsen, the Olympic 1500m champion, was never in trouble in Istanbul as he increased his pace in the second half, clocking 3:40.59 in the final 1500 meters of the race and comfortably won in a Norwegian national record of 7min 40.32sec.
Adel Mechaal of Spain took silver in 7:41.75, and Elzan Bibic of Serbia claimed bronze in 7:44.03.
Ingebrigtsen repeated his feat of two years ago when the championships were held in Torun, Poland.
"It was feeling like I raced myself today. I would love to get some more competition, but maybe that is just me, expecting too much. I guess the other runners tried to get a good race for themselves and not fight for second place".
Women's 60m hurdles final
Reetta Hurske won the women's 60 meters hurdles final, equalling her Finnish record with 7.79 on the final day of the European Indoor Championships in Istanbul. It was the first medal for Finland in this event in the history of these championships.
Reetta Hurske: "I put myself a little bit under pressure before the start. I was so nervous. I know what I am doing, but that was my first time winning gold. I believe I can build on this towards the outdoor season".
Nadine Visser from the Netherlands took the silver medal in her seasonal best of 7.84, following her two gold medals in her previous two editions of the European Indoor Championships in Glasgow 2019 and Torun 2021. Ditaji Kambundj from Switzerland won the bronze medal in 7.91, repeating the same result achieved outdoors when she finished third at the European Championships in Munich. Mette Graversgaard set her national record at these championships with 7.92.
Nadine Visser: "My first reaction is that I am not happy. Before this race, I knew it would be tough. My reaction time was not quick, so I was very frustrated about the start. I know that I can go harder. I am proud of getting the silver medal, but I came here for gold".
Women's 60 meters hurdles semifinals
Nadine Visser from the Netherlands won the first semifinal in 7.93, edging Mette Gravesgaard, who improved her national record by two-hundredths of a second with 7.94.
Finnish record holder Reetta Hurske won the second semifinal in 7.85. Hurske clocked the fastest semifinal time at these Championships since Yordanka Donkova ran 7.82 in Liévin in 1987.
Men's 60 meters hurdles:
Jason Joseph from Switzerland won the men's 60 meters hurdles final, improving his national record and his European lead to 7.41 in the last final of the European Indoor Championships at the Atakoy Arena in Istanbul. Only British hurdles legend Colin Jackson ran faster than Joseph in the history of these championships with 7.39 in Paris Bercy in 1994.
Jakub Szymanski from Poland won silver in 7.56. Just Kwaou Mathey won a close fight for third place in 7.59, edging out Lorenzo Simonelli by five thousandths of a second. Simonelli improved his Italian under-23 record to 7.59, beating Paolo Dal Molin by three-hundredths of a second.
Jason Joseph: "I knew I wasn't the best starter. I just needed to be calm and continue doing my race. Getting to hurdle two, I knew that I was getting back to the rhythm, and after coming off hurdle three, I was pretty sure I would win the race if everything went right. I did not hit any hurdles. It was a clean race. I was confident that I would win the race after hurdle four. I just knew it".
Men's 60 meters hurdles semifinal
Joseph clocked the fastest qualifying time in the men's 60 meters hurdles semifinal with 7.50. Jakub Szymanski and Enrique Llopis dipped under the 7.6 barrier clocking 7.54 and 7.58, respectively.
Women's long jump:
Jazmin Sawyers from Great Britain set the world indoor lead with 7.00m in the fifth round to win her first international title following her European bronze medal in Munich. Sawyers ended the competition with 6.84m in the sixth round. The British jumper bettered her outdoor PB of 6.90.
Larissa Iapichino from Italy improved the national indoor record she and her mother Fiona May held with 6.97m in the sixth round to win her first European indoor medal. Larissa's mother Fiona May won the European Indoor gold medal with 6.91 in Valencia in 1998.
Olympic champion Malaika Mihambo had to settle for fourth place with 6.83m.
Vuleta took the lead with 6.76m in the first round and improved this mark to 6.79m. Mihambo moved into the lead with 6.83m in the fourth round. Vuleta took the lead with 6.91m in the fifth round. Iapichino equaled her national record with 6.91m to move into the silver medal position on countback. In the sixth round, the Italian jumper improved the national indoor record to 6.97m. Vuleta backed up her solid series with a jump of 6.90m in the sixth round.
Sawyers won the silver medal in bobsleigh in the 2012 World Youth Olympic Games and took part in the Voice of UK program as a talented singer.
Jazmin Swyers: "I am still in shock. I have been trying it for years, and I could not jump seven meters. Today it was not even in the back of my mind".
Men's pole vault:
Sondre Guttormsen from Norway won a close battle in the men's pole vault with 5.80m on countback in a competition where five vaulters cleared this height.
Emmanouil Karalis from Greece and Piotr Lisek shared the silver medal. Lisek won his fifth European indoor medal. Torben Blech from Germany and Ethan Cormont from France also cleared 5.80m, but they lost the medal on countback.
Guttormsen had a clean sheet until 5.80. Karalis failed one attempt at 5.60m. Lisek made just one failure at 5.70m.
Guttormsen helped Norway win the medal table with four gold medals.
Sondre Guttormsen: "I knew I had a good chance of winning, and it was not expected, but the goal was accomplished. I have no time for celebrations, as I will compete in the NCAA Indoor Championships."
Women's 800 meters:
Keely Hodgkinson won her second consecutive European Indoor gold medal in 1:58.66 two days after her 21st birthday. The Olympic and world silver medallist crossed the finish line almost two seconds before Anita Horvat, who clinched the silver medal in 2:00.54, holding off Agnes Raharolahy (2:00.85) in a close final sprint.
Hodgkinson took the medal tally to five for Great Britain following Laura Muir's record fifth title in the 1500 meters.
Keely Hodgkinson: "I know what to expect from myself, so it was like: get out there, do my best. I will have a few days off, and then I will prepare to chase some more wins. I just want to continue with my consistency".
Men's 800 meters:
Adrian Ben from Spain won a thrilling battle with Frenchman Benjamin Robert at the same time at 1:47.34 in a very close finish. Elliot Crestan from Belgium took the bronze medal in 1:47.65, holding off two-time world medallist Amel Tuka (1:47.90).
Men's high jump:
Douwe Amels from the Netherlands cleared 2.31m for a surprising win in the men's high jump.
World bronze medallist Andy Protsenko from Ukraine took the lead by clearing 2.29m for the first time of asking. Amels, who won the European under 23 gold medal in Tampere 2013, equaled his indoor PB with 2.26 m in his second attempt before clearing 2.29m in his third attempt and equalling the national record at 2.31m at the second time asking.
Protsenko claimed the silver medal on countback over Thomas Carmoy from Belgium, who set his PB with 2.29m.
Douwe Amels: "In 2023, I jumped a personal best and won a gold medal in the European Championships Under 23. I hoped I could compete for medals in earlier competitions. It is very emotional since I have been working towards a medal for a long time".
Men's long jump final:
Miltiadis Tentoglou won his third consecutive European Indoor gold medal with his best mark of 8.30m on the first attempt during the morning session. Tentoglou produced four good throws over the 8 meters barrier (8.16m, 8.05m, 8.07m, and 8.29m).
Tentoglou became the first athlete to win three consecutive titles in the long jump.
Thobias Montler from Sweden equaled his seasonal best with 8.19m in the second attempt to win the silver medal.
Tentoglou and Montler had finished in the same order at the World Indoor Championships in Belgrade and the European Outdoor Championships in Munich last year.
Gabriel Bitan from Romania was the only athlete to reach the 8 meters mark in the fifth round to win the bronze medal.
Tentoglou will attempt to win the world outdoor gold medal, the only title missing in his collection.
Miltiadis Tentoglou: "If the final had been in the afternoon, we would have seen jumps over 8.50m from me and the other jumpers. I am in perfect shape. The early morning competitions affect the result for sure. I tried to sleep early last night, but then I was waking up every hour. Now it is time to look forward to the World Championships. I want to try to win the gold, of course. I would not describe this medal as special, but a pleasure to be able to win again. Thobias Montler is always with me, competing with me and taking front positions. I think it is very rare, we are first and second at every European Championships. It's crazy".
Women's high jump:
Yaroslava Mahuchik had a clean sheet at 1.91m, 1.94m, 1.96m, and 1.98m to win her second European indoor gold medal, repeating the win at the previous edition in Torun 2021. Mahuchik made three unsuccessful attempts at the European lead of 2.03m.
Yaroslava Mahuchik: "The qualification was so nervous, but I used the two days to relax, and today I can celebrate that I could defend my title. I can jump every height on the first attempt, but the 1.98m is not good for me. I expected to get a little bit higher, but it means that I should make some little changes and prepare for the bigger heights."
Dutch 19-year-old Britt Weerman also cleared all heights until 1.96m before failing three attempts at 1.98m.
Ukraine's Kateryna Tabashnyk won the bronze medal with 1.94m beating Angelina Topic from Serbia and Yuliya Levchenko from Ukraine.
Men's heptathlon:
World champion and record holder Kevin Mayer won the men's decathlon with a leading European mark of 6348 points. Sander Skotheim took the silver medal with a national record of 6318 points ahead of Risto Lillemets (6079 points) and Manuel Eitel from Germany (6047 points).
Mayer regained the lead in the men's heptathlon with 4517 points after clocking 7.76 in the 60 meters hurdles. Mayer missed his PB by eight-hundredths of a second. Mayer was 7 points ahead of Sander Skotheim, who ended the first day as the overnight leader with a margin of 67 points over the Frenchman after clearing 2.19m in the high jump.
Skotheim set his PB in the pole vault with 5.00m. Mayer had a clean sheet at 5.00m, 5.20m, and 5.30m to win this event.
Mayer went into the final 1000 meters with a total tally of 5521 points. The Frenchman had 101 points over Skotheim before the last 1000 meters race.
Skotheim equaled his lifetime best of 2:37.82. Mayer, who had to defend a margin of over 14 seconds, crossed the linish-line in 2:44.20 to claim his third European indoor gold medal.
Kevin Mayer: "I still have this role model in the women's competition. Nafi Thiam. She is improving all those records and still getting better. I am like; I want to be like that. She is so far away from me right now".
Men's 4x400 relay:
The Belgian quartet formed by brothers Dylan and Kevin Borlée, Alexander Doom, and European indoor silver medallist Julien Watrin won the 4x400 relay in a leading European time of 3'05" 83 earning the third gold medal for their country at this event at the European Indoor Championships.
Belgium has become the only country, with Poland winning three titles in the men's 4x400. Kevin and Dylan Borlée, and Watrin contributed to every victory.
France came through to take the silver medal with 3:06.52. Liermarvin Bonevacia ran the fastest leg of the race with 45.67 helping the Netherlands win the bronze medal in 3:06.59.
Julien Watrin: "The guys did the job, so I just had to step up a little."
Kevin Borlée: "I knew when I gave the baton to Julien that we would win."
Women's 4x400 relay:
World 400m indoor record holder Femke Bol anchored the Dutch team to their back-to-back titles at this event in a championship record of 3:25.66. Bol ran the fastest leg in 49.58. The other three legs were run by Lieke Klaver (50.67), Eveline Saalberg (52.27), and Cateljin Peeters (53.14).
The Italian team, formed by Alice Mangione, Ayomide Folorunso, Anna Polinari, and Eleonora Marchiando, won the silver medal with a national record of 3:28.91 ahead of Poland (3:29.31).
Femke Bol: "I achieved everything I wanted this season. I could not ask for more, but it is just an indoor season, and I miss my hurdles. See you in Budapest. I will be there".
VIDOE HIGHLIGHTS FROM FINAL DAY OF THE EUROPEAN INDOOR CHAMPIONSHIPS
-->