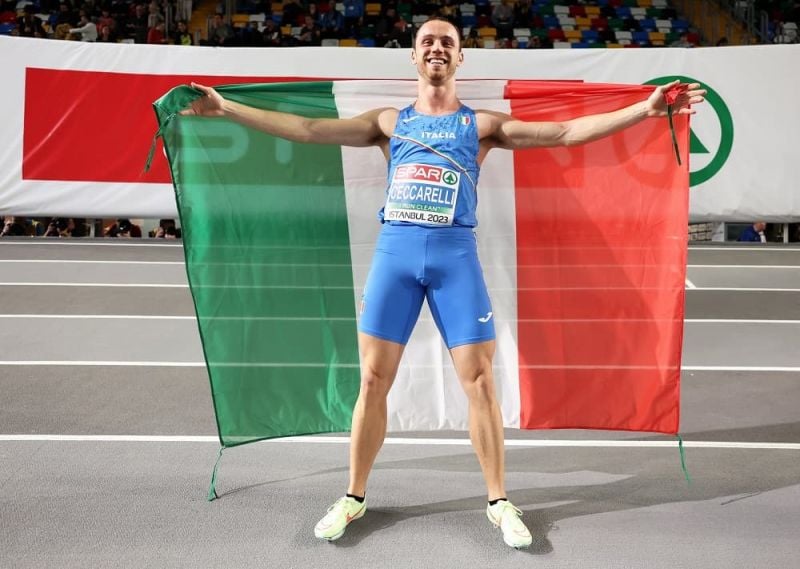 Samuele Ceccarelli stunned Olympic champion, Marcell Jacobs, to win the European indoor 60m title at Ataköy Arena in Istanbul on Saturday (4) night.
Italian rising sprint star Samuele Ceccarelli produced another surprise win against his compatriot, the Olympic 100m champion Lamont Marcell Jacobs, but this time claiming the European indoor title. Ceccarelli blasted from the blocks, pulled away early in the race, and carried the lead to win the gold medal with a time of 6.48.
Earlier in the day at the European Indoor Championships, Ceccarelli was second in his heat. Then he returned to the track and clocked in a lifetime best of 6.47 seconds in the semi-final to qualify for the final. In the 60m dash final, Ceccarelli stunned the field to seize the gold medal with a time just 0.01 seconds slower than his personal best he set in the semi-final.
Samuele Ceccarelli: "To become the European champion, that sounds great and I am over the moon because it is my first time in the Italian senior team, my first time competing at such championships, and my first win. I could not be more happy than this. I have not sunk it in. It will take one month to realize what I achieved. The level was very high I faced great athletes and I am just a newcomer. I tried to stay relaxed. My hair is in not very shape for it. When a boy or a girl joins a senior team for the first time, we have to shave a bit of hair that we are the new ones. I do not know about Jacobs' health but he will check it with doctors and let others know. He was happy for me and said a few words at the finish. We keep the gold medal in Italy so he was very happy for me. He is like my big brother. Before the competition I had a fever. It is a great joy to win my first big international competition. When I received the bib as the European seasonal leader, I got stiff".
Jacobs was the first to congratulate with his teammate after the race.
Marcell Jacobs: Of course this is not the medal that I wanted, obviously the gold, but I want to congratulate with Samuele. He really deserved the win. My leg was not the best today, but I gave 110%. I am the captain of the Italian team and I am satisfied with the medals we brought to the team. Now it's the end of the indoor season, so the focus Is on the outdoor season. I will try to recover from harmstring injury as soon as possible and get back to the track".
At the Italian Indoor Championships, Samuele Ceccarelli took a surprising win in the men's 60 meters in Ancona in his then-lifetime best of 6.54, beating Olympic 100 meters champion Jacobs.
Femke Bol from the Netherlands won her second consecutive European indoor title in the women's 400 meters, setting the second-fastest time of her career. The Dutch star ran faster only once when she broke the world indoor record with 49.26 at the National Indoor Championships in Apeldoorn two weeks ago.
Bol broke under the 50 seconds for the third time this season.
Lieke Klaver won the silver medal in 50.57, completing the Dutch double. Anna Kielbasinska from Poland, who trains with Bol and Klaver under the guidance of Swiss coach Laurent Meuwly, won the bronze medal, improving her seasonal best to 51.25.
Femke Bol: "It is very cool, especially that my teammates are also on the podium. It makes it even more special that I could defend my title and become my European champion for the second time. I ran in lane six in most races, but this time, I had Lieke in front of me. This time is very quick, which makes me feel really happy. I have multiple European titles, but the world title is missing. The world record is step one. I could feel that everybody wanted me to go faster and expected that I could easily run a world record again. Unfortunately, it is harder than it might look. I have high hopes for the 4x400 tomorrow since we have numbers one and two. I hope it is going to be a party".
Men's 400 meters:
Karsten Warholm clocked 45.35 to win the second European Indoor gold medal in the men's 400 meters four years after his first triumph in Glasgow when he equaled Thomas Schoenlebe's European indoor record with 45.05. Warholm had to dig deep to fend off the attack launched by Belgium's 400 meters hurdles specialist Julien Watrin in the final straight. Watrin improved the national record by clocking 45.44, and Carl Bengstrom from Sweden took the bronze medal in 45.77.
Warholm clocked the second fastest time of the year, missing his seasonal best set in Ulsteivink by four-hundredths of a second.
Karsten Warholm: "I was stupid fast today, I think. I don't know if you saw it, but I felt lactic acid in the last 100m, so I had to fight all through. It just hit me like a wall. You never know what is going to come. I was fighting my ass off to save myself and am very happy it was gold today. It is nice to have this title, which we are trained for. At the same time, I wanted to show a better time."
Julien Watrin: "I knew Karsten is strong, and I believe he is stronger, but I almost won. In the last bend, I knew I could push more. The race was a g good one. The first lap was a little bit too fast. That's why I slowed down and saved energy for the strong finish. I am very happy with this medal and that 400m hurdlers take the 400m podium".
Women's 1500 metres:
Laura Muir won the fifth European indoor title of her career in 4:03.40, beating Claudia Bobocea from Romania and Sofia Ennaoui, who improved their PBs to 4:03.76 and 4:04.06. Esther Guerrero from Spain also improved her lifetime best to 4:04.86 to finish fourth.
Bobocea went through in the lead at 400 meters in 64:42, 800 meters in 2:10.87, and 1200 meters in 3:16.47. Muir stayed near the back of the group, but she clawed her back to the front during the penultimate lap before breaking away from her opponents with 250 meters to go.
Muir added this title to her previous gold medals in the 1500m and 3000m in two consecutive editions in Belgrade in 2017 and in Glasgow in 2019.
Laura Muir: "I put quite a pressure on myself to win another gold, so I am very happy. Ten years ago, as a junior, I finished last in the final. It is crazy how my career has changed. I hope that I can be an example to other athletes. You do not have the best in the world as a junior. You just see whatever stage you are at. You can do it".
Bobocea won her first major international medal.
"I am so happy. I knew girls from behind would attack, so I continued pushing. I was pushing every lap, but I knew that Laura would attack, and I just tried to keep with her, which was not easy".
Women's triple jump:
Reigning European Under 23 champion Tugba Danismaz from Turkey leaped to a national record of 14.31m in the first round to win the gold medal in the women's triple jump in front of her home fans.
Tugba Denizmas: "We are going through a tough time, and if people are happy because of my medal and they are healing their wounds because of the medals, that makes me very happy and proud. The spectators were so great today, and if I make them smile, that is very good. I am so happy that I am not alone in it. Many foreign friends sent me messages and supported me, so I am happy we are not alone".
Dariya Derkach from Italy won the silver medal with a best mark of 14.20m in the second round beating Patricia Mamona from Portugal by four cm. Ottavia Cestonaro from Italy placed fourth with 14.08m in the sixth round.
Women's pole vault:
Wilma Murto cleared a national record of 4.80m to add another European gold medal to her collection, which includes the European outdoor title in Munich last August.
Tina Sutej won the silver medal with 4.75m. Amalie Svabikova cleared 4.70m to win the bronze medal. Ekaterini Stefanidi, who won the European Indoor title in Belgrade in 2017, finished fourth with 4.60m.
Murto cleared 4.45m, 4.60m, and 4.70m in her first attempt Sutej cleared 4.75 in her second attempt putting pressure on Murto, who jumped this height on her third attempt. Murto cleared 4.80m on her first attempt. Sutej failed her first attempt at 4.80m and her two final tries at 4.85m.
Wilma Murto: "I was very happy with my jumps today, and I also went for bigger poles I had never used before, so that was a big thing for me. I felt very good coming into this and yesterday's qualification gave me a lot of confidence".
Men's heptathlon:
Sander Skotheim from Norway is the overnight leader of the men's heptathlon with 3541 points ahead of the world decathlon record Kevin Mayer (3474 points).
Skotheim set a championships record of 2.19m in the high jump to move into the overall lead. The young Norwegian athlete also clocked 7.05 in the 60 meters, jumped 7.60m in the long jump, and threw 14.09m in the shot put.
Mayer started his heptathlon competition with his PB of 6.85 in the 60 meters before setting his seasonal best of 7.41m in the long jump. The Frenchman threw 15.81m in the shot put into taking the lead in the overall standing with 2689 points after the first three events.
Estonia's Hans-Christian Hausenberg won the long jump with a seasonal best of 7.81m to move into first place in the overall standing with 1945 points. Mayer regained the lead after throwing 15.81m in the shot put ahead of Hausenberg, who produced a best throw of 13.63m.
Hausenberg was in second place with 2651 points after three events ahead of Manuel Eitel from Germany (2616). Former European indoor champion Jorge Urena was sixth with 2474 points after clocking 6.96 in the 60 meters, 7.25m in the long jump, and 13.58m in the shot put.
Maicel Uibo from Estonia was ninth with 2398 points after the shot put.
Mayer cleared 2.01m in the high jump to end the first day in second place with 3474 points.
Simon Ehammer clocked 6.80 in the 60 meters, but he fouled three attempts in the long jump.
Kevin Mayer: "Honestly, my shape was good yesterday, but I slept one hour, so I am very tired today. I have no juice, but I had to deal with it, and I did. I had some so good events, so it was not bad, but it is hard to take pleasure under this condition because I am not 100% today".
The fight for the bronze medal is wide open. Makenson Gletty from France is ranked third with 3368 points ahead of Jorge Urena (3287) and Christian Hausenberg (3409 points).
Women's 800 meters semifinals:
Defending champion Keely Hodgkinson ran the fastest qualifying time to win the first semifinal in 2:00.05. Ahead of the world under 20 silver medallists, Audrey Werro from Switzerland (2:00.57) and Lorea Ibarzabal (2:01.25).
World outdoor finalist Anita Horvat won in the second semifinal at 2:03.11 ahead of Lore Hoffmann (2:03.19). Italian indoor champion Eloisa Coiro came through in the final straight to clinch the third qualifying spot in 2:03.31.
Men's 800 meters semifinals:
Benjamin Robert from France won the first semifinal in 1:47.11, beating two-time world finalist Amel Tuka from Bosnia and Herzegovina and Italian indoor champion Catalin Tecuceanu, who finished second and third with the same time of 1:47.53.
Adrian Ben from Spain won the fastest semifinal in 1:46.82, holding off Elliott Crestan by two-hundredths of a second. Andreas Kramer from Sweden took the third automatic qualifying spot in 1:47.11. European Under 23 champion Simone Barontini from Italy and Guy Learmonth from Great Britain were the two fastest non-automatic qualifiers for this Sunday's final with 1:47.13 and 1:47.50, respectively.
Women's long jump qualifying round:
Three-time European indoor champion Ivana Vuleta from Serbia set a European Indoor seasonal best performance with 6.98m in the qualifying round of the women's long jump during the morning session on the third day of the European Indoor Championships at the Atakoy Arena in Istanbul.
Ivana Vuleta: "In the final, I want to be the best version of myself. I am running for my fourth indoor medal, which is very special. I expect to jump over seven meters, which will be needed for the gold medal".
World and Olympic champion Malaika Mihambo from Germany started her campaign with 6.41m and followed up with 6.62m in the first two rounds before leaping to a seasonal best of 6.87m in the third round.
Malaika Mihambo: "The qualification was a bit of a struggle due to issues with my approach. It reminded me of what to do correctly, and simultaneously, I told myself to jump far. It was a tough season, but I felt better today and hope to jump further tomorrow."
The other jumpers who reached the automatic qualifying mark of 6.65m were Khaddi Sagnia from Sweden (6.74m), Jazmin Sawyers from Great Britain (6.71), and Larissa Iapichino from Italy (6.66m).
Former European Under 20 champion Milica Gardasevic, who beat Vuleta jumping 6.90 at the Serbian Indoor Championships in Belgrade, missed out on the final by one cm with 6.51m.
Women's 60 meters hurdles heats:
Two-time European Indoor champion Nadine Visser from the Netherlands clocked the fastest time of 7.88 seconds to win her heat in the women's 60 meters hurdles. World indoor champion Cyrena Samba Mayela from France clocked 7.99 to win her heat. Finnish record holder Reetta Hurske won her heat in 7.93 ahead of Mette Graversgaard, who broke the Danish record with 7.96m. European 100m hurdles Ditaji Kambundji claimed the win in the final heat in 8.02, edging Irish record holder Sarah Lavin by just 0.01.
Nadine Visser: "It was quite tough. The tension is slowly building up, especially for tomorrow's races. My reaction time was not very good. After all, the race was controlled. I planned to race stronger and more focused. I just wanted to go through to the semifinal without taking any risks, which I have done. The track feels good. It is a bit warm in the arena".
Men's 60 meters hurdles heats:
Former under-20 and 23 champion Jason Joseph from Switzerland ran the fastest time in the 60 meters hurdles with 7.61 to win the first heat.
The other heat winners were Just Kwaou Mathey from France (7.63), Enrique Llopis (7.63), and Italian record holder Paolo Dal Molin (7.71). Four-time European indoor medallist Pascal Martinot Lagarde did not get through to the semifinal after finishing fourth in his heat with 7.79.
Men's pole vault qualifying round:
Greek record holder Emmanouil Karalis, Torben Blech from France, Belgian record holder Ben Broeders and Italian indoor record Claudio Stecchi cleared over the automatic qualifying round of 5.75m. Norwegian vaulters Sondre Guttormsen and Paul Haugen Lillefosse, four-time European Indoor medallist Piotr Lisek and Bo Kanda Lita Baehre from Germany all got through to the final after clearing 5.65m.
Sondre Guttormsen: "I jumped a little bit more than I wanted to. I think the European Indoor Championships is the hardest meet. It is always nice to have two Norwegian vaulters in the final. I wish it was even three, but he had a little injury".
Menno Vloon, who cleared 5.91 in Clermont Ferrand a few days ago, did not advance to the final with 5.55m.
Menno Vloon: "I had difficulty falling asleep for three days, and last night I only slept for a few hours, so I was not very focused. Before today, I was questioning if I should even compete. The warming-up felt great, but during the qualification, I could feel the lack of sleep".
Men's 3000 meters:
Olympic 1500m champion Jakob Ingebrigtsen cruised through to an easy win in the 3000m heats with 7:56.57.
Elzan Bibic from Serbia ran the fastest time to win the second heat in 7:50.21 ahead of 2017 European indoor champion Adel Mechaal from Spain (7:50.69).
-->