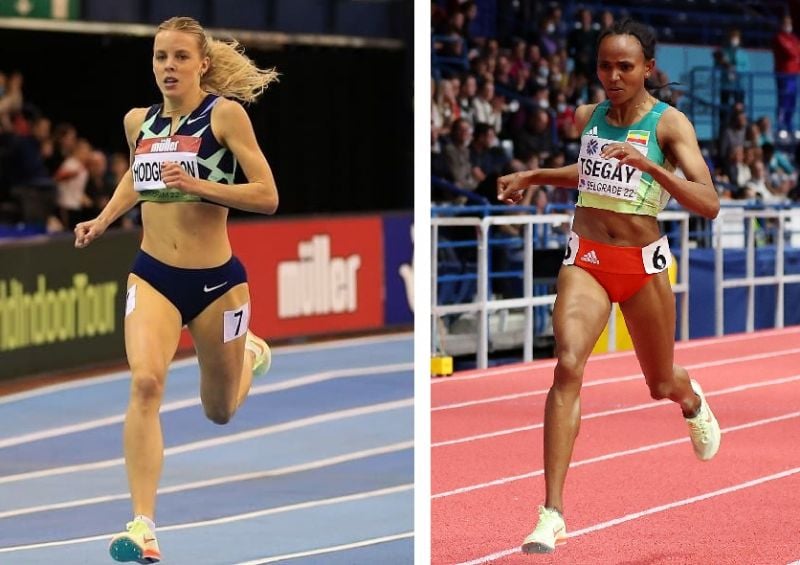 World 5000 meters champion Gudaf Tsegay from Ethiopia highlighted the Copernicus Arena in a packed arena in Torun. She set the second-fastest time in history in the women's mile with 4:16.16. Only Genzebe Dibaba ran faster than Tsegay when she set the world indoor record of 4:13.31 in Stockholm in 2016.
Pacemakers ended their work and Tsegay remained alone before the 800 meters. Tsegay clocked the intermediate time of 3:59.46 at 1500 meters.
Veronika Lizakowska from Poland finished a distant second in 4:29.06 ahead of Jamaica's Adelle Tracey (4:30.17).
Gudaf Tsegay: "I was hoping for the world record today, but athletics is like that. You can feel in good shape in training, but you don't always do what you want in competition. I still hope the world record will be mine one day."
Women's 800 metres:
European indoor and outdoor champion Keely Hodgkinson won her first 800 metres race of the season, setting a world-leading time of 1:57.87. Noelle Yarigo from Benin smashed her national record clocking 1:58.48, beating world finalist Anita Horvat from Slovenia (2:01.42) and world bronze medallist Mary Moraa from Kenya (2:01.61).
Keely Hodgkinson: "The track brings back some good memories for me. The crowd was thunderous and that carried me away. It was good to get a decent first 800 metres race of the season, but to be honest, I am a bit disappointed with the time. I did not commit myself early enough in the race, but I will try again to run fast in a few weeks. If everything goes perfectly, I may come close to the world record, but it is a tough mark to beat".
Men's long jump:
Olympic champion Miltiadis Tentoglou from Greece improved the world seasonal best, the second-best mark of his career and the meeting record to 8.40m in the second round to win the men's long jump. Tentoglou backed up his winning mark with three more leaps over the 8 meters barrier (8.27m, 8.24m, 8.07m). Sweden's Thobias Montler was the only athlete to jump beyond the 8 meters barrier with 8.17m on the second attempt. Olympic bronze medallist Maykel Massò placed third with 7.84m on countback over three-time world indoor medallist Marquis Dendy.
Miltiadis Tentoglou: "I am thrilled with the result today, but I came here knowing I can jump far. This is one of the top three favorite stadiums, and I jumped well at the European Indoor Championships here two years ago. I am not a person who plays with the crowd, but it is still nice to compete in front of a big crowd like this".
Men's pole vault:
World bronze medallist, Ernest John Obiena from the Philippines, cleared 5.87m to win his second consecutive pole vault competition on Polish soil following his victory at the Orlen Cup in Lodz last Saturday. Rutger Koppelaar from the Netherlands improved his indoor PB to 5.82m to finish second on countback over Ben Broeders and Menno Vlonn from the Netherlands. Broeders set the Belgian indoor record. World Championships finalist Claudio Stecchi improved his seasonal best by 2 cm to 5.72m to place fifth on countback over five-time world medallist Piotr Lisek from Poland.
Ernest John Obiena: "I will take the win. You could not say it was a bad day if you won a competition. I am having a good time competing, but it's still a work in progress. I want to jump 6 meters both indoors and outdoors. I get recognized in the Phillippines, but I would not call myself a superstar. I am just a guy who does what he loves to do. Sport is one way to put my country on the map. Several years ago, I used to train in Poland, and it's nice to come back here. You have the best-organized meets".
Women's 60 meters hurdles final:
European outdoor champion Pia Skrzyszowska won her third consecutive win this season in the women's 60 meters hurdles in 7.79 in a world-class competition with four athletes under the 7.90 barrier. The 21-year-old Polish hurdler missed her PB by just one-hundredth of a second a few days after winning in 7.78 at the Orlen Cup in Lodz last Saturday. Reetta Hurske from Finland continued her excellent form, finishing second with a national record of 7.81. World silver medallist, Britany Anderson from Jamaica, finished third in 7.84 ahead of two-time European Indoor champion Nadine Visser from the Netherlands (7.85) and European bronze medallist Ditaji Kambundji from Switzerland (7.94).
Pia Skrzyszowska: "I missed the national record by a small margin again, but at least it's a meeting record. I am in good shape, and there will be many more chances. The record could come any moment. I don't know if it will come to Istanbul. That competition will be about medals, not records. My starts have not been great this winter. That's what I can improve, but I finish strongly. I am happy that even with the slow start today, I could catch up and win with the final dip. Competing here in front of a full house of fans is great. Torun deserves to be the host of the World Indoor Championships.
Women's 60 metres:
World indoor champion Mujinga Kambundji finished strongly to win the women's 60 meters in her seasonal best of 7.06, beating last year's Copernicus Cup winner Ewa Swoboda (7.11). Kambundji set the second-fastest time in Europe this season. US sprinter Kayla White edged out European 100m bronze medallist Darryil Neita from Great Britain with the same time of 7.11.
Mujinga Kambundji: "I hope this season will go the same way as the last one, with me getting faster as it goes on. I want to keep on improving every year. My best of 6.96 is a good one, but I can still improve and improve it. It is good to have so many fast women in Europe. We have a healthy rivalry. We are good friends with Ewa Swoboda, despite our rivals on the track".
Ewa Swoboda: "My legs hurt. I have been competing a lot lately, and there was no time for proper training. I am now planning to work very hard, get healthy and I will be getting faster. My next competition is the National Championships, which is very important for me. If I manage to run 7.05, I will be thrilled. Today's race has been the most satisfying for me this season".
Men's 60 metres hurdles final:
Daniel Roberts equaled his seasonal best of 7.46 to win the men's 60 meters hurdles in 7.46, repeating the time he clocked in Boston last Saturday when he finished second behind Grant Holloway.
Roberts held off Cuba's Roger Iribarne, who improved his PB by 0.05 to finish second in 7.49 ahead of 20-year-old Polish hurdler Jakub Szymanski (7.58).
Daniel Roberts: "I did not know what to expect in my first European race this season, but it's gone well. I have four more races planned, and I feel I can improve my PB. The way I have been running these 7.46s isn't pretty, and there are many things I can do better. I enjoy winning indoors, but it is mostly training for me, working on technical details, and learning to move quickly. The main goal is the outdoor season. I want to make the World Championships team and go into each race without fear of competition. In the past, I felt I fell short of what I could do, and I want to change that".
Women's 3000 meters:
Freweiny Hailu from Ethiopia launched her kick in the final lap to win her second World Indoor Tour Gold race in the women's 3000 meters in 8:46.92. Ethiopia filled the top four positions. World indoor bronze medallist Eygayehu Taye placed second in 8:47.81, beating world indoor champion Lemlem Hailu (8:49.10) and world 3000m steeplechase silver medallist Werkwuha Getachew (8:51.55). Maureen Koster from the Netherlands was the top European finisher in fourth place with 8:51.62.
Men's 1500 meters:
Azzedine Habz from France won the men's 1500 meter in 3:35.59, holding off this year's Karlsruhe World Indoor Gold winner George Mills from Great Britain, who also dipped under 3:36 setting the second fastest time of his career with 3:35.92. Jesus Gomez took third place with a seasonal best of 3:36.33 ahead of Olympic finalist Michal Rozmys (3:36.54).
Azeddine Habz: "I am happy but not surprised with today's win. I recently won a couple of races, and I ran 1:46 in the 800 meters, so I knew I was in good shape. Next week I want to attack the national record in Liévin. I want to go for a medal at the European Indoor Championships in Istanbul."
Women's 400 meters:
European indoor and outdoor 4x400 champion Lieke Klaver won her second season race in the women's 400 meters in 51.14, missing her recent PB by 0.14. Lada Vondrova placed runner-up in 51.91. Klaver clocked 51.00 in Ostrava last week.
Men's 400 meters:
World Indoor bronze medallist, Carl Bengstrom from Sweden, won the men's 400 meters in 46.15, beating world indoor fourth placer Benjamin Lobo Vedel (46.50) and Alex Haydock Wilson from Great Britain (46.70).
Carl Bengstrom: "I went into the race hoping to win. My PB is almost a second faster than this so I can do better, and I believe I will do it this winter. It is hard to tell what will happen at the European Championships. First of all, I want to make the final, and then we will see".
Men's 800 meters:
Andreas Kramer from Sweden clinched the win in the men's 800 meters in 1:46.37, holding off Kenya's Collins Kipruto (1:46.82) and Adrian Ben from Spain (1:46.96).
"I came here expecting either a win or a fast time. At least I got one of them. The first 500 meters were too slow, and the first 100m was crazy, with everything trying to be in the same spot at once. I already had a good winning streak, and it's good to keep it going. Championships are always hard, with three rounds, but it has been a few years since my last European indoor medal, and I want to win another one".
Men's high jump:
World indoor bronze medallist, Hamish Kerr from New Zealand, had a clean sheet up to 2.27m to win the men's high jump beating Tobias Poyte from Germany on countback. Multiple Polish record holder Norbert Kobielski took third place with 2.24m.
Hamish Kerr: "I came here expecting to jump high. I knew other guys had done well on this surface in the past, and I wanted to make the most of it. I am a bit disappointed with the height today, but it's nice that I won the competition. Ten days ago, I was in New Zealand, where it was 30 degrees. Now I come here where snow is on the ground, but I guess I adapted well. The indoor stadiums in Europe are amazing. I wanted to come to Europe since I thought I had a better chance of getting a good mark here".
-->