Masai Russell sets NCAA 60m hurdles record with 7.75

Posted by:
Watch Athletics
Saturday, 21 January 2023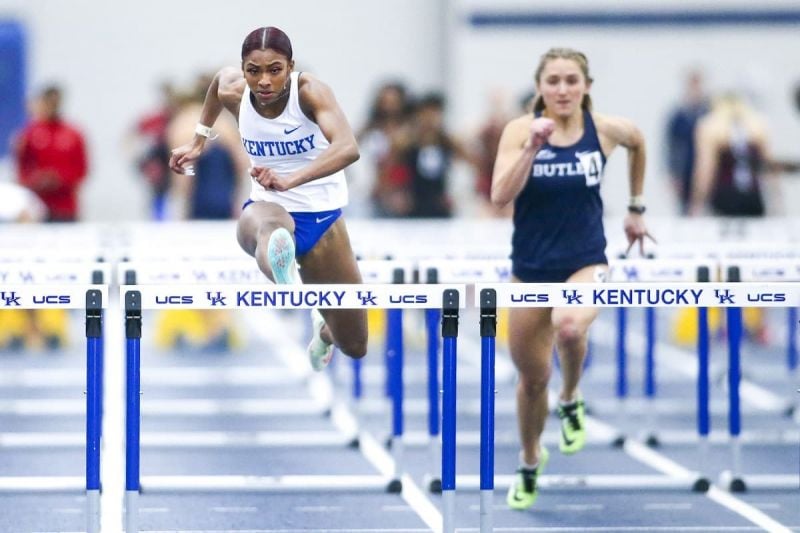 The University of Kentucky star Masai Russell won the 60m hurdles and set the NCAA record at the Texas Tech Raider Open on Friday afternoon in Lubbock. The 2022 NCAA Indoor Championship 60m hurdles runner-up clocked an impressive 7.75, breaking the USA collegiate record by 0.01 seconds.
Demisha Roswell from Texas Tech was second with 7.98 seconds. Russell's new NCAA record is also a new World lead and a joint 12th fastest in history.
Other meeting highlights include the men's and women's 60m dash and 4x400m relay.
Jamaican Kiara Grant who runs for Clemson took the victory in the women's 60m dash, setting a new World lead of 7.09 seconds. Jordan Anthony from Kentucky won the men's 60m dash final, posting the 4th fastest time in the World this year.
Texas Tech men's unit prevailed in the 4x400m relay with 3:04.52, while the Texas A&M took the women's 4x400m in 3:31.34, just ahead of LSU at 3:31.42.
Dayton Carlson, a Freshman from Arizona State, dominated the men's 800m with 1:48.77.
Texas Tech Raider Open 2022 Results
-->