Valencia Marathon 2022 Results

Posted by:
Watch Athletics
Saturday, 03 December 2022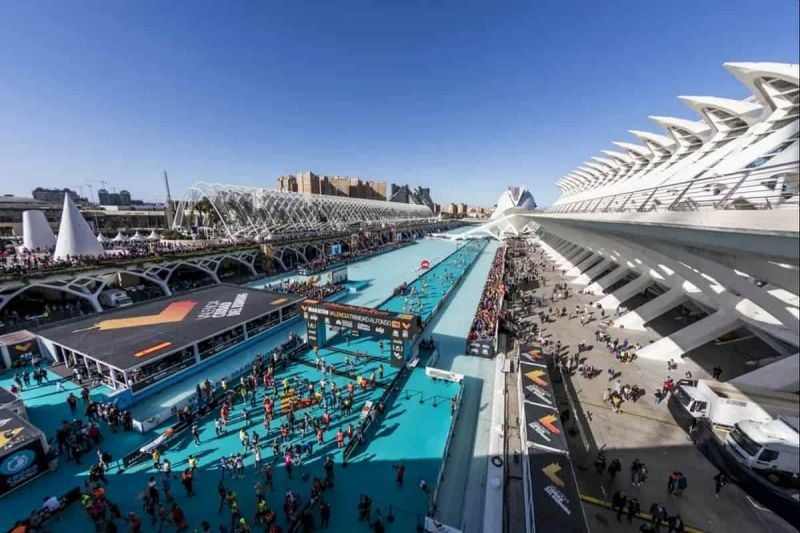 Results, tracking and leaderboard for the 2022 Valencia Marathon Trinidad Alfonso.
The event takes place on Sunday, December 43 at 8:15 a.m. Central European Time (GMT +1).
You search results, track runners and follow race leaders on the official Valencia Marathon app:
Kenya's Kelvin Kiptum won the men's race in Valencia Marathon in 2:01:53, the fastest debut in history.
Amane Beriso clocked a stunning 2:14:58 to win the women's race. She missed Brigid Kosgei's world record of 2:14:04. Letesenbet Gidey took second place in a new marathon debut record of 2:16:49.
TOP RESULTS MEN MARATHON
| POS | NAME | OFFICIAL T. | GUN TIME | KM PACE |
| --- | --- | --- | --- | --- |
| 1 | KIPTUM, KELVIN | 2:01:53 | 2:01:53 | 2,53 |
| 2 | GEAY, GABRIEL | 2:03:00 | 2:02:59 | 2,55 |
| 3 | MUTISO, ALEXANDER | 2:03:29 | 2:03:29 | 2,56 |
| 4 | TOLA, TAMIRAT | 2:03:40 | 2:03:40 | 2,56 |
| 5 | ÖZBILEN, KAAN KIGEN | 2:04:36 | 2:04:36 | 2,57 |
| 6 | DESO, CHALU | 2:04:56 | 2:04:56 | 2,58 |
| 7 | MENGESHA, MILKESA | 2:05:29 | 2:05:28 | 2,58 |
| 8 | KORIR, RONALD | 2:05:37 | 2:05:37 | 3,00 |
| 9 | KIPLIMO, PHILEMON | 2:05:44 | 2:05:42 | 2,59 |
| 10 | KIFLE, GOITOM | 2:06:09 | 2:06:08 | 2,59 |
| 11 | MOLLA, GETANEH | 2:06:38 | 2:06:38 | 3,00 |
| 12 | MPOFU, ISAAC | 2:06:48 | 2:06:47 | 3,00 |
| 13 | NAVARRO, NICOLAS | 2:07:01 | 2:07:01 | 3,05 |
| 14 | MEZNGI, ZEREI | 2:07:10 | 2:07:09 | 3,01 |
| 15 | TEWELDE, HISKEL | 2:07:11 | 2:07:11 | 3,01 |
| 16 | NOVALES, TARIKU | 2:07:18 | 2:07:18 | 3,01 |
| 17 | LAMDASSEM, AYAD | 2:07:39 | 2:07:39 | 3,06 |
| 18 | KIPKEMBOI RUTO, BETHWEL | 2:07:40 | 2:07:39 | 3,02 |
| 19 | MERZOUGUI, ABDELAZIZ | 2:08:00 | 2:08:00 | 3,02 |
| 20 | TESFAYE, LENCHO | 2:08:14 | 2:08:13 | 3,02 |
| 21 | KORIR, JONATHAN | 2:08:34 | 2:08:34 | 3,03 |
| 22 | ABDELILAH, EL MAIMOUNI | 2:08:50 | 2:08:49 | 3,03 |
| 23 | FRÈRE, MEHDI | 2:09:18 | 2:09:17 | 3,04 |
| 24 | KIRUI, GEOFFREY | 2:09:57 | 2:09:56 | 3,05 |
| 25 | WITZ, VALENTIN | 2:10:04 | 2:10:04 | 3,05 |
| 26 | PAULA, PAULO | 2:10:20 | 2:10:18 | 3,05 |
| 27 | RUSSOM, SAMUEL | 2:10:38 | 2:10:38 | 3,10 |
| 28 | BOUR, FELIX | 2:10:43 | 2:10:43 | 3,06 |
| 29 | JIMENEZ VICENTE, ALEJANDRO | 2:10:54 | 2:10:52 | 3,06 |
| 30 | GUERRA, JAVIER | 2:12:00 | 2:12:00 | 3,08 |
TOP RESULTS WOMEN MARATHON
| POS | NAME | OFFICIAL T. | GUN TIME | KM PACE |
| --- | --- | --- | --- | --- |
| 1 | BERISO SHANKULE, AMANE | 2:14:58 | 2:14:58 | 16,21 |
| 2 | GIDEY, LETESENBET | 2:16:49 | 2:16:49 | 16,24 |
| 3 | CHEPKIRUI, SHEILA | 2:17:29 | 2:17:29 | 16,25 |
| 4 | TESHOME, TADU | 2:17:36 | 2:17:36 | 16,25 |
| 5 | CHEMUTAI, FANCY | 2:18:11 | 2:18:11 | 16,26 |
| 6 | MESFIN, TIRUYE | 2:18:47 | 2:18:47 | 16,27 |
| 7 | GIRMA, TIGIST | 2:18:52 | 2:18:52 | 16,27 |
| 8 | WOLDU, ETAGEGNE | 2:20:03 | 2:20:03 | 16,28 |
| 9 | TESFU, DOLSHI | 2:20:40 | 2:20:40 | 16,29 |
| 10 | MAAYOUF, MAJIDA | 2:21:01 | 2:21:01 | 16,30 |
| 11 | ESHETU, BIRUKTAYIT DEGEFA | 2:21:34 | 2:21:34 | 16,30 |
| 12 | DIVER, SINEAD | 2:21:34 | 2:21:34 | 16,30 |
| 13 | GEBRE, MESERET | 2:23:38 | 2:23:38 | 16,33 |
| 14 | BJELJAC, BOJANA | 2:23:39 | 2:23:39 | 16,33 |
| 15 | EPIS, GIOVANNA | 2:23:54 | 2:23:54 | 16,34 |
| 16 | VAN ZYL, YVETTE | 2:26:11 | 2:26:11 | 16,37 |
| 17 | GALIMANY GUASCH, MARTA | 2:26:14 | 2:26:14 | 3,28 |
| 18 | COCKRAM, NATASHA | 2:26:14 | 2:26:14 | 16,37 |
| 19 | WIKSTRÖM, CAROLINA | 2:26:14 | 2:26:14 | 16,37 |
| 20 | TEJEDA, GLADYS | 2:26:26 | 2:26:26 | 16,37 |
| 21 | SCHWIENING, GEORGINA | 2:26:28 | 2:26:28 | 16,37 |
| 22 | BRZEZINSKA, ALEKSANDRA | 2:28:09 | 2:28:09 | 16,40 |
| 23 | BAREIKIS, JANE | 2:30:04 | 2:30:04 | 16,43 |
| 24 | MELINE, ROLLIN | 2:30:27 | 2:30:27 | 16,43 |
| 25 | BERGMAN, JENNIFER | 2:31:39 | 2:31:39 | 16,45 |
| 26 | HEIM, THEA | 2:33:25 | 2:33:20 | 3,38 |
| 27 | MARJOLAINE, NICOLAS | 2:33:26 | 2:33:13 | 3,38 |
| 28 | THEMANN, TABEA | 2:33:51 | 2:33:51 | 16,48 |
| 29 | GELANA, TIKI | 2:33:59 | 2:33:59 | 16,48 |
| 30 | BERTONE, CATHERINE | 2:34:14 | 2:34:14 | 16,48 |
-->