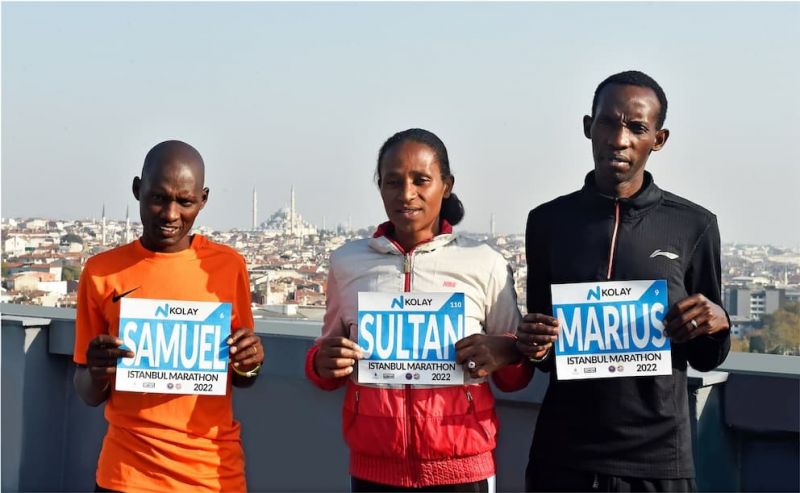 Twelve runners with personal bests of sub 2:10 will feature in the N Kolay Istanbul Marathon on Sunday. Marius Kimutai of Bahrain and Kenya's Samuel Kosgei head the start list with times of 2:05:47 and 2:06:03, respectively. With this great strength in depth, it is expected that the Turkish all-comers record of 2:09:27 will be attacked in Turkey's major marathon event. Meanwhile, the national record holder Sultan Haydar starts a comeback on Sunday. The Turk is the fastest athlete on the women's start list with her personal best of 2:24:44. Seven women entered into the 44th edition of the N Kolay Istanbul Marathon have PBs of sub 2:28.
With a total of around 60,000 entries, including races at shorter distances, the N Kolay Istanbul Marathon will be among the world's biggest road races since the times before the Corona pandemic. The intercontinental course leads the runners from the Asian side of the city into Europe. It then features a tough uphill stretch to the finish on Sultanahmet Square in the historic center. The N Kolay Istanbul Marathon, a World Elite Label Road Race of World Athletics, starts at 9 am on Sunday. A live stream with English commentary available worldwide can be accessed at Watch Athletics.
With both the 2:09:44 course record of Kenya's Daniel Kibet from 2019 and the Turkish allcomers' record in mind the race organisers plan for a fast half marathon split time of 63:30 to 63:45. A negative split is not likely in Istanbul because of the uphill section late in the race, which leads the runners to the spectacular finish. "I am okay with this sort of pace if the weather conditions are suitable and there is good pacemaking," said Marius Kimutai, who switched from Kenyan citizenship to Bahrain in 2017. "I have trained for three months in Kapsabet for this marathon, and I am also prepared for the climb up to the finish."
Marius Kimutai trained together with Samuel Kosgei in the high-altitude training camp in Kapsabet. "We will probably help each other during the race as we are training partners," said the Kenyan, the only one in the field who once broke a world record. In Berlin's 25k race, he clocked 1:11:50 in 2010. "That is a long time ago, so I don't rate this that high anymore," said Samuel Kosgei, who took the Barcelona Marathon with his current PB of 2:06:03 a year ago. The Kenyan returned to the race in Spain this spring but this time had to settle for 12th position in 2:08:59. "I had a hip injury at that time, but I am fine now," said Samuel Kosgei, who hopes to improve his personal best in the future. "If pacemaking works fine on Sunday, I think we have an excellent chance to break the Turkish all-comers record here."
A year ago, there was a surprise victory by Victor Kiplangat in Istanbul. While the defending champion will not run on Sunday, there could still be another Ugandan triumph since Geofrey Kusuro is said to be in fine form. He has a personal best of 2:08:46. Another athlete who is tipped to do very well in Istanbul is the former long-distance track runner Yenew Alamirew. He was 12th in the 5,000 m final of the London Olympics in 2012. So far, the 32-year-old has only run two marathons, with a personal best of 2:08:56 from Dubai in 2018.
Record times are not targeted in the women's race, with the 2:18:35 course best from Ruth Chepngetich out of reach. Additionally, Kenya's Agnes Barsosio, who had been the fastest on the start list, had to withdraw due to an injury. Two Ethiopian runners who clocked their personal bests this spring are now among the top favorites: Sechale Dalasa won the Rome Marathon in 2:26:09, and Melesech Tsegaye was fourth in Milan with 2:24:47. An athlete who could be in for a surprise is Stacy Ndiwa. The Kenyan, who will run her marathon debut on Sunday, has a strong half marathon PB of 67:16. She was fifth in the World Cross Country Championships in 2015.
While Sultan Haydar now is the fastest on the start list with her Turkish record time of 2:24:44, she is not expected to be in contention for victory on Sunday. Six years after running her last race at the Rio Olympic Games, where she finished 111th in the marathon, she will start a comeback at the N Kolay Istanbul Marathon. The 35-year-old never planned to have such a long break from professional running, but she endured a callous time. After the Rio Olympics, she first had some injury problems. But then things turned much worse. "In 2018, I lost my husband," recalled Sultan Haydar, who then turned to her elder brother for help and support. "But he died as well just two months after my husband. It was a terrible time, and I got mental problems. I tried to start running a couple of times again, but it did not work. Whenever I started, I had to stop again."
One of the persons who helped her and persuaded her to return to running was fellow-marathon runner Meryem Erdogan. Also, a former Ethiopian who competes for Turkey will also run the N Kolay Istanbul Marathon on Sunday. Erdogan, who has a PB of 2:29:08 and helped translate during an interview with Haydar, trained together with the Turkish record holder in Addis Ababa recently for one month. "Sultan has now prepared for three months, "she says. Both will probably run in the second group on Sunday, which is expected to go for a 2:26 time. "I missed running a lot, and now I hope to come back and then reach peak form early next year. I think it is still possible for me to break my Turkish record," said Sultan Haydar.
Elite runners with personal bests
Men:
Marius Kimutai BRN 2:05:47
Samuel Kosgei KEN 2:06:03
Abayneh Ayele ETH 2:06:45
Tadesse Mamo Temechachu ETH 2:07:04
Robert Kipkemboi KEN 2:07:09
Alemayehu Mekonen ETH 2:07:23
Evans Kiplagat KEN 2:07:46
Dechasa Alemu ETH 2:08:07
Yergalem Shewalem ETH 2:08:32
Geofrey Kusuro UGA 2:08:46
Yenew Alamirew ETH 2:08:56
Francis Cheruiyot KEN 2:09:57
Moses Kemei KEN 2:10:28
Hillary Kipchumba KEN 2:10:43
Benard Sang KEN 2:10:49
Mert Girmalegesse TUR 2:11:07
Mengistu Nigatu ETH 2:11:15
Chalachew Tiruneh ETH 2:11:21
Sila Kiptoo KEN 2:11:32
Women:
Sultan Haydar TUR 2:24:44
Meselech Tsegaye ETH 2:24:47
Sechale Dalasa ETH 2:26:09
Judith Jerubet KEN 2:26:17
Winny Jepkorir KEN 2:27:18
Mercy Kwambai KEN 2:27:32
Truphena Chepchirchir KEN 2:27:52
Shewarge Alene Amare ETH 2:28:16
Meryem Erdogan TUR 2:29:08
Betty Chepkwony KEN 2:30:28
Stacy Ndiwa KEN Debut
Ethlemahu Sintayehu ETH Debut
More information is available at: https://maraton.istanbul