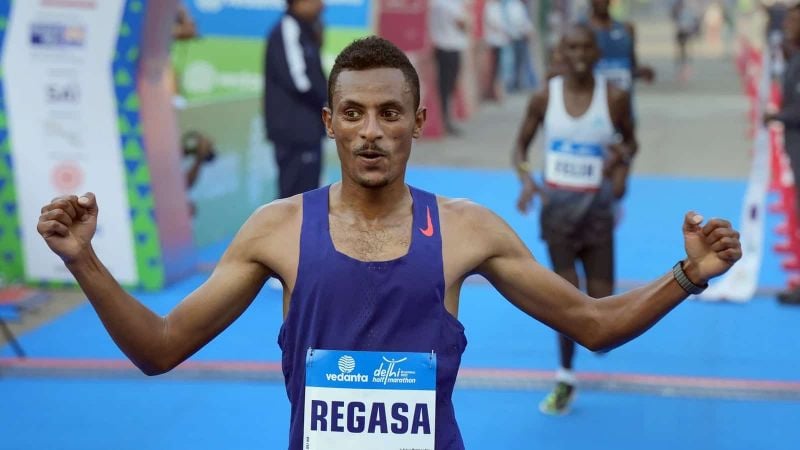 Results for the Delhi Half Marathon 2022, a World Athletics Elite Label road race
Ethiopian Chala Regasa and Kenyan Irine Cheptai were the crowned champions of the prestigious 2022 Delhi Half Marathon on Sunday, October 9.
Regasa took the men's title with a time of 1:00:30, with Kenyan Felix Kipkoech from Kenya taking second in 1:00:33. Ethiopian Boki Diriba was third in the men's race with a time of 1:00:34.
Irine Cheptai dominated the women's race, clocking 1 hour 6 minutes and 32 seconds. She crossed the line more than one minute ahead of Ethiopian Dawit Seyaum (1:08:02) and Ugandan Stella Chesang (1:08:11), who took second and third, respectively.
Men's elite top results
1. Chala Regasa (ETH) - 1:00:30
2. Felix Kipkoech (KEN) - 1:00:33
3. Boki Diriba (ETH) - 1:00:34
4. Joshua Belet (KEN) - 1:00:43
5. Gemechu Dida (ETH) - 1:00:51
6. Moses Koech (KEN) - 1:00:56
7. Michel Kamau (KEN) - 1:01:02
8. Muktar Edris (ETH) - 1:01:05
9. Bayelign Teshager (ETH) - 1:01:18
10. Solomon Berihu (ETH) - 1:01:54
Women's elite top results
1. Irine Cheptai (KEN) - 1:06:42
2. Dawit Seyaum (ETH) - 1:08:02
3. Stella Chesang (UGA) - 1:08:11
4. Aminet Ahmed (ETH) - 1:08:34
5. Lemlem Hailu (ETH) - 1:08:50
6: Meseret Gebre (ETH) - 1:09:13
7. Fantaye Belanyeh (ETH) - 1:09:14
8. Anchinalu Dessie (ETH) - 1:09:53
9. Faith Chepkoech (KEN) - 1:10:34
10. Daniel Rediet (ETH) - 1:11:48
Indian men's elite race
1. Avinash Sable - 1:04:00
2. Kartik Kumar - 1:04:00
3. Srinu Bugatha 1:05:25
Indian women's elite race
1. Sanjivani Jadhav - 1:17:53
2. Monika Athare - 1:18:39
3. Priti Lamba - 1:19:06
-->