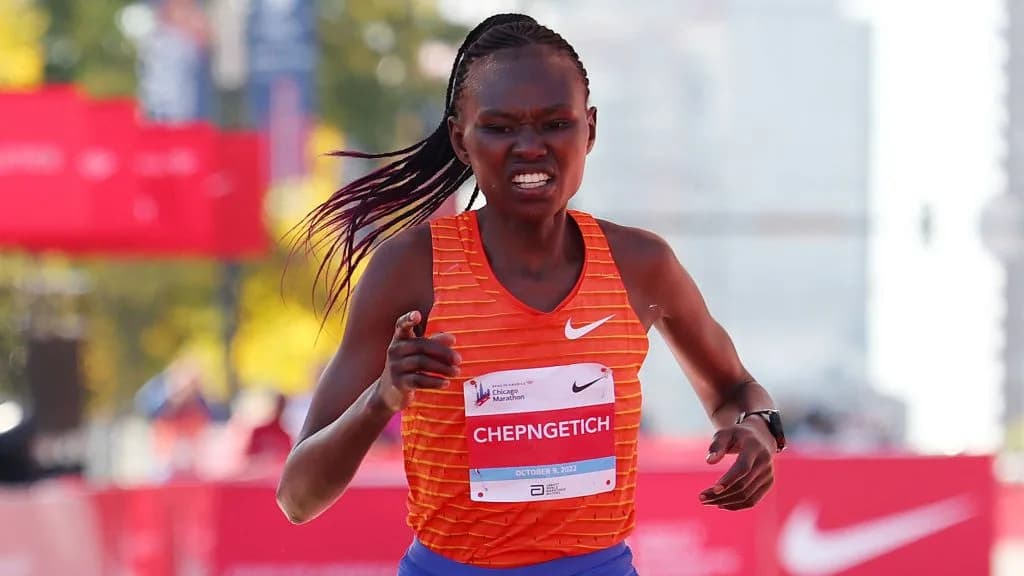 Former world champion Ruth Chepnetich from Kenya set the second fastest time in history at the Bank of America Chicago Marathon clocking 2:14:18, missing Brigid Kosgei's world record by just 14 seconds. Chepngetich set the second-fastest time in history ahead of Paula Radcliffe, who clocked 2:15:25 in London in 2003.
Chepngetich was on pace to break the world record of 2:14:04 set by her compatriot Brigid Kosgei on the same course in 2019.
Chepngetich started very fast in the first part of the race and went through the 5 km in 15:11 with a gap of 45 seconds over Ethiopia's Ruti Aga and Vivian Kiplagat.
Chepngetiich passed the 10 km mark in 30:40 and increased her lead to 1:55. She reached the 15 km in 46:19, the 20 km in 1:02:10, and the halfway mark in 1:05:44. She was more than one minute faster than the world record pace at halfway. After 21 km, Chepngetich built a gap of almost four minutes over a six-women chasing group led by Emily Sisson.
Chepngetich ran a 5 km split in 15:53 and reached the 25 km mark in 1:18:03. At this point, she was more than two minutes inside the world record pace.
Chepngetich started to slow down her pace, but she was still running at a world record pace at 30 km (1:34:07) and 35 km (1:50:25) and had a lead of almost five minutes over Sisson.
Chepngetich ran the 5 km split between the 35 and 40 km in 16:37. She slowed in the final kilometers, but she held on to cross the finish line in 2:14:18.
Ruth Chepngetich: "I am happy because I won the race and defended the title. I wanted to break the world record, but I missed it by some seconds. I want to get it. I was close. I will come back next year and do wonders".
Emily Sisson finished second in 2:18:29, breaking the US record set by Keira D'Amato with 2:19:12 in Houston last January.
Two-time Milan Marathon winner Vivian Jerono Kiplagat completed the podium by finishing third in 2:20:52 ahead of Ruti Aga (2:21:41) and Waganesh Mekasha (2:23:41). US runner Susanna Sullivan took sixth place in 2:25:14 beating Sarah Vaughn (2:26:23).
Benson Kipruto follows in the footsteps of his brother Dickson Chumba
Kenya's Benson Kipruto won the men's marathon race in 2:04:24, clinching the second World Majors Marathon race of his career following his victory in Boston last year. He also finished third in Boston last April.
Kipruto set the third-fastest winning time in the history of the Chicago Marathon.
Kipruto improved his lifetime best of 2:05:13 set at the 2019 Toronto Marathon. Kipruto has followed in the footsteps of his elder brother Dickson Chumba, who won the Chicago Marathon in 2015 in 2:09:25 and two editions of the Tokyo in 2014 and 2018.
Last year's Chicago Marathon winner Seifu Abdiwak finished runner-up breaking the 2:05 barrier for the third time in his career with 2:04:49. Kenya's John Korir, who won the past two editions of the Los Angeles Marathon, took third place in 2:05:01 improving his lifetime best by more than four minutes. Bernard Koech finished a distant fourth in 2:07:15 ahead of Shifera Tamru (2:07:53). The first non-African runner in the field was Japan's Kyhoei Hosoya, who crossed the finish line in sixth place in 2:08:05.
Conner Mantz was the top US runner in seventh place in 2:08:16 in the first marathon race of his career. The top 10 runners broke the 2:09 barrier.
A ten-men leading group that included John Koech, Benson Kipruto, Dawit Wolde, Seifu Tura, Jemal Ymer, and Ugandan record holder Stephan Kissa went through the 10 km in 29:35, the 20 km in 59:11, 21 km in 1:02:24. The lead pack was reduced to eight men,, who passed at 30 km in 1:28:31.
The leading pack was whittled down to Tura, Kiprutom Bernard Koech, and John Korir, who reached the 35 km mark in 1:43.04.
Kipruto broke away and increased his lead to 25 seconds in the final 6 km.
The Kenyan runner improved his PB by 49 seconds.
Benson Kipruto: "I am so happy that the family tradition continues. I am here to take up from where my brother left".
Marcel Hug from Switzerland won the men's wheelchair in 1:25:20, beating US Daniel Romanchuk (1:33:11). The USA claimed the podium sweep in the women's wheelchair. Susannah Scaroni crossed the finish line first in 1:45:48 ahead of Tayana McFadden (1:48:46) and Jenna Fesemeyer (1:49:52).
-->