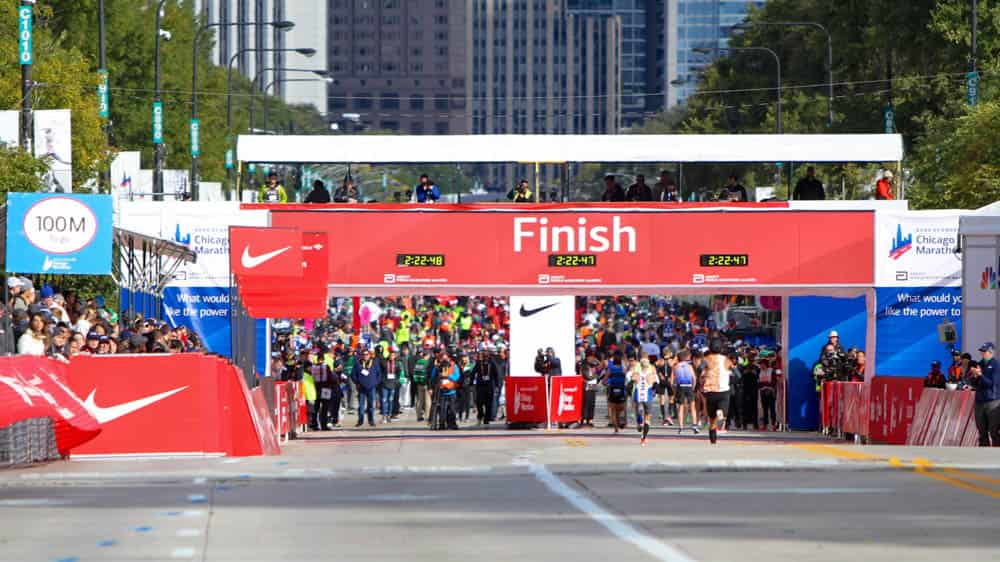 Results, leaderboard, and tracking for the 2022 Bank of America Chicago Marathon, a Abbott World Marathon Majors road race.
Kenyans Ruth Chepngetch and Benson Kipruto won the 2022 Chicago Marathon titles on Sunday, October 9. Chepngetch won the women's race, clocking the second fastest time in history of 2:14:18. Kipruto clocked 2:04:24 to win the men's race.
Emily Sisson who took second place in the women's division smashed set a new American marathon record with 2:18:29.
You can also track runners, search results and follow elite race leaders on the official Chicago marathon App:
Top Results Men Marathon
1. Kipruto, Benson (KEN) - 2:04:24
2. Tura Abdiwak, Seifu (ETH) - 2:04:49
3. Korir, John (KEN) - 2:05:01
4. Koech, Bernard (KEN) - 2:07:15
5. Tamru Aredo, Shifera (ETH) - 2:07:53
6. Hosoya, Kyohei (JPN) - 2:08:05
7. Mantz, Conner (USA) - 02:08:16
8. Sahli, Hamza (MAR) - 2:08:22
9. Kiptanui, Eric Kiprono (NED) - 2:08:26
10. Guojian, Dong (CHN) - 2:08:53
11. Panning, Zachery (USA) - 2:09:28
12. McDonald, Matt (USA) - 2:09:49
13. Montanez, Nicolas (USA) - 2:09:55
14. Nakanishi, Riki (JPN) - 2:09:59
15. Degu Tsehay, Abayneh (ETH) - 2:10:55
16. Tiernan, Pat (AUS) - 2:11:02
17. Mesel Tikue, Amanuel (ERI) - 2:11:38
18. Young, Clayton (USA) - 2:11:51
19. Wiley, Turner (USA) - 2:11:59
20. Fujimagari, Hiroto (JPN) - 2:13:04
Top Results Women Marathon
1. Chepngetich, Ruth (KEN) - 2:14:18
2. Sisson, Emily (USA) - 2:18:29
3. Kiplagat, Vivian Jerono (KEN) - 2:20:52
4. Aga Sora, Ruti (ETH) - 2:21:41
5. Mekasha Amare, Waganesh (ETH) - 2:23:41
6. Sullivan, Susanna (USA) - 2:25:14
7. Vaughn, Sara (USA) - 2:26:23
8. Montoya, Maggie (USA) - 2:28:07
9. Inglis, Sarah (GBR) - 2:29:37
10. Morley, Makena (USA) - 2:30:28
11. Thweatt, Laura (USA) - 2:31:24
12. Cardin, Jessie (USA) - 2:33:34
13.Brumelot, Marie-Ange (FRA) - 2:33:49
14. Verdon, Carrie (USA) - 2:33:50
15. Feivor, Brittney (USA) - 2:33:59
16. Pratt, Olivia (USA) - 2:34:22
17. Hannah, Rachel (CAN) - 2:36:04
18. Earle, Meriah (USA) - 2:38:39
19. Nukuri, Diane (USA) - 2:41:05
20. DuChene, Krista (CAN) - 2:43:03
Top Wheelchair men
1. Hug, Marcel (SUI) - 1:25:20
2. Romanchuk, Daniel (USA) - 1:33:11
3. Pike, Aaron (USA) - 1:33:13
4. Watanabe, Sho (JPN) - 1:34:55
5. Monahan, Patrick (IRL) - 1:34:58
6. Smith, JohnBoy (GBR) - 1:35:02
7. Correll, Evan (USA) - 1:36:24
8. Cassidy, Joshua (CAN) - 1:36:57
9. Botello Jimenez, Rafael (ESP) - 1:37:18
10. Madera Jiménez, Jorge (ESP) - 1:37:18
Top Wheelchair women
1. Scaroni, Susannah (USA) - 1:45:48
2. Mcfadden, Tatyana (USA) - 1:49:46
3. Fesemyer, Jenna (USA) - 1:49:52
4. Hoang, Yen (USA) - 1:49:54
5. De Souza, Vanessa (BRA) - 1:49:57
6. Dawes, Christie (AUS) - 1:50:02
7. Wheeler, Michelle (USA) - 2:01:37
8. Dederick, Hannah (USA) - 2:02:23
9. Perry, Emelia (USA) - 2:12:57
10. Schroth, Samantha (USA) - 2:21:04
-->