Berlin Marathon women's elite field: Keira D'Amato targets win and USA record

Posted by:
Races News Service
Thursday, 22 September 2022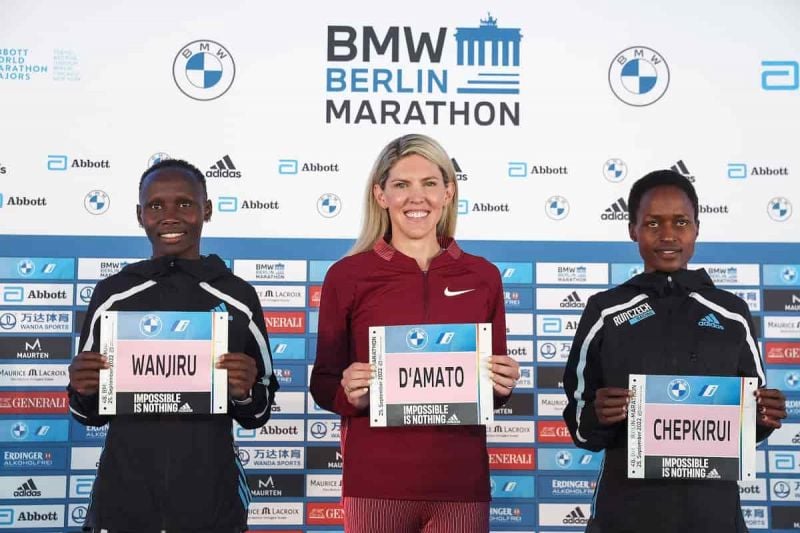 The American marathon star Keira D'Amato heads the women's elite field for this Sunday's BMW Berlin Marathon. The 37-year-old national record holder is the fastest woman in the field with her time of 2:19:12 and the only one to have broken the landmark barrier of 2:20. Organisers of the BMW BERLIN-MARATHON have registered 45,527 runners from 157 nations for the 48th edition of the event. Germany's most spectacular road race is part of the Abbott World Marathon Majors (AWMM) and is also a Platinum Label Road Race of the international athletics federation, World Athletics.
Keira D'Amato hopes to go even better and improve on her North American record: "I'd love to run faster than that in Berlin," said D'Amato at Thursday's press conference. "To win a great race such as Berlin would be a dream and a great career ambition." She can expect high quality competition and it is highly possible that victory would require a time around that of her current US record or even the course record, currently held by the Kenyan Gladys Cherono at 2:18:11. Alongside D'Amato on the start line will be seven women with personal bests of under 2:23:00. The array of talent and strength in depth among the elite makes this the strongest women's field in the history of the BMW BERLIN-MARATHON.
A host of women runners will be aiming to take full advantage of Berlin's renowned fast course and break 2:20 for the first time: among them are the Ethiopians Gutemi Shone Imana, whose best is 2:20:11, Workenesh Edesa, who has run 2:20:24 and Sisay Gola whose current fastest time is 2:20:50, not forgetting the Kenyans Maurine Chepkemoi with a personal best of 2:20:18 and Vibian Chepkirui, the latter having won the Vienna City Marathon for the second time in succession this April with 2:20:59. "I want to break my best time and run under 2:20 – of course, I want to win," said Vibian Chepkirui.
Following last year's victory in the BMW BERLIN-MARATHON by the Ethiopian Gotytom Gebreslase on her debut at a distance, two other women encountering the event for the first time could well make an impact: Rosemary Wanjiru of Kenya and the Ethiopian Nigsti Haftu. Their potential is evident since Wanjiru has a half marathon best of 65:34, and Haftu has run 66:17 for the distance. "I feel ready to face the marathon," said Rosemary Wanjiru.
The high quality in the women's field is clear to see, despite the late withdrawal of Nancy Jelagat, who has a best of 2:19:31. The Kenyan has suffered from a mild left knee and hip synovitis, which left her unable to train, and after medical consultation decided to rest. With this conservative approach, she hopes to be in top form next year and intends to run the BMW BERLIN-MARATHON then.
Keira D'Amato has had a highly remarkable running career so far. She was a committed runner in school and college before injury curbing her career. Seven years later, while she married, became a mother of two, and worked in real estate, she made a comeback at 30 and made a sensational leap into world-class.
The BMW BERLIN-MARATHON played a part in her remarkable rise since she improved some six minutes on her personal best in 2019 in running 2:34:55. "I had a perfect race here, and that's why I've come back. The course is speedy and really flat, pancake flat, the organization is top class, and the support from the spectators is fantastic," said Keira D'Amato. Following the BMW BERLIN-MARATHON in 2019, the 37-year-old ran a series of personal bests, culminating in winning the Houston Marathon in January and breaking the US record with 2:19:12. As a reserve on the American team for the World Championships, she received a late call-up but ran outstandingly well to finish eighth. Despite the shorter than usual interval since the World Championships in Eugene in July, Keira D'Amato is optimistic that she can perform strongly in Berlin.
Women's Elite runners with personal bests
Keira D'Amato USA 2:19:12
Gutemi Shone Imana ETH 2:20:11
Maurine Chepkemoi KEN 2:20:18
Workenesh Edesa ETH 2:20:24
Sisay Gola ETH 2:20:50
Vibian Chepkirui KEN 2:20:59
Tigist Abayechew ETH 2:22:24
Bekelech Gudeta ETH 2:22:56
Sayaka Sato JPN 2:23:27
Risper Chebet UGA 2:23:45
Yukari Abe JPN 2:24:02
Meseret Belete ETH 2:24:25
Lisa Weightman AUS 2:25:15
Natasha Wodak CAN 2:26:19
Kanako Takemoto JPN 2:26:23
Sonia Samuels GBR 2:28:04
Rika Kaseda JPN 2:28:29
Ayuko Suzuki JPN 2:28:32
Hikari Onishi JPN2:28:56
Ftaw Zeray ETH 2:29:15
Katja Fischer GER 2:42:39
Rosemary Wanjiru KEN Debüt
Nigsti Haftu ETH Debüt
More information is available online at: www.berlin-marathon.com
-->